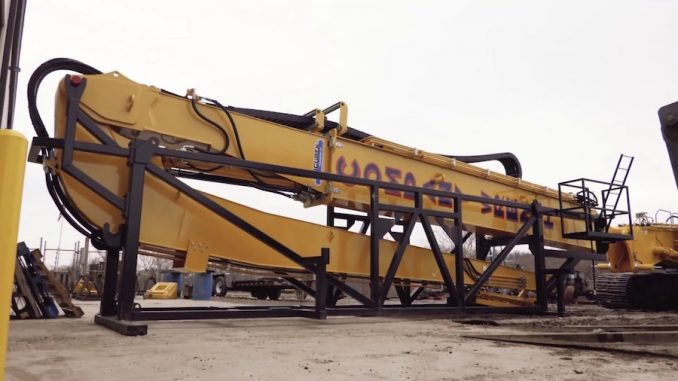 Available for Sale or Rent!
Reach 9+ stories high with this self-erecting 100′ Telescoping Ultra High Reach Machine!
45° tilt cab • Modular joint w/hydraulic pins • Custom counterweight with counterweight removal system • Dust suppression system at the tool • Proportional auxiliary controls on joysticks • Quick coupler connections at modular joint • Transport cradleFor over a decade, Company Wrench has built a reputation on keeping a large fleet of high quality high reach excavators.
As the premier North American distributor of Kocurek demolition fronts, our machines have many cutting edge features such as the Stubb Boom/Modular Joint (allows the front to be quickly attached/detached with hydraulic pins), extensions, telescopic booms (which reach extreme heights), and dust suppression systems.
Company Wrench's manufacturing subsidiary, C.W. Machine Worx, also engineers and fabricates high reach fronts, custom counterweights, tilt cabs, and other customized features. For more information on this high reach machine or to schedule a rental, call Company Wrench at 866-579-6355.