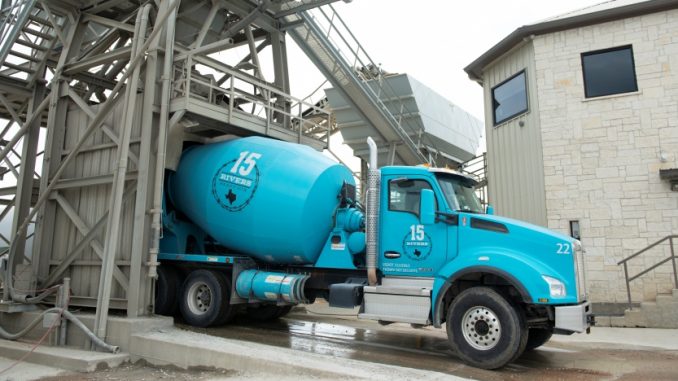 CRANDALL, Texas – It's only been three years since Brady Slimboski, Sean Blair, Lamar Carter and Art Browning joined forces to establish 15 Rivers, a ready-mix concrete company that serves customers in the greater Dallas and East Texas area.
In that time, the company has quickly become a household name among contractors and municipalities, as its reputation for providing consistent and reliable services continues to spread throughout the communities it serves. Its ability to always 'do right by the customer' has helped 15 Rivers grow its fleet from nine heavy-duty mixer trucks to a 45-truck operation that today is primarily made up of Kenworth T880 mixers and five W990 bulk haulers.
"As a relatively new company that competes with many well-established ready-mix suppliers in the Dallas area, we knew we needed to go above and beyond in the way we handle customer relations and service," said Slimboski, who serves as 15 Rivers president and has worked in the ready-mix concrete industry for nearly three decades. "We've made it a priority to take a proactive approach when it comes to customer service by keeping customers up-to-date on delivery status, so they can plan accordingly if any operational delays arise. That seems like a small task, but it goes a long way in this business. We also run equipment we know is reliable to keep truck-related downtime to a minimum."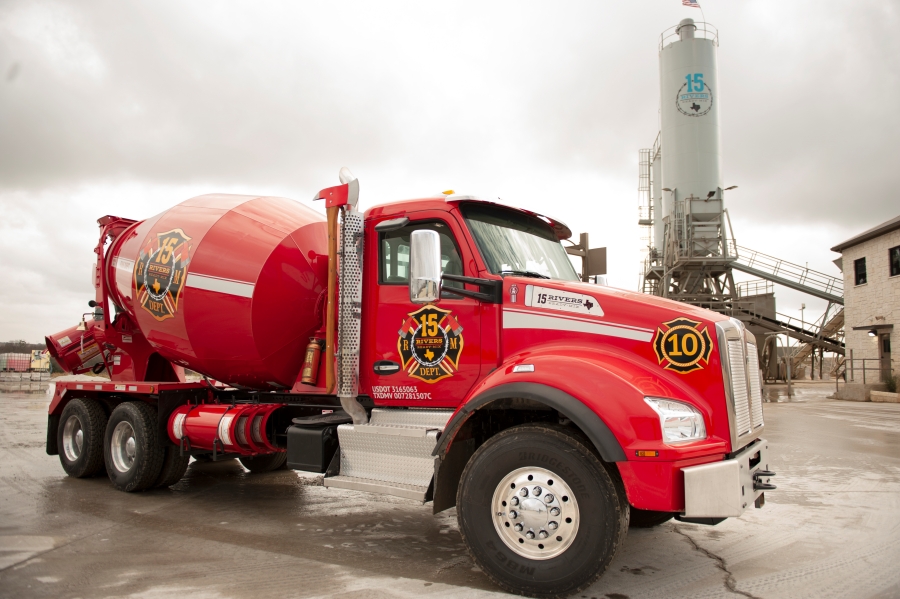 According to Slimboski, his first job in the ready-mix business was driving a truck for a local company. His time spent as a driver helped mold his perception of what he believes is the best truck in the mixer business.
"I've driven just about every truck, and there is a night and day difference between trucks produced by Kenworth and the rest," said Slimboski. "Kenworths are so comfortable, and in this business that's essential. Drivers often spend 10 to 13 hours in their trucks, so they need something they'll be happy with. The combination of high driver satisfaction and reliability made the decision to build a fleet around Kenworth T880s an easy one for us."
15 Rivers began purchasing Kenworth T880 mixer packages in 2018 through Con-Tech Manufacturing in Dodge Center, Minnesota. Eric Johns, Kenworth of South Florida vice president and principal, assists with truck specifications after 15 Rivers selects its T880 mixer package from Con-Tech. In total, 15 Rivers operates 28 Kenworth T880s – all specified with PACCAR MX-13 engines rated at 510 hp and Allison 6-speed transmissions. All T880s are fitted with 11-yard Con-Tech Extreme Duty™ High Performance mixer bodies. The company currently has eight T880s on order with the same specifications scheduled to be delivered later this year.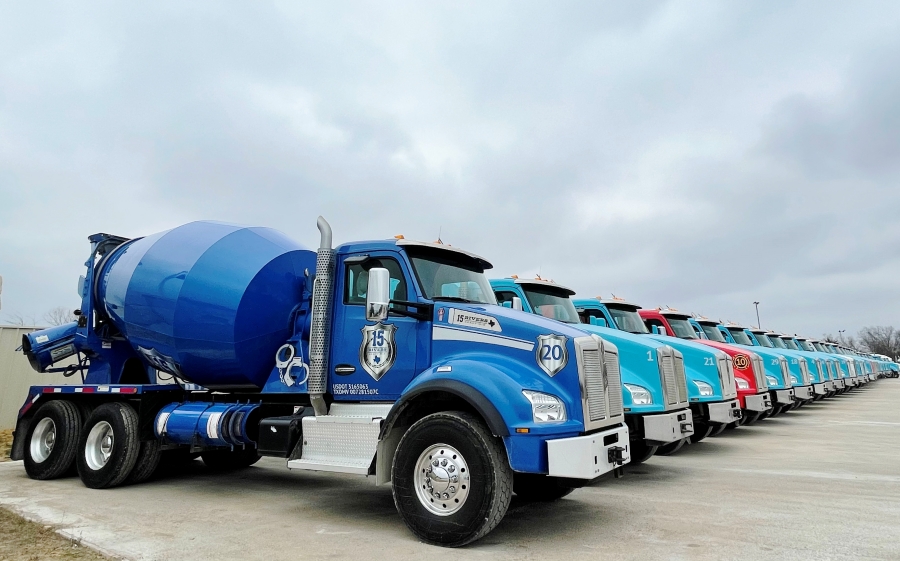 Several years ago, Sean Blair toured the Kenworth Chillicothe plant in Ohio to observe the manufacturing process for Kenworth heavy-duty trucks.
"I was sold on Kenworth after visiting the plant. I walked away so impressed by the technology and processes used to build their trucks," said Blair, who serves as chief operations officer for 15 Rivers. "As trucks went down the line, the assembly process was so smooth – every part seemed to fit like a glove. I've been to other manufacturing plants, and I haven't seen anything quite like that. You can learn a lot about the quality of a truck by the way it's built. Kenworth does it right."
On the road or at the job site, 15 Rivers' light blue painted trucks are hard to miss. As the main piece of equipment customers see, the company sees its trucks as a marketing tool and makes a point to keep its trucks clean.
"There's a lot of equipment on the road that is hard to tell which company it belongs to," said Slimboski. "We're proud of our trucks and want people to instantly recognize us when they see our trucks going down the road. We receive compliments from customers all the time about them. Being aligned with Kenworth helps us with the image we're trying to convey as a company."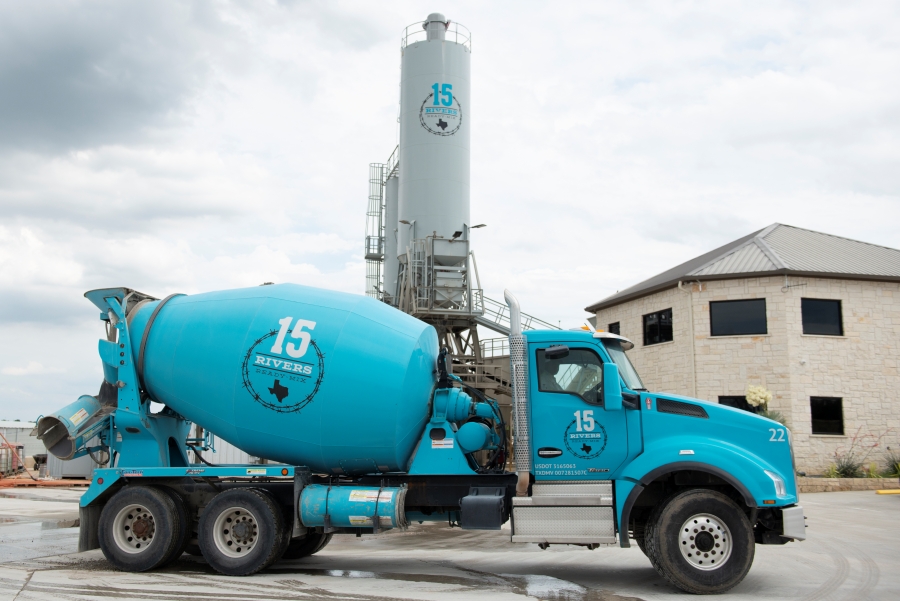 From a performance standpoint, the Kenworth T880s are living up to expectations. "The T880s have proven to be an efficient and dependable truck for us," said Blair. "The PACCAR MX-13 engine has been a solid choice for our operation and has proven to be reliable, which helps us achieve our on-time delivery goals."
According to Slimboski, company drivers are sharing a similar experience behind the wheel of its T880s as he did when he used to operate Kenworth trucks.
"From drivability to the layout inside the cab and everything in between, Kenworth is producing trucks that are easy for our drivers to operate while providing them a comfortable and functional work environment in their cabs," said Slimboski. "We value our drivers and want them to be in equipment that will make their job easier."
In 2020, 15 Rivers began adding Kenworth W990s to its fleet to pick up raw cement and transport it to the company's plant in Crandall, Texas, so that it can be produced into ready-mix concrete. The Kenworth W990s are all specified with PACCAR MX-13 engines rated at 455 hp and 10-speed automated transmissions. The W990s haul MAC pneumatic bulk tank trailers that are capable of transporting up to 27 tons of raw cement. By transporting material to its ready-mix plant in Crandall, 15 Rivers has cut its transportation costs in half since it no longer contracts out to other companies to make these deliveries.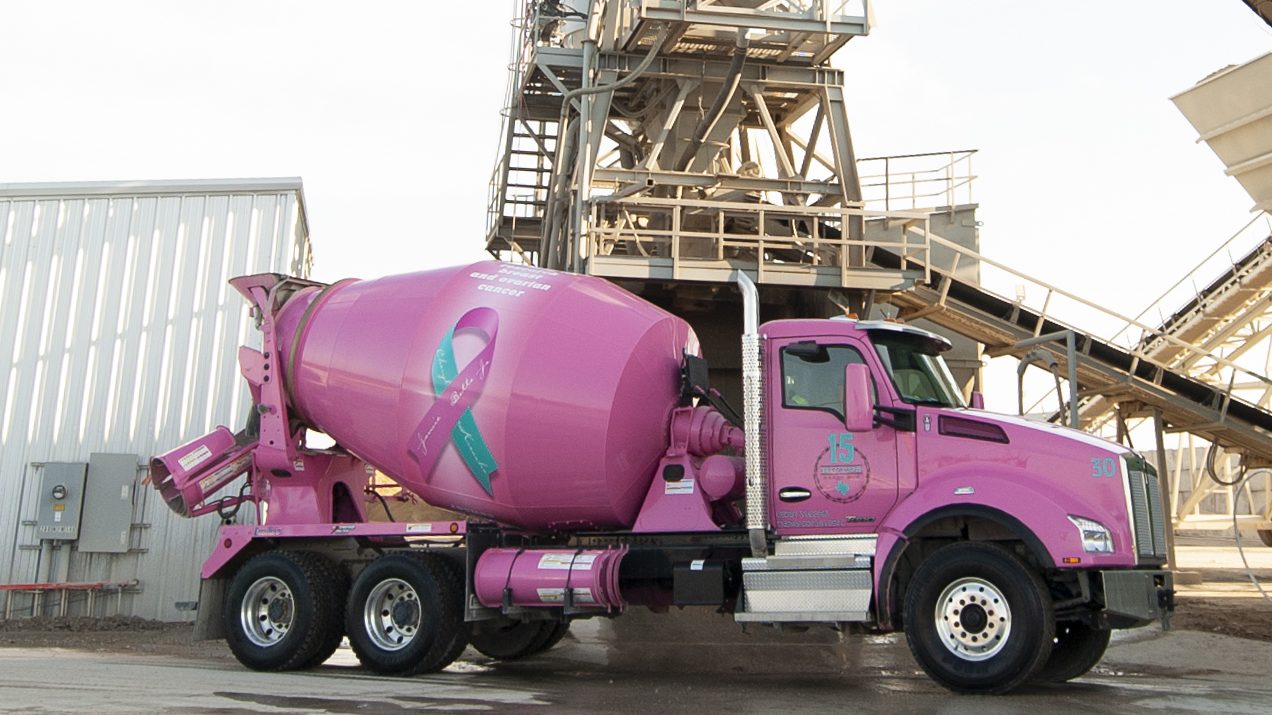 "Eric (Johns) brought up the idea about adding W990s as a way to cut costs and bring a new 'stylish' element to the fleet by adding Kenworth's newest long hood," said Blair. "Not only are we saving money by hauling raw cement to our plant ourselves, but we also have added a classic looking truck that receives a lot of attention, performs well, and drivers love."
In a short period of time, 15 Rivers has established a culture known for its commitment to providing top-of-line service to its customers. Its recipe of blending a high level of customer service with quality trucks has helped the company grow its revenue from $13 million in 2019 to more than $23 million reported in 2020.
"There's a lot of factors that have helped us achieve success, but it all starts with how you treat your customers. If you do right by them, the rest will follow," concluded Slimboski.
SIDEBAR: Honoring Texas and Bettering the Community
The 15 Rivers ready-mix company embraces the state of Texas and the communities it serves. The name 15 Rivers originates from the number of key rivers that flow through the state. The company logo on the side of its trucks features the shape of Texas.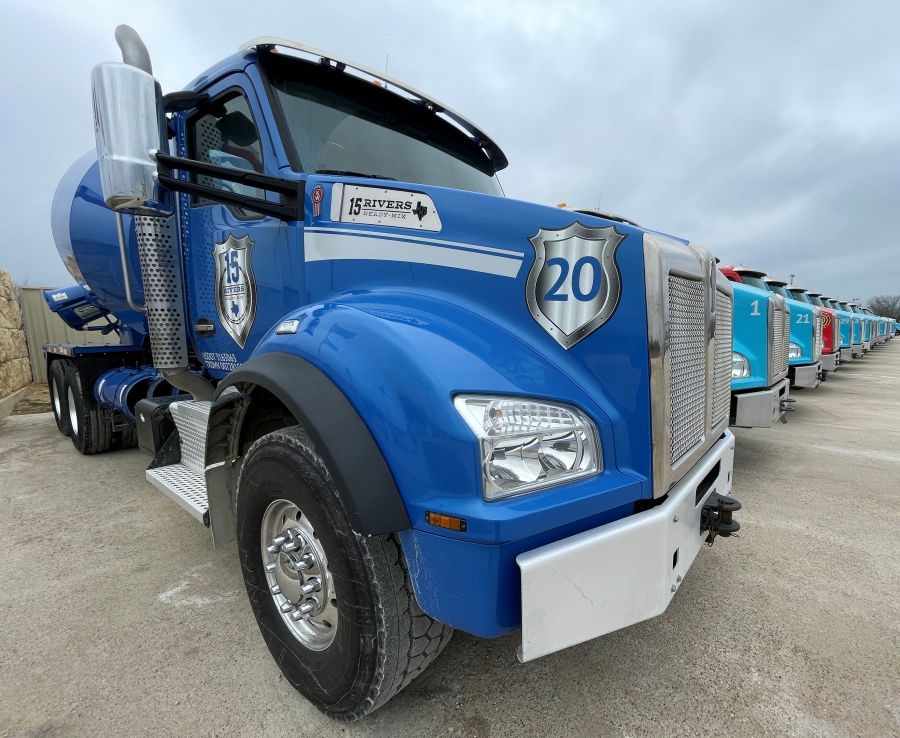 But the company's passion for Texas isn't just for show. For every 10th truck in its fleet, there is a specially themed truck that is dedicated to a cause the company wants to honor. So far, the company has a firefighter, breast and ovarian cancer, police, and army themed trucks to raise awareness and money for organizations dedicated to helping those who've served as well as those affected by cancer. Each year, 15 Rivers donates a portion of its earnings to charitable organizations that help those who've served and recovery/research for cancer. In addition, the specially themed trucks are frequently showcased at local events, like parades and fairs, to help their efforts in raising awareness.
"We're proud to serve our community and help the community around us," said Blair. "Our trucks have been a big hit at events and our drivers are thrilled to be behind the wheel of those trucks, helping support those special organizations. We look forward to adding more specially themed trucks to support great causes and organizations."