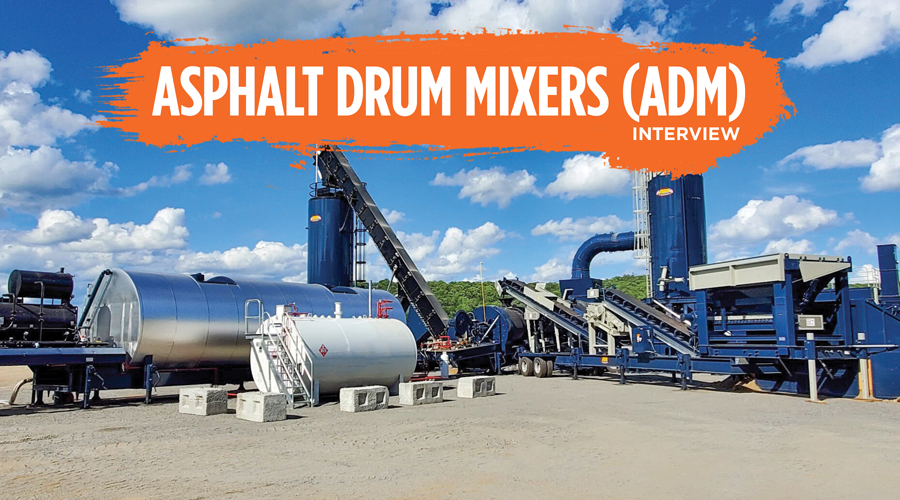 Equipment & Contracting's interview with Asphalt Drum Mixers (ADM), a family-owned business since 1967 that manufactures high-quality asphalt plants and components for contractors and asphalt producers worldwide.
Portable, skid mounted or relocatable, ADM has an asphalt plant to meet every business's specific production needs. Founded by Wayne Boyd in 1967 as Panco Corporation, a manufacturer of control panels, the company evolved into a manufacturer of asphalt plants in the 1970s. By 1983, Panco became ADM, exclusively manufacturing hot-mix asphalt plants, with the mission of providing the industry's most extensive sales and service support anywhere. ADM's quality guarantee is the cornerstone of the company's values.
Manufacturing four series of asphalt plants, ranging from 60-425 TPH, ADM can customize its asphalt plants to fit any business's needs. No matter the scope of the project or size of the operation, the ADM team is committed to helping asphalt producers' and contractors' businesses thrive.
The most popular series of asphalt plants ADM manufactures is the EX Series. These single-drum counterflow-technology plants (120–425 TPH) are designed to meet high capacity demand for maximum asphalt production. They can process up to 50% RAP,  are clean operating and efficiently designed to virtually eliminate blue-smoke and hydrocarbon emissions. EX Series' plants afford single-operator capability, easy troubleshooting, and simple on-site maintenance.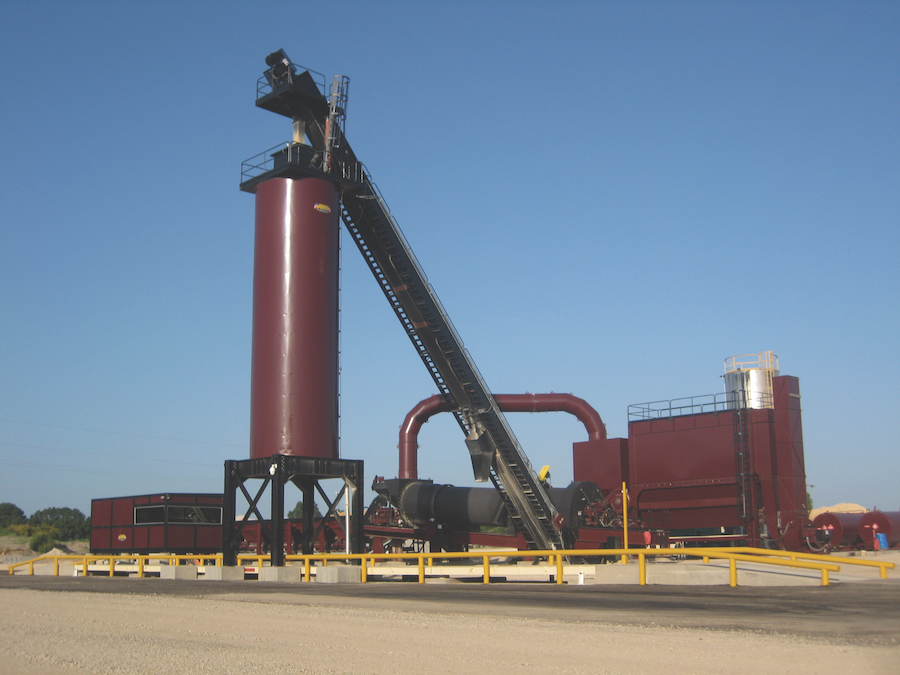 The MileMaker Series asphalt plants (160–425 TPH) provide high volume production at a low cost per ton. These plants feature dual-drum counterflow technology and can process up to 50% RAP. They offer a fast return on investment and are environmentally conscious, virtually eliminating blue smoke and emissions as the mixing zone is located further from the burner than most hot-mix plants.
Designed for easy, hassle-free operation, the RoadBuilder Series asphalt plants (110–350 TPH)  feature quick set-up in one-operator, one-loader plants and can process up to 25% RAP. These parallel-flow plants are simple to service, work at peak efficiency with individual digital processors and simple controls, and maximize fuel efficiency while minimizing asphalt cement burn-off. This is accomplished through the open-fired multi-fuel Hauck StarJet Burner, resulting in fewer emissions than other parallel-flow designed plants.
SPL Series asphalt plants (60–160 TPH) feature enhanced mobility for hard-to-access locations. These plants and components fit into a single trailer for cost-efficient shipping and easy transport in emerging markets worldwide. The plants operate at minimal downtime because they use standard parts, readily available when producers need them, while their parallel-flow drum system allows for lower fuel cost and high-quality asphalt production.
Operators in dozens of countries have seen firsthand that the ADM team delivers high-quality plants that are built to withstand the rigors of some of the world's most demanding environments, and, because every asphalt producer's and contractor's business is unique, ADM manufactures a full range of high-quality components so ADM specialists can help producers customize just the right plant for their operations.
Built with heavy-duty steel, ADM's long-lasting components are compatible with both ADM and other manufacturers' asphalt plants for maximum versatility. Components include HMA storage and surge systems, control rooms and process controls, aggregate feed systems, emissions control equipment, filler and dust silo equipment, liquid asphalt storage, additive systems, and specialty tanks.
Beyond ADM's ability to customize new plants, the company also specializes in retrofits to existing plants, due to the sustainability and built-to-last quality of ADM asphalt plants. Just one example of ADM's retrofit capabilities is a 1998 RoadBuilder Series 160 TPH asphalt plant which was recently converted to liquid propane and fitted with updated burner controls. A restored burner, new exhaust breeching, and duct-work were also added. The retrofit is helping the plant burn cleaner, safer, and more efficiently than ever.
As a partner to every contractor ADM serves, the company has these tips to help hot-mix asphalt plant employers and their operators keep plants running, improve asphalt plant efficiency, and extend asphalt-plant life.
One of the most important things employers can do is ensure that their operators are sufficiently trained at the onset of their employment, as well as to conduct regular educational update meetings to provide any new information that may come available and to refresh operator knowledge and understanding of expectations.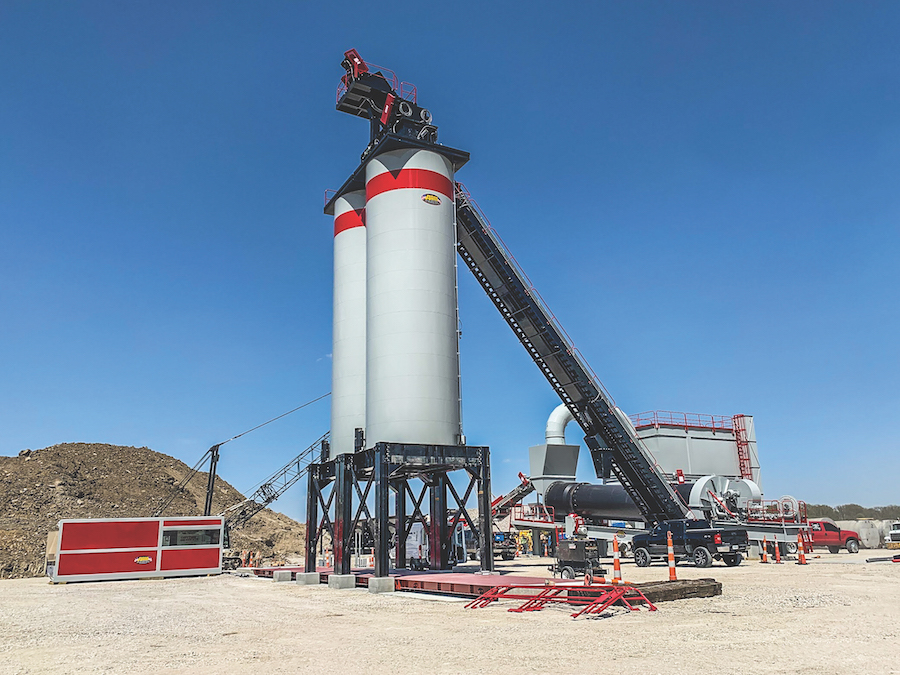 The most important thing plant operators can do is to ensure that they complete all routine maintenance, including daily, weekly, monthly, and annual maintenance as outlined in the asphalt-plant operational and service manuals. Employers should provide full access of the manuals to operators, while motivating operators to regularly access manuals to help with their ongoing maintenance responsibilities.
Employers can also help by considering adequate staffing, to give workers the time they need to perform all of their expected responsibilities, including routine maintenance, to prevent costly breakdowns.
When breakdowns do occur, employers and operators should also consider asking for outside help. ADM service specialists are available to help troubleshoot by phone, as well as come on site if the situation requires it. Although on-site service visits by outside personnel may be an expense operations would prefer not to make, having an expert on site can actually save on operating costs in the long run.
With reliable plants in more than 47 countries across six continents, the ADM team takes pride in delivering service before, during, and long after the sale, ensuring operators have everything they need to operate at peak capacity. No matter where your operation's next job is, ADM will be there to support producers' businesses.