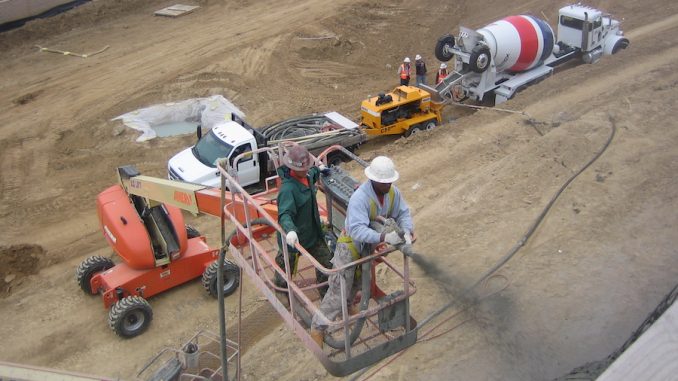 by Mike Newcomb – REED Concrete Pumps & Shotcrete Equipment
Shotcrete – sprayed concrete – has become a common practice for both new construction and repair and renovation. Concrete can be sprayed by one of two processes – one is "dry shotcrete" or "gunite" in which case dry material floats to the end of the hose via compressed air, then water is added at the nozzle. The second process "wet shotcrete" is the process whereby the material is mixed with water, added to the pump, then conveyed in a wet slug through the pipeline until it reaches the nozzle where air is then added to give the material velocity so it will stick to the wall or overhead.
People sometimes ask "which is better – Gunite or Shotcrete?". The answer to that question is "it depends on many different factors" which will be discussed below.
Neither method is clearly "better" than the other across the board. To know whether you should be using dry process shotcrete (gunite) or wet shotcrete depends on the variables of each job. Every job is different and these are the things you must consider before choosing wet or dry:
job size (quantity of shotcrete required)
accessibility
application rate required (cubic yards or cubic meters per hour or shift)
material availability (distance from job site (sand/ cement) transport method)
availability of air compressor
availability of water
storage space
nozzleman skill
We will look at the question as an accountant would:
Dry Mix (Gunite)
Gunite Machine, hoses, nozzle – $13,000 – $20,000
Air compressor – $40,000 – $70,000 (dry process requires a much larger air compressor than wet process, so if a large air compressor is already on the jobsite – major bonus!)
Total cost equipment $53,000 – $90,000 (but only if you need to purchase a compressor – it's also quite easy to rent a compressor at a rental yard)
Shotcreting Capacity 8-15 cubic yards/hr (depending on model and configuration chosen)
Wet Mix
Wet Concrete/Shotcrete Pump, hoses, nozzle – $90,000 – $175,000 (a wide variety of models and options are available today (including track mounting))
Air Compressor – $20,000 – $40,000 (wet process requires a smaller compressor (185 cfm – 375 cfm – depending on how much auxiliary air is required for blowpipe, etc))
Total cost equipment $110,000 – $215,000 (if purchasing compressor)
Shotcreting Capacity 12-20 cubic yards/hr
Equipment Costs
As you can see, the initial cost of wet or dry shotcrete is very different. It's especially cost effective to use the Gunite (dry shotcrete) process if your company already has a large air compressor on site – in which case the dry-process wins the "equipment cost per applied yard capacity" competition hands-down.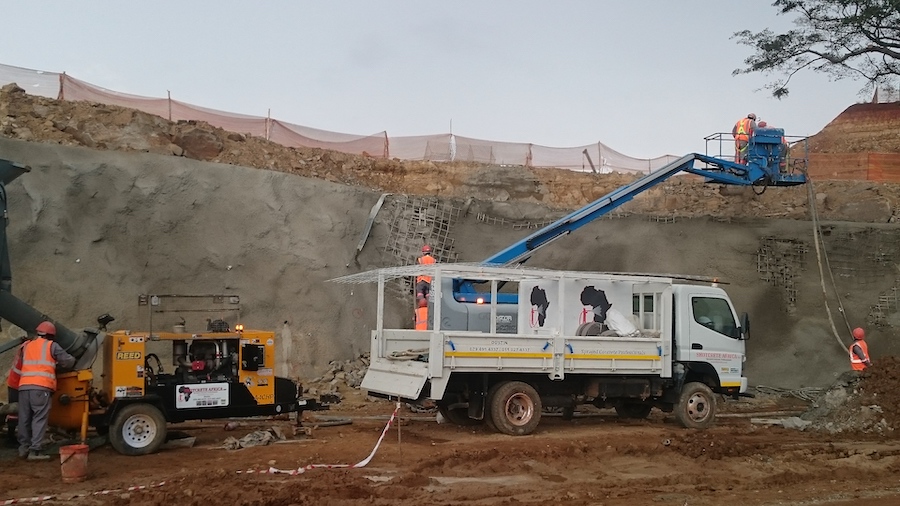 Material Availability
Material availability varies widely throughout the world. Some parts of the world use the dry method – and another areas of the would predominantly use the wet method. It seems when years ago the idea of shotcreting was introduced to an area it was done so using one method. This method grabbed root and became accepted by the local engineers and contractors. With this in mind, the material suppliers got their specific product dialed in. In some areas, preblended dry materials are quite common – sometimes just pallets of small 90 lb bags – sometimes much larger 1000, 1500, 2200 or 3000 lb bags/totes/supersacks which are lifted over the machines with a forklift. In other areas, ready mixed concrete is convenient to order, and quite reliable. In some parts of the world that have been using "wet shotcrete" for decades, there will be ready mix facilities that have it  "dialed in". Other parts of the world haven't quite gotten the wet shotcrete mix designs figured out, and spraying wet concrete can be a challenge.
Often times, ready-mixed concrete is simply not available – tunnels, mines, and many undeveloped parts of the world sometimes don't have a ready-mixed concrete facility nearby. To get around this, mining and tunneling companies often use "super-sacks" of dry mix shotcrete material that are lifted above the machine. Sometimes, especially with smaller quantities of wet materials, or when the ready-mix companies are too busy servicing larger customers – the ready-mixed wet shotcrete may take hours to deliver – which is a waste of everyone's time and quite costly. With the dry mix process, you control your own material therefore this is not an issue at all.
Another benefit of the dry-shotcrete process
Sometimes companies do low volume concrete repair jobs that require a lot of starting and stopping, usually with only a very small amounts of shotcrete applied between breaks. In this case, the dry-shotcrete method is far superior because the material doesn't get hard in the hoses – it actually floats through the hoses and the water is applied at the nozzle. The workers can take a break any time. Additionally, because the material floats through the hoses it's much lighter for the nozzleman and he will experience less fatigue than a nozzleman hoisting a hose and nozzle filled with wet shotcrete mix.
Considering Maintenance
The costs to maintain the equipment should be looked at as well. Let's look at only the equipment in contact with the concrete. First we'll look at the dry-process shotcrete (Gunite) machine. This unit is used to convey the shotcrete material dry, so there will be considerable wear on all items in contact with the dry shotcrete material. This long-term cost is not too major for customers who are typically using their machines for concrete repair projects where they are typically applying lower volumes of material.
Wet shotcrete pumps convey the shotcrete material in a wet state which is less abrasive on the machine – so customers who will be applying extremely high volumes of material (to build a new giant sea wall, for example) will typically save money and time on wear parts in the long-run. The wet shotcrete pump has the following wear items: wear plate, cutting ring, piston cups, hoses, pipes, nozzles etc.
Conclusion
Engineers and architects are now well aware that both wet and dry shotcrete produce a high strength final product. The high velocity of the shotcrete application results in a strong, durable product that is usually much stronger than cast in place concrete. (visit www.shotcrete.org for more information)
As we have seen, deciding whether a wet shotcrete pump or a dry-mix gunite is "better" depends on several factors including initial equipment cost, shotcrete material availability, the total amount of material to be applied, and the nature of the application (constant or start/stop). You may even conclude that you need to purchase equipment for both shotcrete processes to give you maximum flexibility.