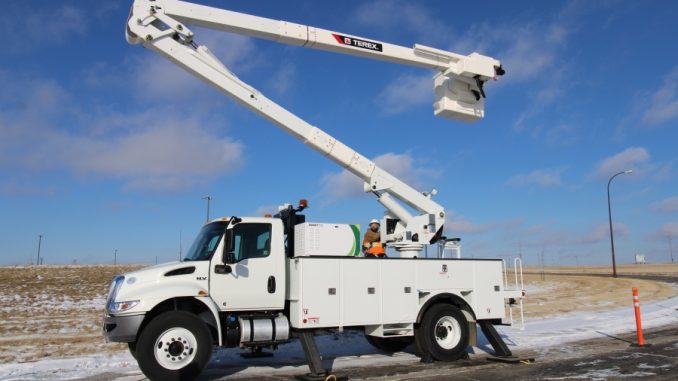 Watertown S.D. – Terex Utilities introduced the HyPower™ SmartPTO earlier this year for a variety of Hi-Ranger™ telescopic, overcenter, and non-overcenter aerial devices and Commander and General digger derricks. This simple and reliable product reduces idling, increases fuel savings, and minimizes noise and air pollution by utilizing stored plug in electric power to operate the equipment.
Terex Utilities has exclusively partnered with South Carolina-based Viatec, an expert in plug-and-play electronic PTO systems to develop solutions optimized for Terex products. "Working with Viatec, along with our years of knowledge developing HyPower products, has resulted in a product that meets the needs of the electric utility industry," said Joe Caywood, Director of Marketing.
SmartPTO provides a simple and reliable solution," said Caywood. "The system functions as an ePTO to power the primary unit and auxiliary functions as well as directly powering lights and the optional integrated cab A/C using factory vents and controls."
During the show, Terex Utilities and Viatec will also demonstrate the newest generation of the SmartPTO on a Hi-Ranger LT40 trouble truck. "We are continuing to work closely with Viatec as new technologies come available to find the best options for Terex equipment and utility applications," said Caywood.
Key Features and Benefits
"The Viatec SmartPTO is largely self-contained and can be installed on most equipment and chassis. "Installation is simple and straightforward due to the modular design. The Viatec SmartPTO is a modular self- contained design which has minimal interface with the chassis and hydraulic system. This enables the Viatec SmartPTO to be installed on most any equipment, regardless of chassis, in 2-3 days," said Robert Hasegawa, Product Manager.
The SmartPTO significantly lowers the cost of engine related expenses of a Terex aerial or digger derrick by reducing fuel costs and wear and tear on the engine due to idling. Overall troubleshooting and repair costs are also reduced thanks to the on-board diagnostics and telematics capabilities. The system is maintenance free due to the brushless permanent magnet motor, Lithium NMC batteries, and absence of internal service parts.
Likewise, lithium NMC batteries with storage capacity from 7 to 21 kWh, have a high power to weight ratio that reduces overall weight leaving payload capacity on the truck. Lithium batteries also offer long service life and low maintenance costs.
"Operators can easily change from engine to ePTO with the flip of a switch," said Caywood. Controls are conveniently located in the cab, on the tailgate, and in the bucket of aerial devices. A touch screen displays settings, battery charge, system statistics such as gallons of fuel saved, run time, and other notifications. "When it is time for the battery to be recharged, the SmartPTO warns operators within about 5% of battery life. When the engine is powered, it automatically disengages the ePTO function so for situations such as storm restoration, where plug in recharging is limited, it does not impact 24-hour operation," he added.
"The SmartPTO comes standard with a 14-kWh battery, which we found gets most crews through the normal workday. In higher-use applications an optional 21-kWh battery is available," said Hasegawa.