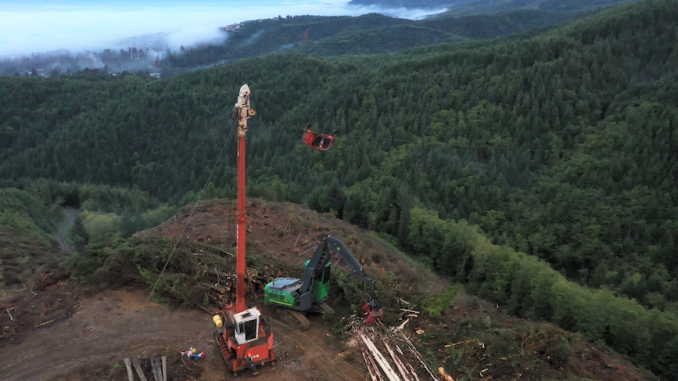 Along the Oregon coast, the weather can turn on a dime. Fog, sleet and rain can roll in from the ocean tides in a matter of minutes. Logging crews must roll with the punches, no matter the weather. That's the case for Gustafson Logging Co., a forestry contractor based in Astoria, Oregon.
"On the Oregon coast, we have new environments every five minutes," said Chad Gustafson, the third-generation co-owner of Gustafson Logging. "When it's ugly, it's ugly, but when it's beautiful, it's awesome."
Even though the weather can be tough, Gustafson wouldn't trade it for the world.
"It's always something different. I love it. Working outdoors beats the dreariness of an office any day," he said.
While the weather may change, one thing remains steady for the Gustafson family: their passion for the forestry industry, as the business has been passed down to its third generation.
"Currently, my father Mark and I are co-owners of the business. My grandfather Duane started the business in 1974," Gustafson said. "It's what the United States was built on, in my opinion. It's hard, honest work, and it's been a great run. When you're bred, born and grow into something, you do it for the love of it."
And it's not just the Gustafson men of the family who love the business.
"When my grandfather started the company, my grandmother was right out there with him," Gustafson said. "It was just the two of them for a while. He would fell the timber, while she was on the landing to bump knots and clean up the logs to get them ready to ship."
Today, Gustafson Logging has grown to 25 employees, including Gustafson's wife.
"We work hand-in-hand every day, as much as we can stand each other," Gustafson smiled.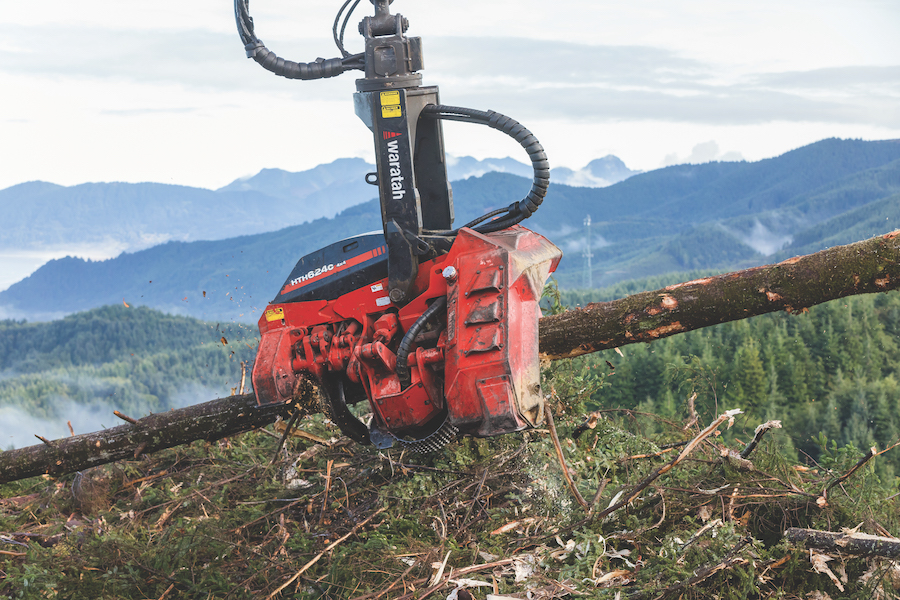 RAISING THE GAME
To tackle clearcutting on steep slopes, the Gustafson crew runs a skyline logging operation. At one of their sites located three miles south of Rockaway Beach, Oregon, you can watch the silhouette of the carriage effortlessly transport 20-foot logs across the cable.
"We use a 70-foot tower and a five-man line system," Gustafson said. "We hang the skyline out about 900 feet so that we are yarding logs about 700 feet in distance."
From there, they cut and sort the logs to send to the mill where the mix of spruce and hemlock is processed and manufactured into shipping crates distributed all over the world.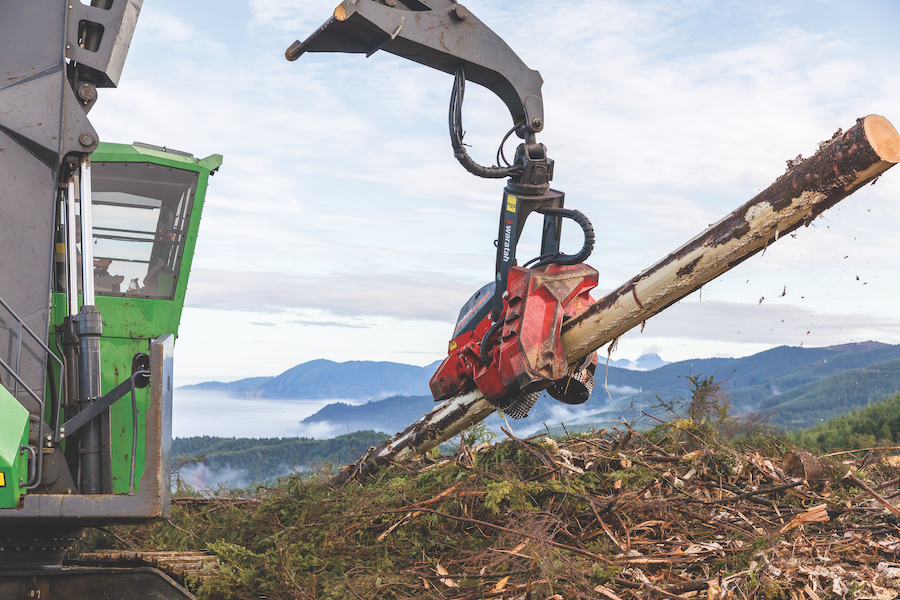 GO BIG OR GO HOME
When it comes to purchasing equipment, Gustafson's mantra is "go big." With a fleet including two HTH624C 4×4 Waratah heads on 3156G John Deere carriers, Gustafson's all about having power.
"In this industry, you usually need a larger machine than what you think," he said. "The type of wood we work in has strong limbs and is very heavy. The Waratah has the power to get right through it."
They purchased their first head in 2013 and have stuck with Waratah since. Not only have they stuck with the same brand, but also the same dealer. Papé Machinery Construction & Forestry is Gustafson's dealer of choice to make it happen.
"We choose Waratah because of speed, dependability and longevity," he said. "It's the name that everybody kept bringing up when we were making our purchasing decision."
Reliability is a huge factor for being a repeat customer.
"The Waratah is probably our most reliable thing out here," Gustafson said. "They just last. And that's what keeps us drawn to them and keeps us coming back."
ACCURACY AND EASE IS EVERYTHING
Within the industry, accuracy has a huge impact on output. Gustafson has found that the Waratah heads' software has led to increased accuracy.
"Pretty much our whole livelihood is based on being as perfect as possible. With the Waratahs, the computer systems work flawlessly," Gustafson said. "We get out twice a day to measure logs to make sure that our processors are cutting correctly, and most of the logs are spot on."
Gustafson also appreciates simplified serviceability to maintain uptime.
"We're all about production," he said. "With the Waratahs, it's been all routine maintenance. When you open up the hood of a Waratah, it's all right in front of you. Five minutes here and ten minutes there has really been all that's needed."
If outside support is needed, Gustafson has been happy with how quickly his crew is back up and running.
"Waratah's service is impeccable," Gustafson said. "We can call, and they walk us through almost everything because of their knowledge of the machine. It's outstanding to get that support."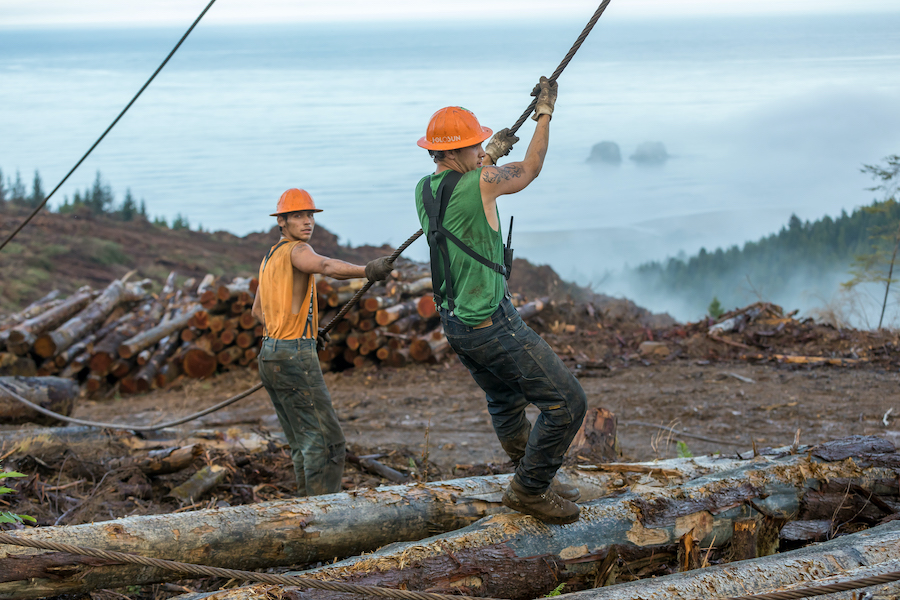 LOGGER AND PROUD OF IT
Gustafson is proud to continue investing in and growing his logging business. His passion for the industry and the outdoors is clear, as he spends time off the clock in his small town hunting razor clams on the beach with his family, like a true coastal Oregonian.
"We're not big city people, we're small city people," Gustafson said. "We take care of each other, and we just want to make an honest living and see the business go on."
Not only does Gustafson wish for the business to continue, but also to share the beauty of the woods with generations to come.
"Oregon has the most stringent laws as far as logging, taking care of the land and keeping everything tidy with drinking water and soil conditions," Gustafson said. "We care about the woods and we want to come out here in a hundred years and have it become even better than it is now. And it can be. That's what drives us to get up every day."
Gustafson Logging Co. is serviced by Papé Machinery Construction & Forestry, Portland, Oregon.