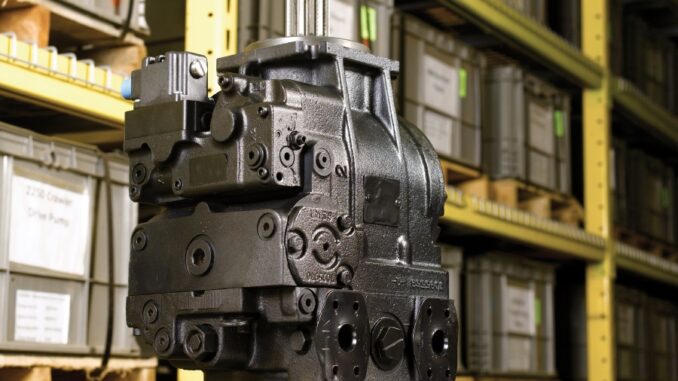 The ALL Family of Companies has a well-deserved reputation as a crane rental powerhouse. But in fact, they've always been much more. Yes, renting their 3,600 pieces of equipment across 33 North American branches rightfully dominates the story, but ALL also is an authorized dealer for sales of new cranes from names like Kobelco, Skyjack, and Maeda, and is a well-known seller of ready-to-work used cranes from its own fleet. Sales has always been part of the ALL story, not just rental.
That includes selling parts.
ALL's newly appointed parts sales manager, Jordan Nessmith, is tasked with growing ALL's sales of used, reconditioned, and surplus parts from top manufacturers, straight from ALL's own massive inventory of parts and attachments.
"We're an organization that keeps on hand spare engines for every type of crane in our fleet. That tells you everything you need to know about how seriously we take parts," said Nessmith.
ALL's parts department works hand-in-hand with its service and maintenance department, which is the best in the industry. ALL's reputation for maintaining its fleet in like-new condition is well known.
"To anticipate every service need, we keep a lot of parts in stock so our service team has what it needs to keep machines in like-new condition," said Nessmith. "When a type of crane leaves our fleet because we've upgraded, we have all these parts left in stock for cranes we no longer own. Now, we're making them available for sale."
Buying parts from ALL comes with great advantages over purchasing from a typical third-party seller. "The institutional knowledge you get from buying from us can't be matched," said Nessmith. "ALL knows cranes inside and out, and we pass that know-how and expertise on to the parts-seeking customer. They're never flying blind."
Nessmith currently spends his time getting the word out about ALL's surplus parts business. Ideal customers are numerous and include companies with smaller crane fleets, maritime/barge-based construction, bridge contractors, tree services, and overseas companies that work with older cranes ("Export shipping is not a problem," said Nessmith).
To get a taste of the parts ALL has to offer, Nessmith recommends starting with its dedicated parts website, craneparts.com. For questions about a specific part, or if users don't see what they're looking for on the website, they can contact the ALL branch in their region. Find a complete list of ALL branches at https://www.allcrane.com/find-a-branch.