Under normal circumstances, a skidding vehicle is hard to steer. But a skid steer loader is meant to skid in order to steer itself. The piece of equipment that is now ubiquitous on job sites was engineered by the Keller brothers decades ago. The brothers just wanted an efficient way to clean the upper levels of barns. Today, skid steer loaders are used for a lot more than barn cleaning. Although it's not a complicated piece of equipment, there are several things to consider when selecting one. Use our buying guide to help you purchase the best skid steer loader for the job.
How It Works
A skid steer loader was originally built with a steerable rear wheel. The compact machine pivoted on its own length. Later, it was redesigned to roll on four fixed wheels. This was accomplished by distributing the loader's weight unevenly – so that one side was heavier than the other. The wheels on the heavier side of the loader counter rotate. This pivots the loader so that the two wheels on the other side skid in the direction of the turn. The new design was manufactured and branded "Bobcat."
What It Does
A skid steer loader can scoop and dump small amounts of dirt, remove snow, clean streets and parking lots, and move around bales of hay. It's meant to handle small jobs quickly and efficiently. You know, the stuff you could do by hand, but really don't want to.
Operation
Skid steer loaders are fairly safe to operate. You are seated in a protective cage. The machine is not likely to tip over since it has a low center of gravity. The controls are easy for most workers to learn pretty quickly.

Job Requirements
Your job is to determine specifically what tasks you need your skid steer loader to manage. Is most of the work low to the ground? Or will you need to lift and load items at a high point? On small job sites, the speed of the machine likely doesn't matter. But if you need to traverse a large area, you may need a peppier engine. The type of work you will do determines the type of attachments you will use. Some attachments require more power – or only fit larger machines. You need to understand what each model skid steer loader you are considering can and cannot handle.
Reputation Matters
It's always tempting to go with the lowest price. But think long term. Some fly-by-night equipment dealer selling lesser-known brands isn't going to be there when things go wrong. You know that things always go awry on the job. Ensure that you are working with a reputable equipment dealer who is willing to put all the commitments they promise in writing. Once you determine the specifications that meet your requirements, compare models from well-known manufacturers.
Specifications and Features
Once you define your job requirements, you can determine the specifications and features that you need. You'll want to make a distinction in advance between needs and wants. It can be tempting to up your budget when you see some cool features. Bring your requirements document with you and stay focused. The following specs will help you narrow down your list of potential models.
Load capacity
Ultracompact skid steer loaders have a load capacity of around 600 pounds. You're not going to pick up huge amounts of material with these machines. But they work well for small jobs and ultra-tight spaces. Not to mention small budgets. Of course, much larger skid steer loaders are available. A 100-hp loader can lift about a ton and a half. The key is striking a balance: enough power to meet your requirements (perhaps a bit more), but not oversized.
Tipping Point and ROC
This is where we beg of you to read the manual. Or at least the spec sheet. Generally speaking, your rated operating capacity (ROC) is 30-50% of the machine's tipping point. Meaning, if the rear wheels are going to start lifting off the ground at, say, 6000 pounds, your ROC is between 1800 and 3000 pounds. However, this is under "ideal" conditions. Full fuel, flat ground, no wind. You know, a dream scenario. Some manufacturers will state a tipping point well under the actual tipping point. Why? Because they know you – pushing the limits and such. Know the machine's ROC and err on the side of caution. Or buy a bigger skid steer loader.
Lift
Pivoting arms on a skid steer operate either with a radial lift configuration or a vertical lift configuration. The radial lift setup swings from a single pivot point. This causes the bucket to arc forward a bit during the lift. The vertical lift option does not cause the bucket to arc. However, it is a more complex system. We recommend discussing the differences with a technician or equipment dealer to understand which boom system is best for your application.

Hydraulic Flow
A skid steer loader's attachments are driven by an auxiliary hydraulic system. You'll need to know the hydraulic flow rate required to drive the attachments you plan to use.
Standard Flow
Most skid steers use a standard-flow auxiliary hydraulics package that provides 17-24 gallons per minute (gpm). This is enough to run hydraulic hammers, augers, grapples, 4-in-1 buckets, and trenchers.
High Flow
A high-flow auxiliary hydraulics package provides 30-38 gpm. This is a high enough flow rate to power attachments such as snow blowers, small mulchers, rock saws, and chippers/shredders. Note that both standard and high flow systems operate at the same pressure as the skid steer loader's main hydraulic circuits. Typically 3000 to 3500 pounds per square inch (psi).
Enhanced High Flow
Although enhanced high-flow auxiliary hydraulics systems offer about the same 30-38 gpm flow rate as a high-flow package, it operates up to 4000 psi. This is enough to power larger mulchers and cold planers, for example. This system is meant for bigger skid steer loaders with more horsepower.
Secondary System
Some applications require a secondary auxiliary hydraulics system. For example, if you need to change direction on a snow blower's chute. The second system allows simultaneous multiple hydraulic movements.
Remember that although you could run a high-flow attachment with a standard-flow package, it doesn't mean you should. It's bad for the attachment and the skid steer. Get the right auxiliary hydraulics package for the job.

Dimensions
Obviously, you'll want to make sure that your skid steer loader is the right size for the job. If you're landscaping somebody's backyard, you'll probably need a machine under 60 inches wide. You want to make sure the machine is low enough to squeeze under, not just through, tight spaces.
Tires
There are several tire options available for your skid steer loader. Most have pneumatic rubber tires with side walls that are thickened. Solid rubber tires are a good choice for challenging terrain. Foam-filled tires offer greater puncture resistance. Typically, the heavier the tire, the higher the price.
Cabs
Cab options for skid steer loaders include cage style and glass enclosed. Every skid steer has a steel safety frame. Glass enclosed cabs have front doors that slide up or have wide openings. Side-opening doors are available on skid steers that have a single boom arm. Larger skid steer loaders may be available with climate control.
Horsepower
The power of the skid steer loader's engine is based on horsepower (hp). Smaller machines have less than 50 hp. A mid-sized skid steer is between 50 hp and 70 hp. Large skid steers are over 70 hp.
Technology
This simple machine can come loaded with a lot of fancy technology. CAT offers SMART technology to optimize the performance of their attachments. Bobcat has an information management system to handle all the data software collects about the machine. This level of technology makes sense for large operations that manage a fleet of equipment. All this technology can be dazzling, but expensive. Keep that requirements document handy when you go to your local equipment dealer.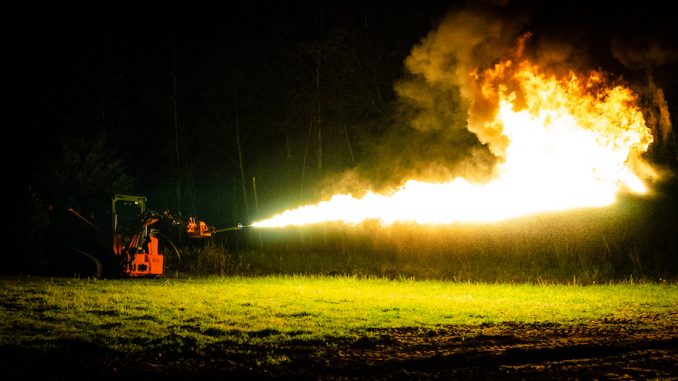 Want to learn about the Skid Steer Flamethrower Attachment? Click here.
Skid Steer Loader Attachments
It's the attachments that make skid steer loaders so versatile. Know in advance what kind of attachments you plan to use. Then ensure the skid steer loader you buy can handle them. As described in the hydraulics flow section, an enhanced hydraulics flow package that's needed to run a large power mulcher requires a bigger machine. Other compatibility issues include power, weight, and load capacity.
Here are some popular attachments to consider:
Bucket
This is the most widely used skid steer loader attachment. There are many variations, widths, and gauges. Popular buckets include 4-in-1 and side-discharge buckets (such as this BD118 SAND by CAT).
Fork
The simply designed skid steer loader fork attachment handles moving and loading tasks. You'll see them often in warehouses, but they are also handy for moving all kinds of materials on the job site. Its two flat steel struts slip inside pallets. Or slide under a pile of material. The frame is as important as the struts. Bobcat's line of forks are carefully tested to ensure they will last for years.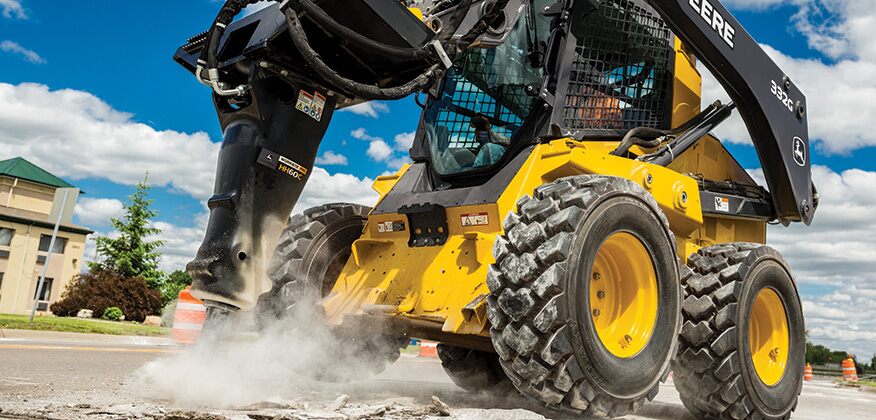 Blade
A blade attachment is typically used for shallow digging. You can doze, grade, and level a site in preparation for asphalt pavements or landscaping work. QuickAttach sells their Versa Blade-Industrial 6-Way Dozer Blade in three different widths. See the full specs.
Grapple
Grapples are true workhorses. You can use them to clear debris off a construction site. Landscaping professionals use them to dig, rake, and move heavy, irregular-shaped items like rocks and trees. Kubota makes a "manure" model for farmers and ranchers. Great for moving hay and, like the original Bobcat, cleaning barns.
Auger
The auger attachment for a skid steer loader will drill into the earth to, for example, dig holes for posts. You want to buy the right auger to handle your project's soil conditions. Options include direct-drive and planetary-drive. Direct-drive augers use the skid steer loader's hydraulics. Planetary-drive augers provide more torque and operate at a slower speed to drive through dense material. Bobcat sells both drive types. Of course, you do need enough auxiliary hydraulic power for your requirements.
Snow-Handlers
Anything is better than a snow shovel. There are variety of options for snow-handler attachments for your skid steer loader. A simple angled blade creates a path through the snow. You can handle clearing the biggest snow piles by adding an auger collector. This will blow the snow on either side of the skid steer loader's path. Hiniker makes a huge snow pusher with an optional pull-back attachment. It has a rubber blade for paved surfaces. Heavy duty steel skids handle uneven terrain.
Popular Skid Steer Loaders
There are a ton of skid steer loader manufacturers. Here are a few popular ones, listed in alphabetical order. They are all solid companies with excellent reputations. Your local equipment dealer can help you select the right company based on your requirements.
ASV
ASV is located in Grand Rapids, MN. They offer two skid steer loader models for their North American market. (The RS-75 and VS-75.) Both models have 74.2 HP engines. The RS-75 has an ROC rating of 2600 pounds; the VS-75 has an ROC rating of 3600 pounds.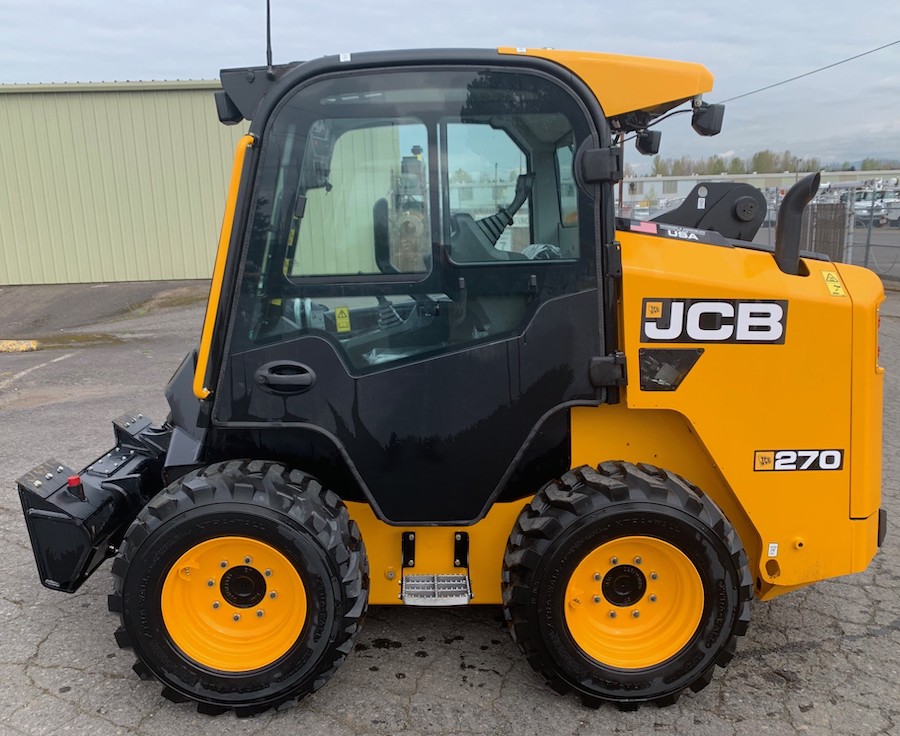 JCB
Featuring the iconic, single-arm JCB Powerboom™ and side-door entry, JCB skid steer loaders are stronger and safer than conventional twin-arm skid steers and deliver the power and performance you need.
Bobcat
This North Dakota manufacturer is now owned by Doosan. They've been making skid steer loaders for a long time and offer many models from the smallest 22.5 hp to a 190.5 hp powerhouse. Their A770 model is particularly flexible – it can switch from a skid steer to an all-wheel-steer.
Case
Case is located in Kansas. (Are you detecting a Made in the USA theme here?) They have several machines. Their B-Series offers skid steer loaders from 60 hp to 90 hp. All but the SR160B have Tier 4 Final emissions engines. These require zero lifetime maintenance.
Caterpillar
You just can't talk about construction equipment without mentioning CAT. Based in Illinois, Caterpillar offers several skid steer loader models up to 110 hp. All include a hydraulically driven demand fan to provide extra cooling to protect the machine in challenging conditions.

John Deere
It's still true: nothing runs like a Deere. The Illinois manufacturer offers a broad range of skid steer models from a very compact 48 hp to the far larger 96.6 hp machine. They offer a 2-year / 2000-hour standard warranty.
Kubota
Just to show how worldly we are, the Japanese manufacturer Kubota makes it on our recommended list. They offer two skid steer loader models. The smaller SSV65 has 64 hp and the larger SSV75 has 74.3 hp. A climate-controlled cab comes standard. As does a slide-up, front-entry door.
Wacker Neuson
The Wisconsin-based manufacturer is relatively new to the skid steer loader market. Perhaps to make up for their newbie status, they offer an excellent 3-year, full-machine warranty and a 4-year powertrain warranty. Models range from 56 hp to 100 hp with large fuel tanks and high visibility cabs.

Buying Options
There are several options for buying a skid steer loader. New is always nice, but don't discount used models. You can buy them through equipment dealers or even online from national auction houses. However, when you buy used, you really need to do your homework. We recommend exploring and pricing a new machine first. Then, see what options are available in the pre-owned market. When in doubt, renting equipment is the way to go. Be sure you understand the level of service provided by the dealer. And get it in writing.
Skid Steer Loader Inspection
It's worth hiring an experienced technician to inspect and kick the proverbial tires for you. There are several key components to inspect when considering a pre-owned skid steer loader.
Hydraulics
Lifting and maneuvering depend on hydraulic oil and pumps. A sagging bucket or leaking hoses indicate a hydraulic system with problems.
Frame
You want to identify manufacturers who are known for building skid steer loaders with solid frames. Bobcat does extensive testing on their models, including the frames. A skid steer loader's frame is being jolted and bounced around all day long. All that digging, lifting, and pushing causes a lot of stress. Check the frame carefully for cracks and other damage. Remember that some operators continually push the limits on their machines. You don't want to buy a skid steer loader that's been regularly over-stressed.

Engine
You don't have to be a skid steer loader technician to detect the sounds of a bad engine. Rattling and other weird noises indicate problems. The engine should sound smooth. Diesel-powered engines should not be blowing black smoke long after it's turned on. Don't be afraid to rev that engine. The last thing you want to deal with are fuel injection or compression issues.
Tires
Skid steer loader tires are pricey. The fact that they skid around causes wear and tear. Extra thick walls and treads help mitigate serious damage and extend tire life. Check to see how much rubber remains. You don't want to buy a skid steer loader with tires nearing the end of their life.
Financing
There are typically several ways to get financing. Equipment dealers and manufacturers usually offer payment options. Just make sure the math makes sense. (Meaning you're bringing in enough income to make the payments and still feed your family.)
Conclusion
Skid steer loaders can handle so many different tasks. It can be overwhelming. Take the time to think through your core requirements. If you're on a budget, a more powerful machine with less technology and comfort amenities will give you the flexibility to handle bigger jobs. The array of available attachments can make it possible to expand your business without investing in a whole new machine. When in doubt, consider renting. For large companies, a fleet of these compact workhorses can save money. Especially if you take advantage of data-driven technology. No matter which skid steer loader you choose, buy high-quality machines from reputable equipment dealers.