View the complete article here.
There are several theories as to how the Egyptians built the pyramids. The most likely include the use of ramps or canals. It is speculated that building the pyramids took thousands of workers over 20 years. How long would it take to build a pyramid with a modern crane and other standard construction equipment? Experts hypothesize approximately five years. Obviously, any construction project today is likely to use some type of crane. In this buying guide we'll focus on mobile cranes. We will discuss mobile cranes generally and the features and specifications you should consider to select the right one for your project.
How Cranes Work
A crane's mobility is based on four basic lifting principles:
Center of Gravity
The point where the weight is evenly distributed. A mobile crane's center of gravity is related to its heaviest components: boom, carrier, upperworks, and counterweight.
Leverage
A crane's leverage is calculated by multiplying the weight of the crane by the distance between the center of gravity of the crane and the tipping axis. The load's leverage is calculated by multiplying the distance between the center of gravity of the load to the tipping axis and the weight of the load. The crane's leverage should always be greater than the load's leverage to maintain stability.
Stability
The crane's stability is related to leverage and conditions on the ground. Manufacturer's load ratings are based on ideal conditions. You'll need to make adjustments if, for example, the ground is not level, or the soil is soft.
Structural Integrity
Everything involved in lifting the load is part of the structural integrity. This includes the crane itself (main frame, outrigger supports, boom sections, etc.) It also includes attachment points, wire ropes, hooks, and any piece of equipment involved in lifting the load. Any of these parts can be the cause for failure. That's why inspecting the crane prior to each shift – and inspecting the attached load before the lift – is so critical to safety.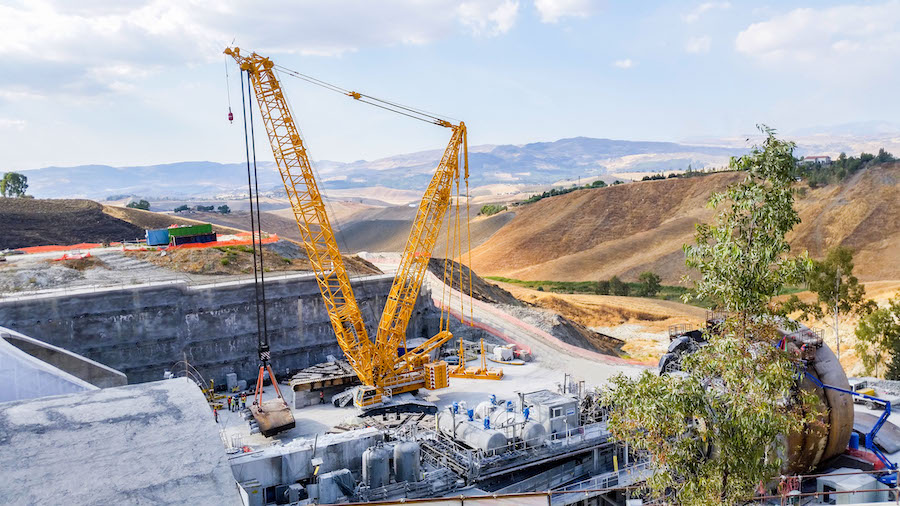 Job Requirements
Mobile cranes run the gamut from small and nimble to huge and plodding. Clearly understanding and communicating your job requirements is the first step in the buying process. Consider the work site to guide you in the type and size of the crane. The terrain you need the crane to travel over matters. Consider the constraints above and on the sides of the crane. Take into account issues like weather, nearby structures, and powerlines. Document the specifications of the loads the crane needs to lift and the distance and height it needs to move the loads. Finally, how you will get the mobile crane to the job site can reduce your options.
Requirements Document
Even a small shop should spend the time to develop a job requirements document. Hard requirements are must-haves. Soft requirements are nice-to-have functions. For example, you may like to have some automation features, but they are not necessary to get the job done. A requirements document helps you define what you must do with the equipment you buy. You can hand the document to an equipment dealer to help narrow down your choices.
Mobile Crane Types
There are several types of mobile cranes. They include: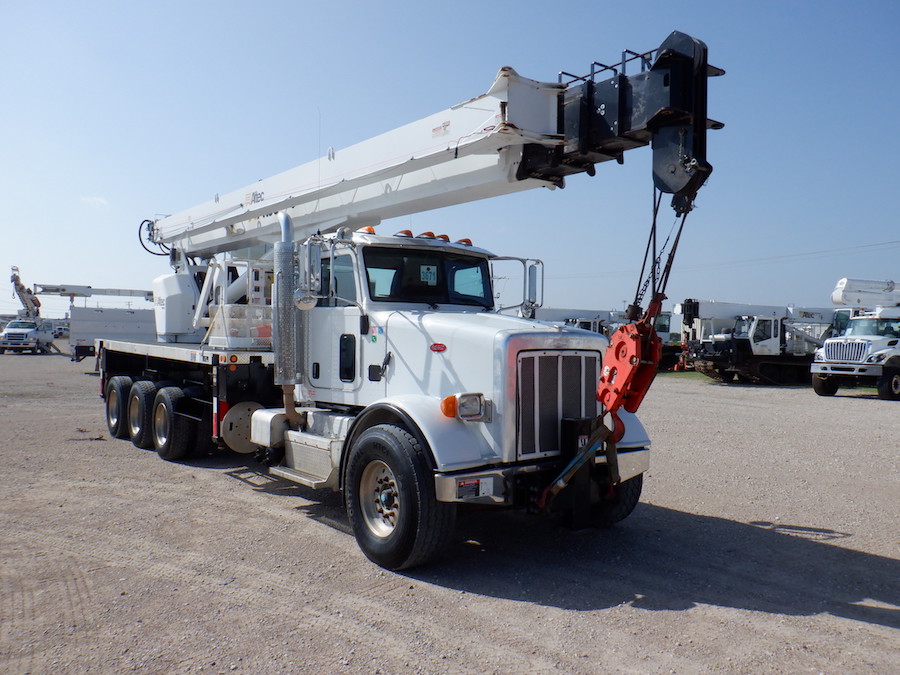 Truck-Mounted
A truck-mounted crane is literally part of the vehicle is sits upon, since it uses the same engine and undercarriage. This type of crane uses a rotating cantilever boom.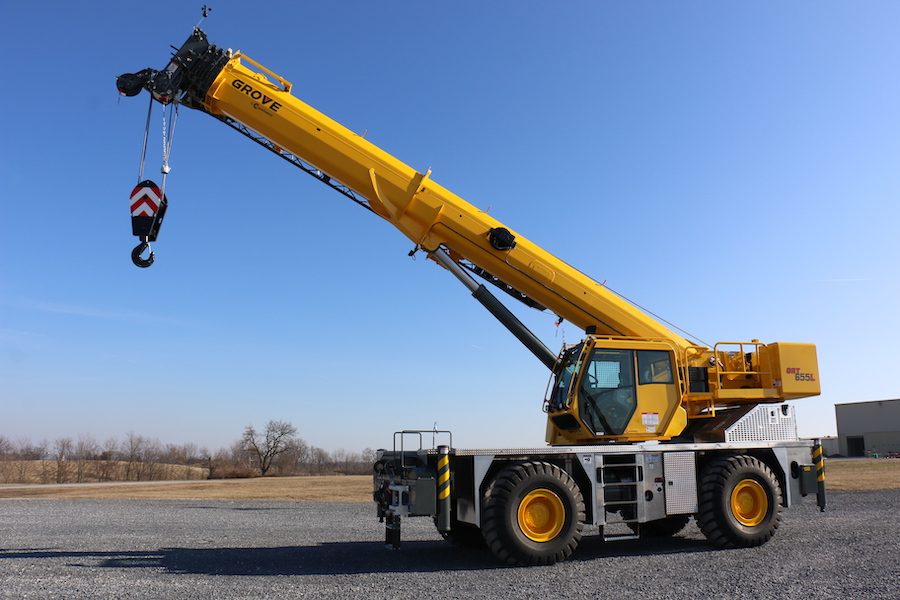 Rough-Terrain
A type of truck-mounted crane that has wide-wheelbases for added stability. They also have larger engines. This, along with rubber tires, help it handle rough terrain.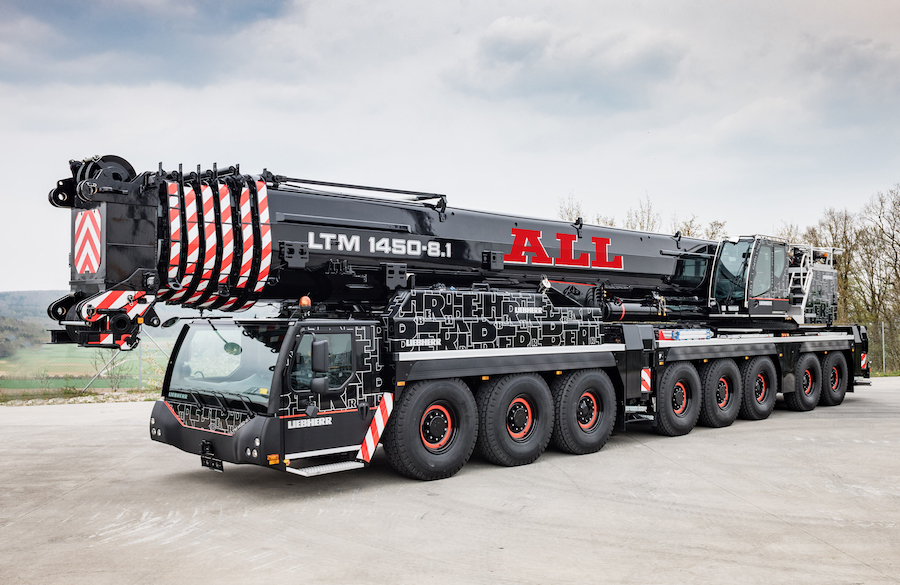 All-Terrain
You can drive an all-terrain mobile crane on a regular road. They use up to nine axles and outriggers for additional stability. This type of crane can handle loads up to approximately 1,000 metric tons.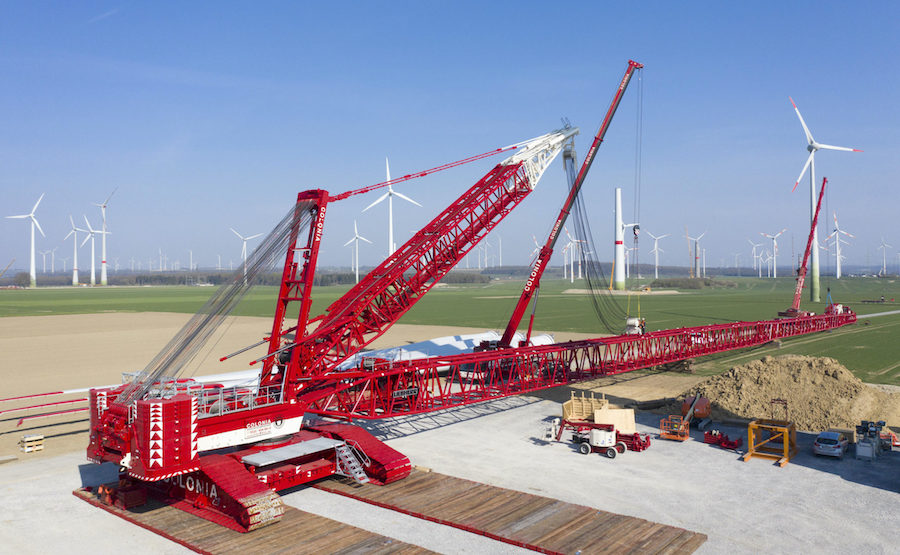 Crawler
Crawler cranes move on any type of terrain – but slowly. This type of crane is attached to a vehicle with large tracks. It is very heavy and difficult to move between job sites.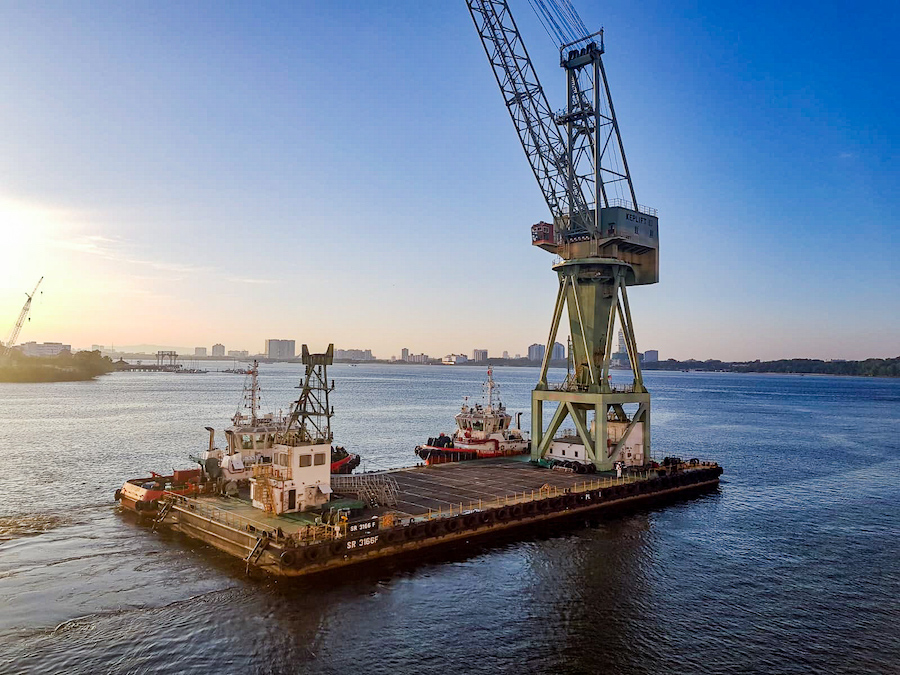 Floating
Floating cranes are attached to vessels that can travel through water. They are used for building ports and bridges, moving materials between ships, and recovering sunken vessels.
Sidelifter
Sidelifter cranes are used to move containers. A pair of cranes are mounted on a semi-trailer. Or they can be mounted on a truck deck.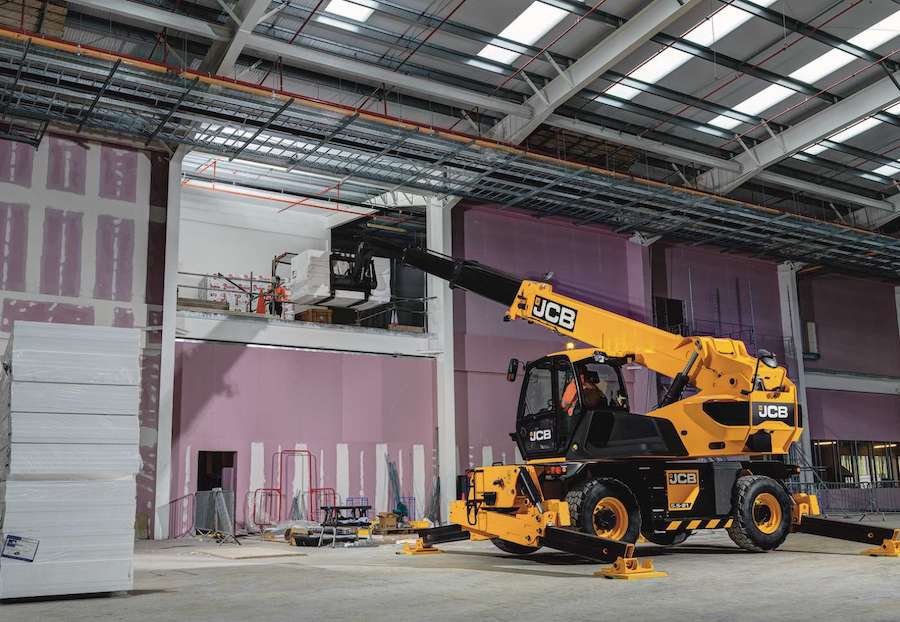 Telescopic Handler
Telescopic handler cranes are used to handle loads that are beyond the capacity of a regular forklift. However, with the use of attachments, they can multitask as cranes, aerial work platforms, or excavators.
Specifications and Features 
Each type of crane will have its own special set of features. But the following specifications are considerations for any type of mobile crane.
Size
Obviously, you need to ensure that the size of your mobile crane is small enough to fit on the job site and big enough to handle the job. Beyond the size specs of the machine itself, look at:
Max Load Capacity
Max Radius
Max Tip Capacity
Maximum specs are always in "ideal" conditions. So don't purchase a mobile crane where your job requirements are close to the machine's maximum specifications. Also, consider the types of jobs you may use the mobile crane for in the future. It's a balancing act of big enough, but not too big.
Safety
There are several safety devices available for mobile cranes. They include, but are not limited to:
Boom Hoist Limiting Device
Luffing Jib Limiting Device
Anti-Two Block Device
Boom Angle or Radius Indicator
Luffing Jib Angle Indicator
Boom Length Indicator
Load Weighing
Hoist Drum Rotation Indicator
Keep in mind that you will need to train your operators on these safety features.
Cab Comfort
There's more to a comfortable cab than a cushiony seat. (Although a comfortable seat is important.) Visibility is key. Cameras can help to better see the working area and hoist winches. Bright lights, including a flood light on the pivot section to monitor the load. Easy to reach controls is not just a comfort feature, but a safety feature. Ultimately, a comfortable mobile crane operator is a productive mobile crane operator.
Attachments
Attachments are the key to expanding a crane's functionality. Here are some of the attachments available. Obviously, not every attachment is available for every type of mobile crane. Your local equipment dealer can guide you in selecting the right mobile crane attachment.
Mobile Aerial Work Platform
A mobile aerial work platform is typically truck-mounted and is readily moved around the site. It can replace scissor lifts, which must be trailered to the work site. Some mobile aerial work platforms offer 360 degree rotation and higher reach. Bronto Skylift offers over 50 models with a reach range from 17 to 112 meters.
Auger
Some augers are made for truck-mounted cranes for various drilling and digging operations. One example is Auger Torque's line of Earth Drillers.
Radio Remote Control
This attachment gives you the ability to handle crane functions remotely. KoneCranes can retrofit several crane models.
Pile Driving
Attachments are available for some cranes for pile driving operations. Tadano Mantis offers a lead ready package for pile driving for some of their cranes. Their pile driving package includes an integrated control console and hydraulic valves.
How to Buy 
You have many options for buying your mobile crane. You can buy new or used. Other options include short-term or long-term leasing. Some equipment dealers offer lease-to-buy. Used mobile cranes can be purchased from dealers, online, and auctions. We always recommend buying from a reputable dealer.
Price
You want to have at least a ballpark estimate of the cost of the mobile crane that will meet your needs. Ask your local equipment dealer to make a recommendation based on your requirements document and provide a quote. You can use this quote to compare prices from other dealers. It also gives you a baseline when you shop for used equipment. Consider warranty, service level, and financing in the overall cost.
Soft Savings
There are soft savings to consider when buying any piece of construction equipment. Peace of mind, level of service, and warranty options to name a few. You will pay more to buy a mobile crane – new or used – from a reputable dealer. No doubt you can get a cheap price from Tony down the street who is offloading his mobile crane. But it may not make it a good deal. Who will you call when there's a problem? We're guessing Tony isn't offering a warranty. How much time and customer goodwill may it cost you if Tony's crane dies in the middle of the project? We recommend basing your buying decisions on more than price.
Financing
If you need to finance your mobile crane, you may find favorable terms from an equipment dealer. Consider other options such as rent-to-own or leasing if you are just starting out or expanding your business.
Inspection
When buying a used mobile crane, be sure to carefully inspect the equipment before you buy. Bring along a technician who is familiar with the type of mobile crane you are evaluating. You should review the inspection and repair records for the mobile crane prior to conducting your own inspection.
Add repaired items to your inspection checklist. Many manufacturers provide checklists for their mobile cranes. Areas of inspection should include, but are not limited to:
Booms
Lifting balls and hooks
Hydraulic cylinders, lines, hoses, fittings
Sheaves
Bearings
Load blocks
Winches
Outrigger beams and boxes
Base boom pivot pin
Lift cylinder pins, top and bottom
Inspecting items under a test load (not to exceed 110% of max) after an hour may reveal additional issues, including:
Cracked welds on the boom
Leaking gland seals
Load line fraying
Malfunctioning valves
You can use the results of your inspection to renegotiate the purchase terms. If the dealer agrees to make repairs, get it in writing. You'll want to ensure that the warranty will cover these items.
Popular Mobile Crane Manufacturers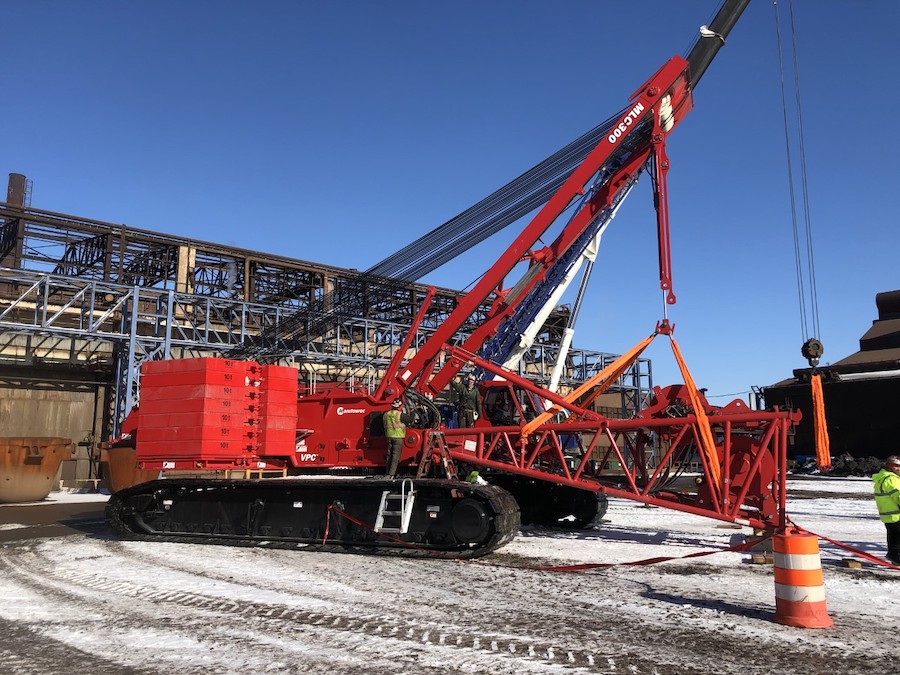 You will find an array of mobile crane types under the Manitowoc umbrella. The company has been in business since 1929. (We think it takes guts to start a business in 1929 and survive.) They claim to be "celebrated" the world over for their crawler cranes.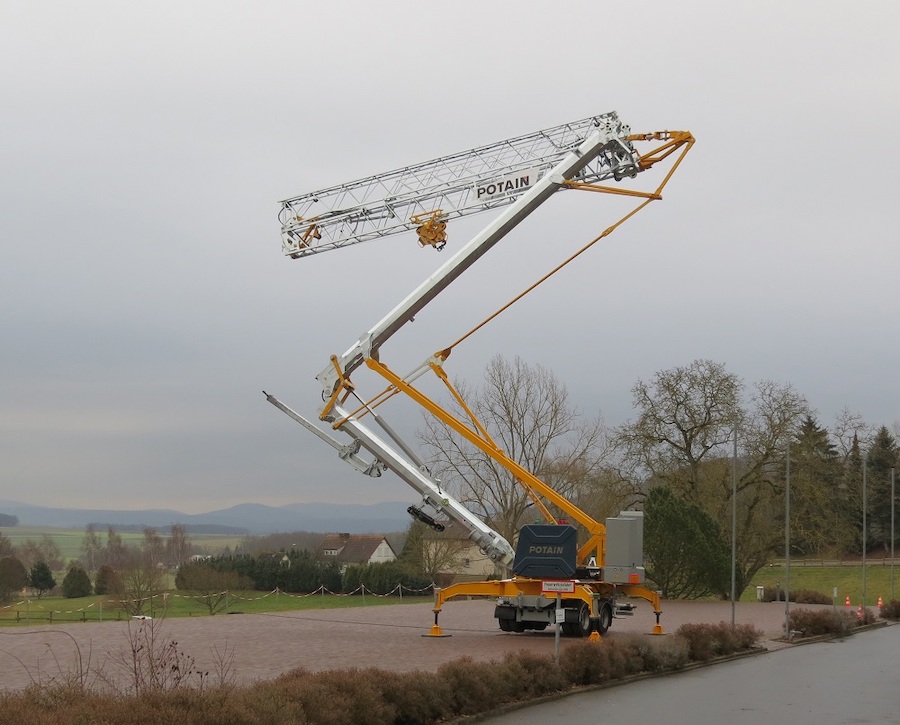 Potain has an excellent line of self-erecting cranes. You can choose from models with a max capacity of 1.4 to 8.8 tons and a max radius of 59.1 to 164 feet. Their smallest model is the Igo 11. At the other end of the spectrum is their Igo T 130.
National has a line of swing seat boom trucks.
Their swing seat boom trucks feature enclosed cabs. Choose from 14 models with a maximum vertical reach of 161 to 206 feet. The new NBT40-2 Series has a max capacity from 40 to 45 tons and multiple boom length options between 127 and 142 feet. They also sell stand-up control telescoping boom trucks.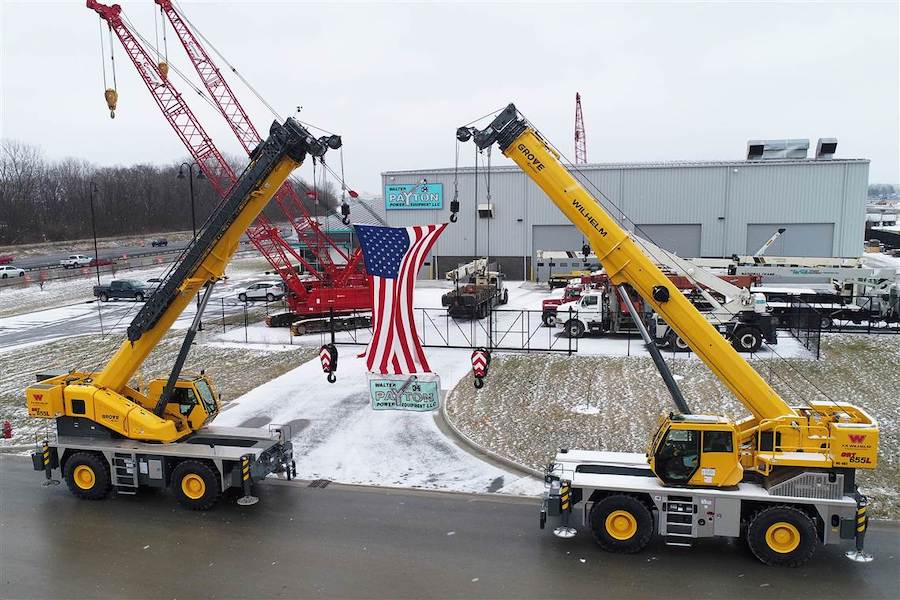 Grove has a line of telescoping crawler cranes. You can choose from models with a max capacity between 30 and 140 tons. Their GHC line of telescoping crawler cranes offer 100% pick and carry capability, and can be setup without an assist crane.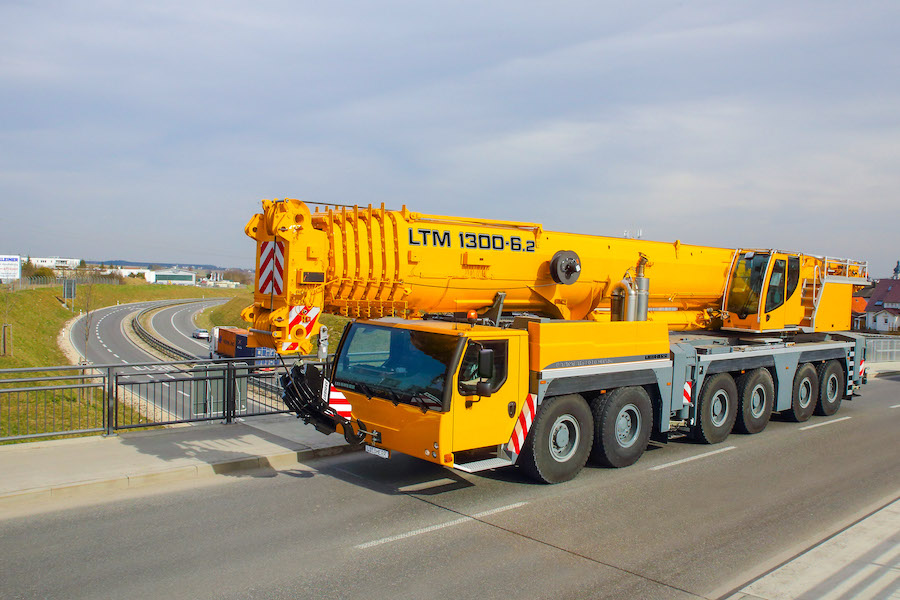 Hans Liebherr worked with engineers and tradesmen to develop the first mobile tower crane in 1949. Over 70 years later, Liebherr developed the first battery-powered crawler crane in the world, the LR1250.1.
Lampson International has been a worldwide leader in the heavy lift and transport industry for over 70 years and offers the Lampson Transi-Lift® in several different sizes. Shown here is Lampson's Transi-Lift's LTL-1100 working at a mine in Utah. The LTL-1100 boasts up to 400′ of main boom and an ultimate capacity up to 1100 U.S. Tons.
Conclusion
The crane began as a simple concept turned into a machine to lift weight well beyond the capability of any human. The crane now reaches ever higher yet is also made to navigate small areas and rough terrain. A large range of attachments help you expand the use of your mobile crane. Carefully consider your job requirements to select the right mobile crane for current and future projects.