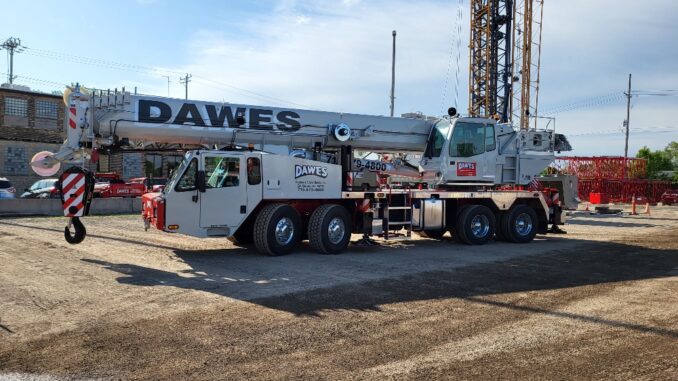 The ALL Family of Companies is adding a new 20-crane package from Link-Belt, including crawlers, hydraulic crawlers, rough terrain (RT) cranes, and truck cranes.
The purchase includes four each Link-Belt LS248HSL 200-ton crawler cranes and Link-Belt TCC-550 50-ton hydraulic crawler cranes, three Link-Belt 85RT 85-ton rough terrain cranes, two each Link-Belt HTC-86110 110-ton truck cranes, Link-Belt 238HSL 150-ton crawlers, Link-Belt TCC-2500 250-ton telescopic crawlers, and one of each Link-Belt 65HT 65-ton telescopic truck crane, Link-Belt 100RT 100-ton RT, and Link-Belt HTC-8675 75-ton telescopic truck crane.
The relationship between ALL and Link-Belt dates back more than 25 years. Dawes Rigging & Crane Rental, a member of the ALL Family of Companies, is also an authorized Link-Belt dealer. General manager Steve Freckmann says Link-Belt has earned ALL's trust through decades of consistent performance, as well as support after the sale. "All it takes is a visit to the Link-Belt factory in Lexington, Kentucky, to see the professionalism at every level of the organization," said Freckmann.
With many best-in-class cranes in their repertoire, the units across the latest acquisition are expected to find rental work with steel erectors, general contractors, and pipeline companies. "The RT85 is a solid, trusted tool in our toolbox," said Freckmann. "With its long boom, strong chart, and ease of transport, it's been a great crane for us, both as an operated and bare rental. Steel erectors love its great cycle times, line speed, and smooth controls."
Link-Belt truck cranes also earn high praise. "We've had the HTC models in our fleet going back 25 years," said Freckmann. "Their dependability and performance is unmatched."
Freckmann says this commitment to quality applies across the Link-Belt fleet. "They make great cranes. We're proud to rep them as a Link-Belt dealer and to have them in our rental fleet."
The cranes in this latest purchase will be part of ALL's rental fleet, deployed across the 33 North American branches.