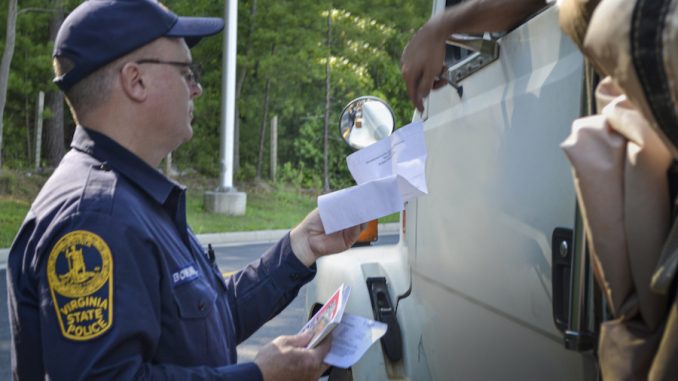 By Nycole Brusseau, Product Manager, Trimble
We have officially reached the Electronic Logging Device ELD mandate compliance deadline which ended on December 16, 2019. This guide shows what you can expect during an inspection and answers some frequently asked questions.
Background
According to the Federal Motor Carrier Safety Administration (FMCSA), roadside inspections by Motor Carrier Safety Assistance Program (MCSAP) Inspectors ensure that compliance with the Federal Motor Carrier Safety Regulations (FMCRSs) as well as the Hazardous Materials Regulations (HMRs). If a driver is found in violation during an inspection, the driver will be issued either a driver or vehicle Out-of-Service (OOS) order. If this order is issued, then the violations must be corrected before the driver and vehicle can return to service.
Nationally, there are six forms of a roadside inspection: Full, Walk-Around, Driver Only, Special Study, Terminal, and/or Radioactive Materials Inspection(s). In 2018, Federal inspectors issued 19.75% (one in five) vehicles with an OSS Order. For fleet managers looking to avoid these OOS orders and get back on the road, there are ways to prepare for roadside inspections.
https://ai.fmcsa.dot.gov/safetyprogram/RoadsideInspections.aspx
What to expect during a roadside inspection.
During a typical roadside inspection, a driver will present a tablet/ or printed report to the officer and ELD required documentation. The inspector will look at the "Roadside Inspection" section of the documentation to perform the Transmit ELD Data File process — by a telematic web service or email (as determined by the inspection agency. many agencies opt for web service over email to prevent a potential mail server breaches or hack. The Electronic Record of Duty Status (eRODS) system transfers the driver logs to the inspector so they can review on their computer (e.g. in their car), but it also does the investigative work for the officer by highlighting potential areas in the driver's log where there are violations to mandate.
Which Device?
During a typical roadside inspection, you can assume some initial questions around Driver Logs and your Electronic Logging Device (ELD) System. Typically, an inspector will ask the driver if he or she has an ELD or, AOBRD (Automatic On-Board Recording Device). Drivers can also expect an inspector to inquire about displays and logs. Many inspectors ask to see the instruction card/manual or visor card for the device to see if the onboard system is AOBRD or ELD.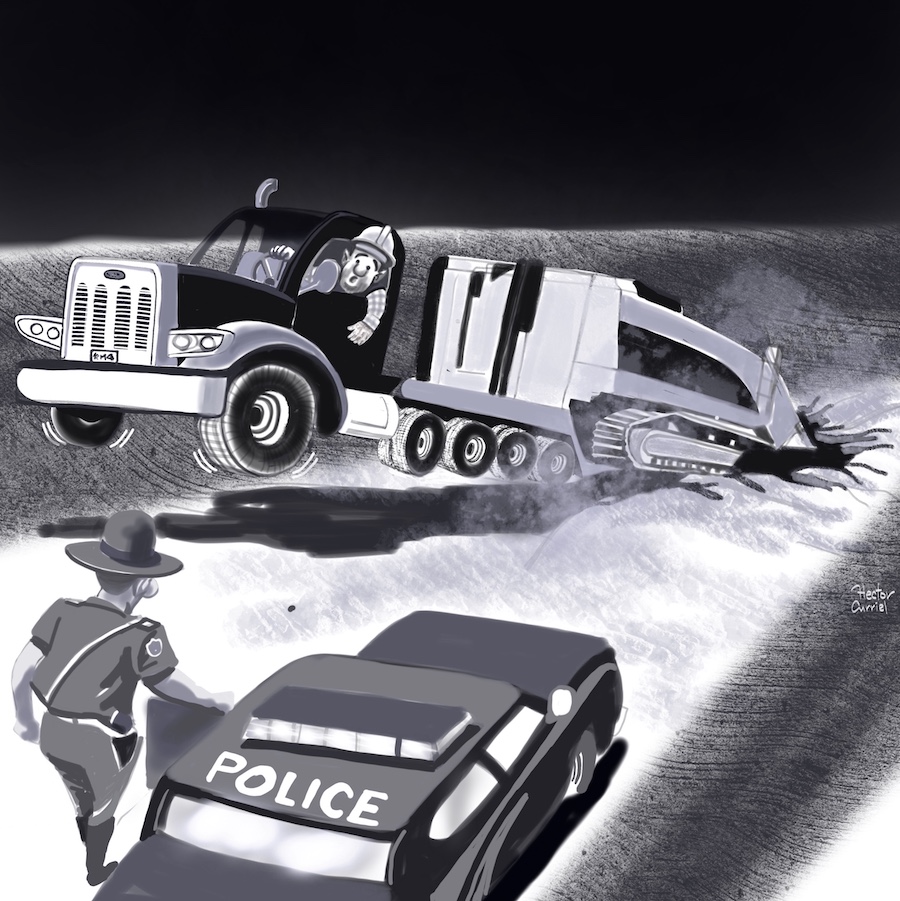 The Difference Between AOBRD and ELD
AOBRD is the predecessor of the modern ELD. The main difference is that the AOBRD records much fewer data types compared to ELDs (e.g. driver's license number and state, motor carrier's name, DOT number, VIN number, driver log on/off time, ignition on/off time, and associated location, engine odometer and engine hours). While the compliance mandates have changed, AOBRDs are still allowed, until December of this year. AOBRDs were grandfathered in during the ELD mandate and are an acceptable option only until December 16, 2019. 
The other differences between AOBRDs and ELDs are that. ELDs record any unidentified driving and displays this data to the driver, fleet manager, and DOT officer; whereas AOBRD does not. Additionally, ELDs auto switch to driving at 5 mph and reports to the FMCSA via web-services and email. AOBRD does not auto-switch to driving or output files to FMCSA. While both record edits, only ELDs automatically displays output files.
How to provide logs
There are three main ways for a driver to provide electronic logs: via a telematics system, USB stick transfer, or Bluetooth communication. Telematics includes both web service and email options. Whereas USB transfer requires the inspector to import and review current logs on the eRODS interface. Finally, if an inspector opts for the Bluetooth option, they will connect their device via Bluetooth to the driver's ELD log to transfer the data file to the eRODS interface by the FMCSA web services.
What does the log review process look like?
When reviewing the logs in the eRODs interface, an inspector will confirm that the ELD is registered with the FMCSA and is compliant. If a discrepancy in the log appears, an inspector will ask the driver if they are operating under any exemptions. If a driver is not operating under any exemptions, then the inspector will issue a violation. The inspector's eRODs system is highly detailed and designed to identify potential violations in the driver's log. This allows efficient log inspections and helps inspectors manage multiple exemptions scenarios quickly. For example, the system could highlight hours driven rule violations, and skipped break time, in addition to other unidentified driving events. When a violation is identified, the inspector must verify that the violation exists by checking all annotations and consider any applicable exemptions.
Here is a quick checklist to make sure your fleet is in order before a routine inspection.
Identify if you have an AOBRD or ELD device. (Consider replacing an AOBRD before the December deadline)
Locate the driver's User Manual that describes how to operate the ELD.
Make sure your device is charging/charged.
Know your operating exemptions (if any)
Make sure your device is a registered ELD with the FMCSA
Check you have ELD Data Transfer instructions for driver and safety officials.
Checklist of ELD malfunction instructions and train the driver
At least eight blank graph-grids for the driver could log their trips in the unlikely event that an ELD should fail
For more information, download the ELD Buyers guide from trimble.com/TCL