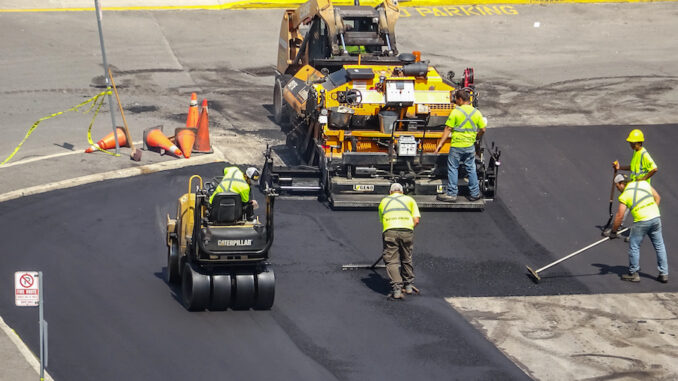 View the complete article here.
Although asphalt is known for its durability, resilience, and ease of application—like any construction method—it comes with its set of challenges.
Temperature Fluctuations
Challenge
Asphalt is temperature-sensitive. If the material or the ground is too cold, it can lead to poor compaction and a weakened pavement. On the contrary, if it's too hot, the asphalt can harden quickly—making it difficult to work with.
Solution
Monitor and manage temperatures diligently. The best time for asphalt paving is usually during warmer months. In addition, ensure that the asphalt remains at the recommended temperature during transportation and application. Using insulated trucks and reheating equipment is also beneficial.
Inadequate Compaction
Challenge
Proper compaction is crucial to ensure the asphalt's durability and longevity. Insufficient compaction can result in a soft pavement that's vulnerable to ruts, deformities, and other issues.
Solution
The key is to use the right amount of asphalt and ensure that it's compacted using rollers while still hot. Be sure to regularly check the thickness and consistency of the pavement during the process.
Drainage Issues
Challenge
Water accumulation is one of the most significant threats to asphalt pavements—as it can seep into cracks, freeze, and lead to further damage.
Solution
Proper planning is essential. Ensure that the paved area has a slight slope to facilitate water runoff. Installing proper drainage systems, such as gutters and culverts, can also be beneficial.
Oxidation and UV Damage
Challenge
Over time, UV rays from the sun can deteriorate the asphalt's binder—making it brittle and prone to cracks.
Solution
To combat this, apply a seal coat to the asphalt surface. A good seal coat not only offers protection against UV rays but also provides a waterproof barrier against moisture.
Inadequate Material Quality
Challenge
Poor quality asphalt mix can lead to premature wear-and-tear—resulting in cracks, potholes, and other deformities.
Solution
Always source asphalt from reputable suppliers. Regularly test the mix for consistency and quality. It's worth investing in a superior mix that can resist heavy traffic and environmental stresses.
Base Failures
Challenge
A weak or improperly prepared base can lead to pavement failures, such as cracking or sinking.
Solution
Spend the time to prepare a strong and stable base. Remove any organic material, compact the soil properly, and use a good quality aggregate as the base layer. This ensures a solid foundation for the asphalt.
Over-Sealing
Challenge
While sealcoating is essential for protection, excessive sealing can lead to a slick surface—particularly when wet.
Solution
It's crucial to follow the manufacturer's guidelines for sealant application. Typically—asphalt should be resealed every 2-3 years, but this can vary depending on the traffic and environmental conditions.
Final Thoughts
While challenges in asphalt paving are inevitable—understanding these challenges and implementing the right solutions can lead to a smooth, durable, and long-lasting pavement. Regular maintenance, coupled with a sharp eye for quality and details, can extend the life of any asphalt installation.