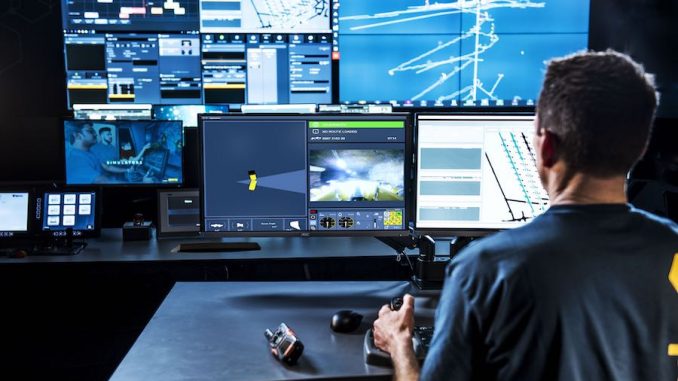 Epiroc's Scooptram Automation Total is the highest level of loader automation, bringing new standards of productivity and safety to underground mining. Multi-machine loader automation enabled by the Traffic Management System, sets the new standard in safety and productivity by creating a common information environment that controls multiple fleet of loaders.
The Traffic Management system is the core of Epiroc's Scooptram Automation Total package. This system operates the fleet and eliminates the risk of collisions in common drifts. The automation area is fully isolated with safety barriers that shuts off the system if personnel or unauthorized vehicles accidently enter. It is possible to bring new vehicles into the area and add them to the Traffic Management System without stopping the production, using the check-in/check-out procedure.
"This is a clear step forward in underground operations. Scooptram Automation Total both increases safety for underground operators and takes efficiency to the next level," said Clint Byington, Business Line Manager – Underground Rock Excavation for Epiroc USA. "We're proud to offer this leading automation and information management solution to our customers."
Epiroc's Scooptram Automation Total is a state-of-the-art technology that takes safety, productivity and cost effectiveness to another level and makes superior performance a reality. From a safe distance in a comfortable operator station, an operator can easily control and monitor the vehicles progress throughout the mine.
Scooptram Automation Total is part of Epiroc's 6th Sense Transport offering. Epiroc's 6th Sense sets out to optimize a customer's value chain by offering interoperability solutions that connect automation, system integration and information management to unlock the full potential of production gains at lower operating costs.