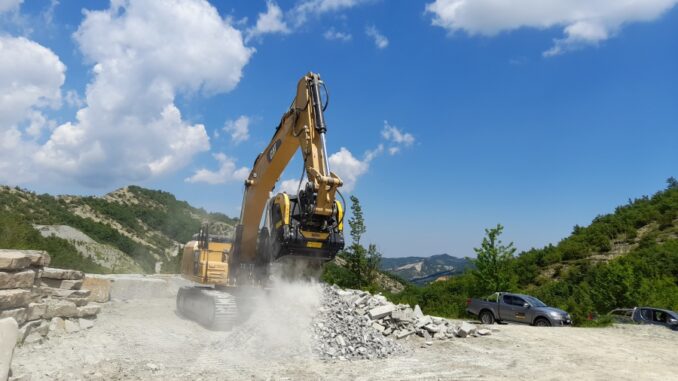 Road maintenance in quarries, as in all remote hard-to-reach places, is often expensive, labor-intensive, and time-consuming. This is because the full potential of the operating machines already on site often needs to be utilized. For example, one could install an MB Crusher jaw crusher bucket to one's excavator, reduce in grain size the spoil material, and reuse it as a subgrade for track maintenance or the creation of new link roads. Or why not resell it and thus have another source of revenue?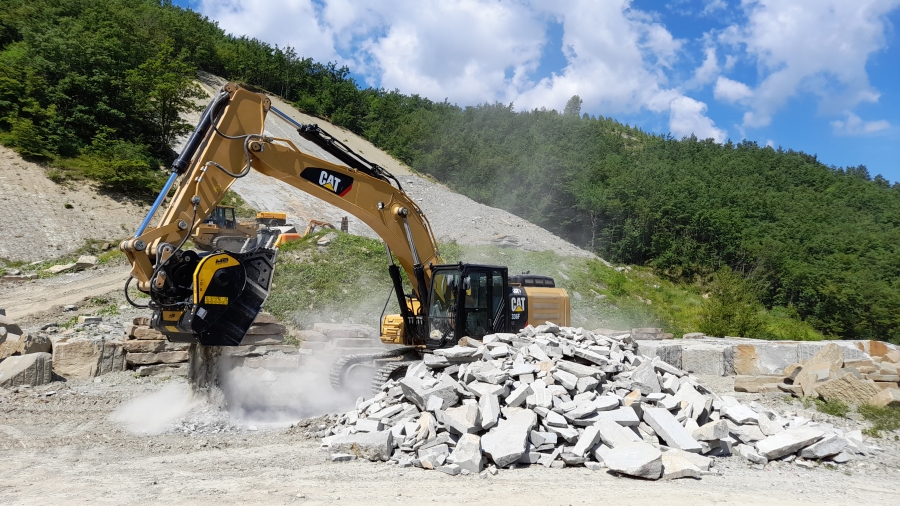 The benefit then is twofold, as is the gain:
No additional cost because you reuse the waste material already on site, so there is no need to buy more material from other suppliers. No additional machines are needed because the operating machine already present at the quarry or site is used, and the work becomes faster, so there is considerable time-saving.
An efficient internal road network means cost optimization, more productivity, and savings on the maintenance of transporting equipment. If the roads are smooth and hiccup-free, the whole process of working in the quarry becomes efficient, especially the item involving the transportation of material, which means more productivity and a lower cost per ton of material.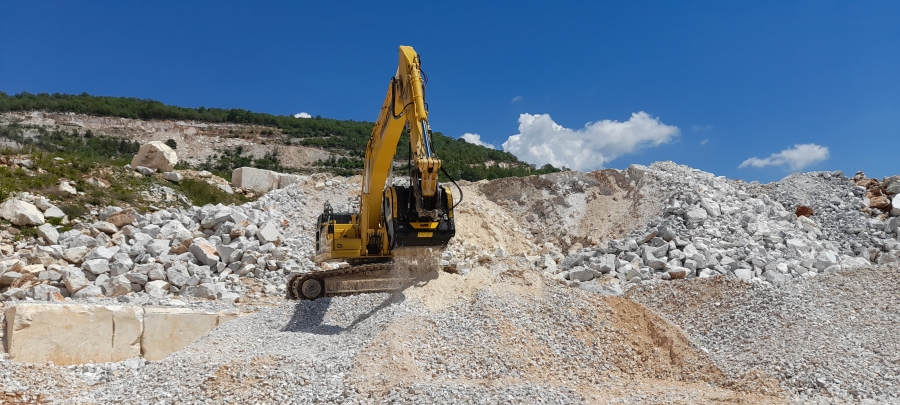 Waste is no longer a cost.
"With the MB Crusher bucket crusher, we can control waste ourselves, crush it when we want, and use it as we want." Said the Marche company in Italy Eurocave owns several sites where they extract pietra serena and pietra alberese. Eurocave itself directly processes the extracted stone to make architectural elements and works. With the waste from processing-crushed with an MB Crusher BF120.4 jaw crusher-they fix the slopes in the quarry without having to buy crushed stone externally or resell it as aggregate for road subgrades.
Before buying MB Crusher's bucket crusher, they would accumulate production waste in a yard-and it took up much space-and then, from time to time, crush it with a rented crusher. The whole operation employed most of the workers and was a very high-cost item for the business itself.
Today with the BF120.4 bucket crusher, waste is no longer a cost or material to be handled but becomes something useful for the business and a source of additional income.
More safety in the quarry
Road maintenance in a marble quarry can be costly. But not so for Nordia Energy in Greece. With their first crusher bucket, BF120.4, they crushed the mining waste material. Then they reused it to maintain the quarry's own internal roads, which is also very important to ensure the safety of transport vehicles and the efficiency and speed of operations.
The use of the MB Crusher excavator crusher was so profitable that they purchased a second bucket crusher, again to work inside the quarry.
Nothing is forever, and even in quarries, the available assets are limited and bound to run out. That is why it is always necessary to find new ways to reuse extracted materials profitably, even those that until recently were considered waste. And, with the MB Crusher solution, all materials can become a source of immediate income.
The precision of production makes it possible to prepare material previously intended only for scrap into homogeneous lumps for reuse on-site, thus keeping the mining balance of the quarry unaffected.
The same is true for construction sites in remote areas that are difficult to reach except at the great expense of time, cost, and machinery. MB Crusher units are easily installed to the operating machine already on site, even requiring no exceptional transportation. It is practically the operating machine itself that becomes a crusher itself: so the mining or excavation spoil is processed directly on site, and there is no need to buy more or wait the long waiting time to get it.
Everything is already there, ready to be used.