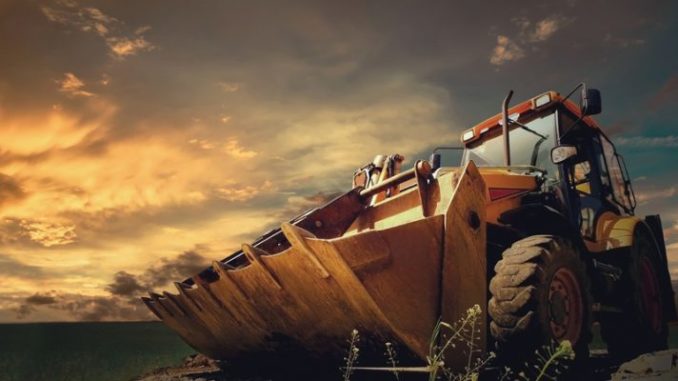 A contractor's fleet is comprised of various pieces of heavy equipment. Here's a look at the roster of machines typically required to complete a project, along with some safety and sales-related advice.
TYPES
Dozers
Known for their reliability, these crawlers are equipped with a large metal plate or flat blade operated by two hydraulic pistons, which allow the blade to move in limited angles and depths. A ripper at the rear of the machine is used to loosen compacted materials and move dirt along large open tracts.
Loaders
Tractors with an adjustable front shovel and small bucket at the rear, loaders are used for digging trenches, moving dirt, and placing smaller pipes. Types include bucket, front, front end, pay, scoop, shovel, skip, wheel, and skid steer.
Graders
Used to finely grade dirt and gravel, graders have three axles, two at the rear and one at the front. The engine and cab are located above the rear axles, with a long adjustable blade between the axles. The blade can meet certain angles and create a flat surface.
Excavators
These hydraulic pieces of heavy equipment feature a boom, a long bucket arm and bucket dipper attached to a pivoting cab, which typically sits on tracks. Especially useful in demolition operations, excavators can lift heavy pieces and dig.
Trenchers
As the name suggests, these machines dig trenches. Featuring a conveyor system that carries excavated material and locates it adjacent to a hole, trenchers are commonly utilized in pipe installation operations. Trenchers utilize different digging elements depending on the depth of a cut and the hardness of the material. Rockwheels and digging chains are common attachments, making trenchers very dangerous.
Scrapers
Responsible for moving dirt and aggregate, scrapers feature a vertically moveable hopper with a sharp horizontal front edge. The edge can be raised or lowered to cut into the soil, which fills the hopper. Once full, the scraper transports the load to a fill area. Common configurations include open bowl, elevating, and tandem.
Dump Trucks
Hydraulically powered, dump trucks move aggregate from one point to another via their open, hinged box beds. Types include off road, side, standard, truck and pup, super, roll off, trailer bottom, and semi-trailer end.
Compactors
Road rollers, plates, and jumping jacks represent the three common types of compactors. Rollers compress crushed rock used for a base layer, while plate compactors are equipped with a vibrating baseplate that creates a leaving grade. Jumping jack machines feature a smaller foot and are used to compact backfill in narrow trenches.
Mixers
These four- to six-axle concrete transport trucks can be charged with dry materials and water. The interior of a truck's turning drum is fitted with a spiral blade, allowing the concrete to mix during travel. When accessibility is limited on a project, mixers are often used in conjunction with truck-mounted telescopic belt conveyors.
Cranes
Representing the tallest heavy equipment, cranes lift and lower materials, and move horizontally. Mobile cranes consist of a truss or telescopic boom mounted on a mobile platform, with track-mounted crawler cranes being the most common type. Rising taller, tower cranes are comprised of a mast, slewing unit, operating cabin, jib, counter jib, hoist unit, hooks, and weights. Other types include floating cranes—used in bridge building and port construction—along with self-erecting and telescopic configurations.
Piling Rigs
Essential to deep foundational work, piling rigs generally consist of a hydraulic crawler chassis, automatic lift box-type mast, telescopic drill pipe, auto vertical adjustor, and depth indicator. Rigs range in size from being small to large, depending on torque, and frequently utilize pile drivers and augers. Drilled into the soil or rock to a designed depth and then extracted, augers create a hollow stem which is typically filled with concrete or grout. Pile driver types include diesel hammer vertical travel lead, hydraulic hammer, hydraulic press in, and vibratory.
TRAINING AND SAFETY

Working with heavy equipment is a dangerous task—one that should only be undertaken by trained and protected operators. Proper training includes classroom instruction, trainer demonstrations, performance of practical exercises, and evaluation of an operator's workplace performance.
All contractors should establish a set of safety expectations for operators, these being focused on before, during, and after operation.
Before:
– Review operator manuals
– Ensure operators are wearing appropriate clothing and protective gear
– Review hand signals
– Inspect vehicles on a daily basis and fill their tanks while cool
During:
– Always wear a seatbelt
– Check controls for proper operation
– Scan the site for obstacles
– Ensure underground cables and supply lines have been identified prior to digging
– Always operate up and down the face of a slope, never across the face
After:
– Never exit a running vehicle; turn it off first
– Park on level ground
– Relieve pressure from all hydraulic controls
– Safely dismount the vehicle using the 3-point contact rule
– Remove keys from unattended vehicles
For the equipment utilized in pile and deep foundation operations, OSHA health and safety rules vary.
Pile Drivers: Requirements focus on overhead protection, stop blocks, guards at head blocks, lead stabilization, steam hose connections, rig stability, and employee access during operations.
Excavators and Trenchers: Heavy emphasis is placed on cave-ins, falls, falling loads, protective systems, hazardous atmospheres, trench inspection, and operation of equipment near excavations.
Cranes: Rules related to pre-erection inspections and securing cranes in high wind conditions should be reviewed by both contractors and operators.
TRADING

Whether purchasing heavy equipment or selling an aging or underutilized machine from your fleet, research, preparation, transparency, and inspections are paramount during the buying-selling process.
Buying
With a specific piece of equipment in mind, research represents the initial step.
First, compare similar equipment built by different manufacturers, along with detailed equipment specifications and peer reviews. Additionally, scan a variety of private, broker, and auction listings websites, comparing list prices and gauging what similar machines have traded for. This will aid you in formulating an educated maximum bid, which must take into consideration transportation costs.
Equipment inspection is the most vital step in the pre-bid process. When inspecting a machine, it doesn't hurt to bring along an experienced mechanic. Contractors are also encouraged to take their time during an inspection and compartmentalize the walk–through, breaking it down into structural, mechanical, hydraulic, and ground-engaging components.
Selling
Exposing your machinery to the largest possible buyer pool is essential to obtaining a peak sales price.
Because of the time commitment associated with privately selling equipment, most contractors partner with an online auction company or full-service global auctioneer. These third-party firms ensure that interested buyers can inspect or test listed equipment at their convenience.
When selling, looks and details matter. Before listing, have your equipment painted, refurbished, or cleaned. Additionally, collect all related maintenance records, usage logs, and certifications for the machine—and make them available for buyer review.