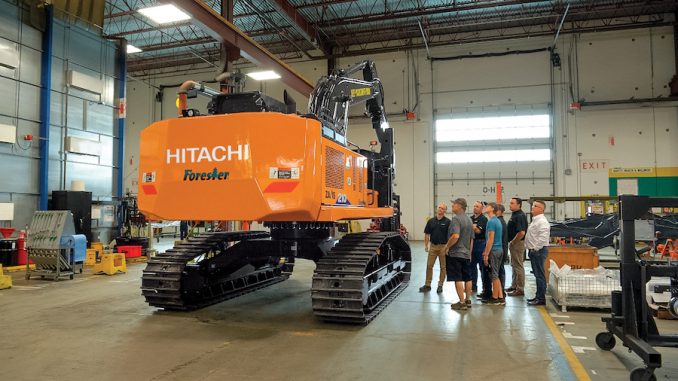 Hitachi Construction Machinery – Americas celebrated the first-ever order and sale of a Hitachi machine by The Brandt Group of Companies at a Gold Key event held at the Deere-Hitachi Specialty Products (DHSP) facility in Langley, British Columbia. Brandt sold a ZX210F-FE-6 processor with a factory-installed Waratah HTH622C 4×4 to SK Trucking Ltd., a logging company located in Slave Lake, Alberta.
Shane Kropp, owner of SK Trucking Ltd., received the keys to his new machine at the Gold Key event on July 30, 2019. Kropp attended the event with his father and two sons – a representation of three generations of loggers.
Through a joint venture established in 1988, DHSP manufactures Hitachi and John Deere forestry swing machines ranging from 26- to 46-ton models. Brandt was recently named a Hitachi forestry products dealer – one of three dealers to support Hitachi forestry customers in Canada.
"This was a significant event in terms of it being the first Hitachi machine that was sold by the Brandt Group of Companies," said Jarvis de Groot, Product Marketing Manager at DHSP. "It was the first Hitachi machine ordered by Brandt as well, so it was a very significant event that way."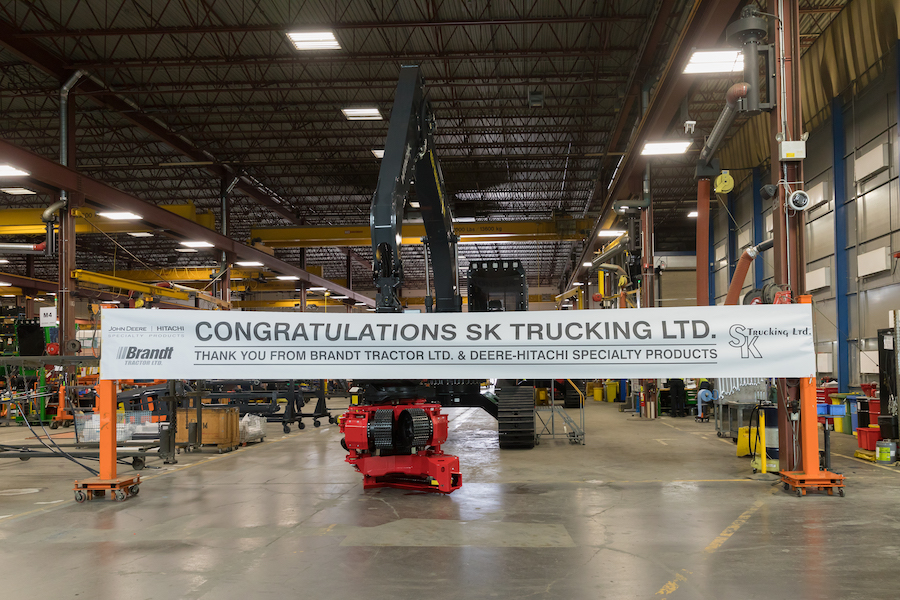 Brandt has been a John Deere dealer since 1992 and management said it foresees Hitachi forestry products being a strong complement to the full-line offering. Brandt's area of responsibility for Hitachi forestry products includes Alberta, Saskatchewan, Manitoba, New Brunswick, Nova Scotia and Prince Edward Island. Several Brandt representatives attended the Gold Key event: Rod Bowes, Vice President of Sales, Forestry and Road Positioning Technology; Mark Michalyshen, Vice President of Operations, Northern Alberta; and Adam Budgen, Territory Manager, Construction and Forestry.
"It's an important milestone," Bowes said. "We're proud to have the opportunity to represent a brand like Hitachi. We have a very dedicated focus in forestry. We spend a tremendous amount of time helping support our customers in their businesses and the addition of Hitachi to our product line allows us to reach out to new customers and provide them with the same level of premier support we provide to every Brandt customer."
Kropp said he plans to use his new Hitachi processor nearly 24 hours a day until next spring. He estimates the new machine will have 10,000-12,000 hours on it within four years. Kropp said he is confident the machine can handle the heavy workload.
"I really like the Isuzu engine," Kropp said. "It works very well. The fuel economy is great, which really helps your bottom line. You've got to watch every dollar. Every move counts. With a new machine, there is less downtime and more productivity. Hitachi builds a good product. They're solid."