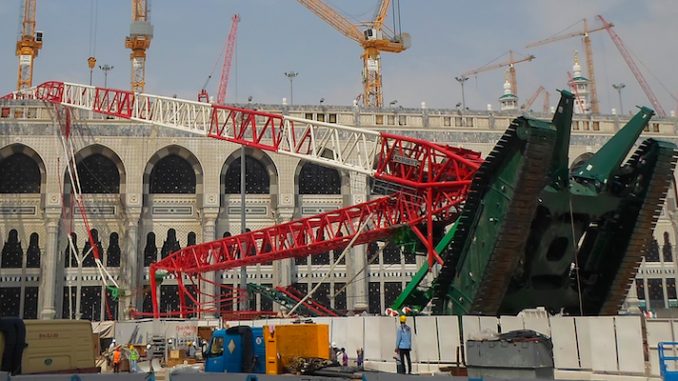 View the complete article here.
Cranes are both impressive and efficient on the job site, but, unfortunately, they also have the potential to be extremely dangerous. You can get run over by one. The load it's carrying can fall on top of you or the crane can topple over and crush you. You can get electrocuted if the crane hits live power lines. That last one sounds pretty rare, right? Actually, from 1992 to 2006, 32% of crane incidents involved overhead power lines, killing 102 people. Here's the good news: Over 70% of crane accidents are preventable. Follow these rules to properly and safely operate a crane. The rules are organized into three main categories: before the lift, during the lift, and after the lift.
Crane Safety Before the Lift
You must be licensed before you can operate a crane. Proper attire should always be worn. Finally, you must conduct a pre-inspection of the equipment and the area before you get started.
Licensing
In November of 2018, OSHA issued its Final Rule on Crane Operator Certification Requirements. It requires that crane operators be licensed or certified. They also must receive ongoing training as needed for new equipment. Certification moving forward is based only on type; not type and load capacity.  You may get certified by an accredited crane operator testing organization such as the National Commission for the Certification of Crane Operators (NCCCO). You can also be qualified through an audited employer program.
Proper Attire
A hard hat.
Eye protection with side shields help keep your vision clear from dust and other debris.
Wear gloves to protect your hands when dealing with hooks and chains. Take them off when you're operating the crane.
ANSI-approved protective footwear reduces compression and impact injuries. Electric Hazard ANSI shoes offer shock-resistant heels and soles.
Respiratory protection as needed. Think of the 9/11 responders who are dying from cancer caused by the particles in the air they breathed in during rescue and cleanup operations at ground zero. Wearing proper masks could have saved their lives.
Reflective vests so others can see you.
Ear protection. Protect your ears now and you may avoid needing hearing aids later.
Pre-inspection
You must inspect the equipment, the load, and the work area. Operation manuals should be easily accessible inside the cab. Use a checklist that includes the following items:
Safe Working Load (SWL)
The SWL is set by the crane's manufacturer, and is calculated by dividing the minimum breaking strength (MBS) by the safety factor. The safety factor is assigned based on the type of equipment and how it will be used. For example, if the MBS should be 1,000 pounds, and the safety factor is 5, then the SWL would be 200 pounds. (1,000 / 5 = 200.)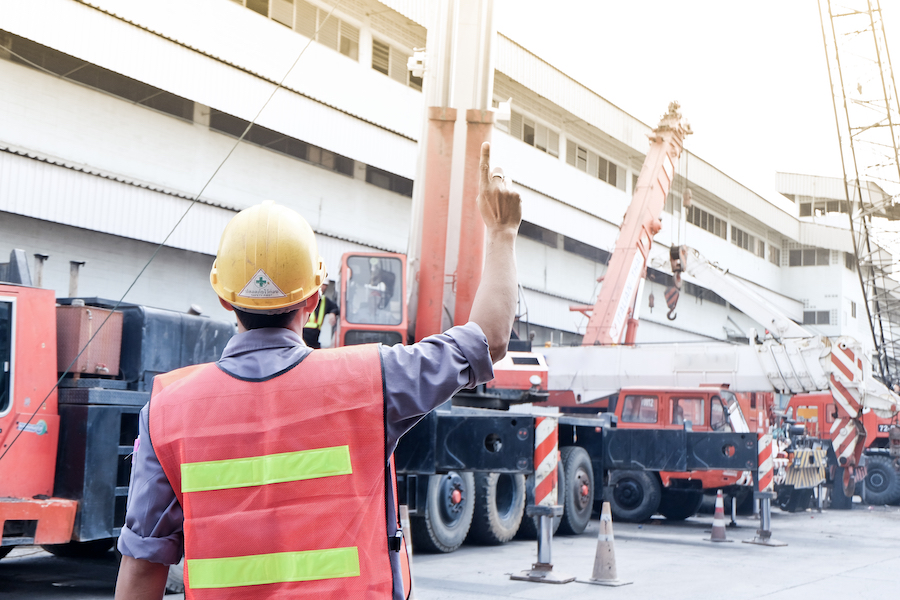 Equipment Check
Never, ever, work with a slack chain. Walk around your crane and check for mechanical, electrical, structural, and hydraulic issues (MESH). For mobile cranes, check the tires and make sure that all fluid levels are correct. Use the appropriate pads or cribbing. You don't want to risk having an outrigger fail or sink during the lift. Test limit switches and emergency stop controls.
Area Check
Make sure the crane is on level ground. Take note of any potential overhead hazards – like buildings that are close to the work area or power lines. As we mentioned, electrocution by power line is not unusual. If your crane is going to be working near them, follow these tips:
Slow down.
Leave extra clearance when there is a long expanse of power lines. The longer the length of the lines, the more slack there is to sway in the wind.
Be aware of uneven ground that can cause the crane to bob and weave. Use extra caution (slow down!) because the crane could sway into the power lines.
All workers should stay as far away from the crane as possible when it's close to power lines.
No one should touch the crane until the signal person indicates it is safe to do so.
Reduce Distractions
Your cell phone should be in reach if it's needed, but turn it off.
Prepare the Load
Balance the load and make sure it's secure. Check the hook. If it looks worn out, don't use it. Avoid using the load chain or wire rope for a sling.
Crane Safety During the Lift
Once the machine and the area is inspected and the load is balanced and secure, you're ready to go. Be as safe during the lift as you were prior to it.
Load Safety Tips
Do not leave a suspended load unattended.
Do not carry a load over another person.
Do not walk under a load.
Do not lift people with the hoist.
Always pay close attention to where you are going as you move the load.
Push the load; don't pull it.
If anything doesn't seem right, STOP.
Risky Behavior
Moving thousands of pounds using a huge, expensive piece of equipment with a lot of people around is not the time to take risks. Don't override the crane's computer. Make sure all your personal safety equipment is in good condition and you're actually wearing it. Be aware of changing conditions on the ground. People, weather, other moving equipment—anything that may require you to stop and change the lift plan.
Crane Safety After the Lift
After the lift, secure the load. Store the crane, stabilizers, winches, and any other attachments. Document and share any concerns with the construction supervisor. If there are any issues with the equipment, alert the manufacturer. The only thing worse than a mistake is repeating it.
Conclusion
It's easy to talk about job safety, but it can be a pain to implement it. Whenever you think about taking a shortcut, remember that an accident will delay the project, cost money, and could possible ruin – or take – a life. Including your own. C'mon, say it with me: Better safe than sorry.