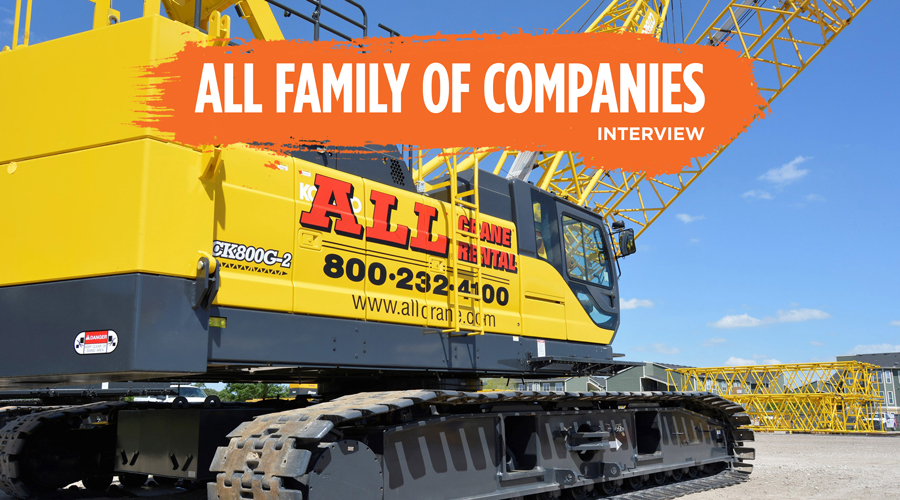 E&C's interview with the ALL Family of Companies, the largest privately-owned crane rental and sales enterprise in North America and a leader in the heavy lift industry.
E&C: When did the ALL Family of Companies get started?
ALL: In 1964 the three Liptak brothers founded ALL Erection & Crane Rental Corp. in Cleveland, Ohio — with just one crane. They offered a solution to contractors who could not – or did not – want to own and maintain their own equipment.
E&C: The Liptak brothers truly had vision.
ALL: They really did. They were always thinking about problem solving and what they could do to help their customers. Yes, they bought more cranes, but they did much more than that. They developed relationships with crane manufacturers – this gave them first dibs on first-off-the-line models. They kept reinvesting in their yard by adding welding, machining, and service and maintenance shops.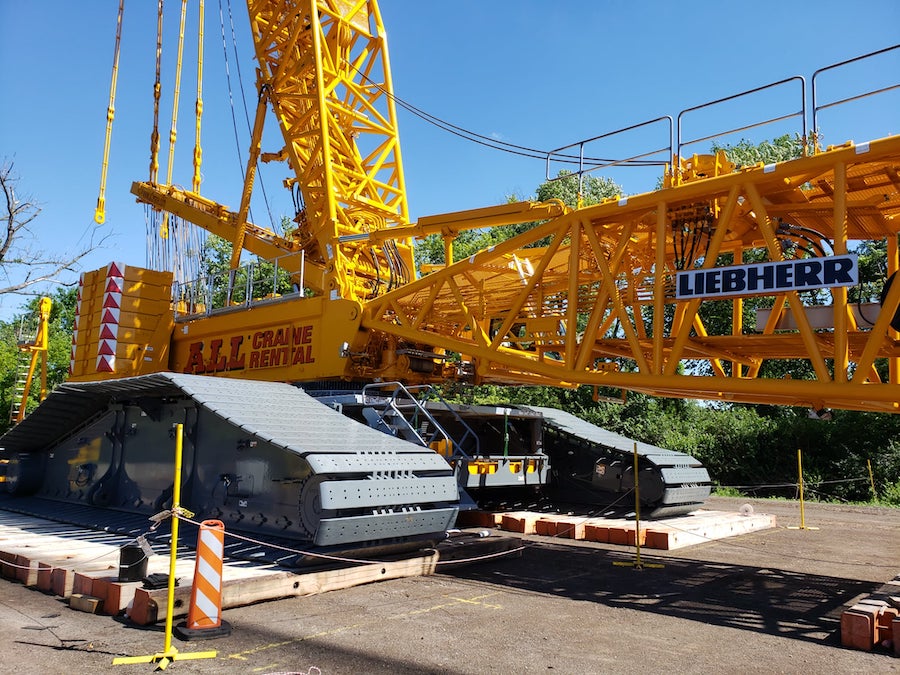 E&C: Then the Liptak brothers starting buying companies.
ALL: That's right. They acquired established crane companies such as Dawes and Central Contractors. Then opened up new branch offices between them. They also developed specialized departments for aerial equipment, towers, and boom trucks.
E&C: Are the Liptak brothers still involved with day-to-day operations?
ALL: You bet they are. Along with second and third generations of their family now in leadership positions at ALL Crane.
E&C: What services does ALL Crane offer?
ALL: Obviously we rent cranes. But we do a lot more. Our engine shop keeps rebuilt engines in stock and ready to ship. We maintain our own fleet of tractors and trailers to ensure faster delivery and better service. We offer 24/7 service.
E&C: You help customers plan their lifts, is that right?
ALL: We use a powerful three dimensional software application to help customers find the most economical crane configuration and to help them visualize the lift prior to lift day. We also have full-time, P.E. and S.E.-certified engineers assisting with the more complex, heavy lifts. Of course, we line up manpower and equipment for the scheduled lifts. It involves recommending the best equipment for the job, not just in terms of capacities, but also to match the lift equipment to the type of work and the environment in which the work is being conducted. Next, ALL's lift specialists coordinate with internal dispatch to reserve the machines for the duration of the project. There is also a site visit in concert with the customer to work through any ground conditions issues, to identify specific placement of the crane, and to determine whether there is a need for the customer to coordinate with state agencies regarding power, airspace, traffic and other issues that could impact the lift.
E&C: We understand you have a big addition to your crane fleet coming in 2022.
ALL: The Liebherr LR 11000 lattice boom crawler boasts a 1,200-ton capacity and 551 feet of the main boom. It will be the largest crane in our fleet.
E&C: Should clients opt for the "bare" rental agreement or an "OM" agreement?
ALL: A bare rental agreement simply means that we are providing you with the crane. That's it. With an Operated and Maintained – OM – rental we handle it all. We provide a crane operator and perform all required inspections, maintenance, and repairs.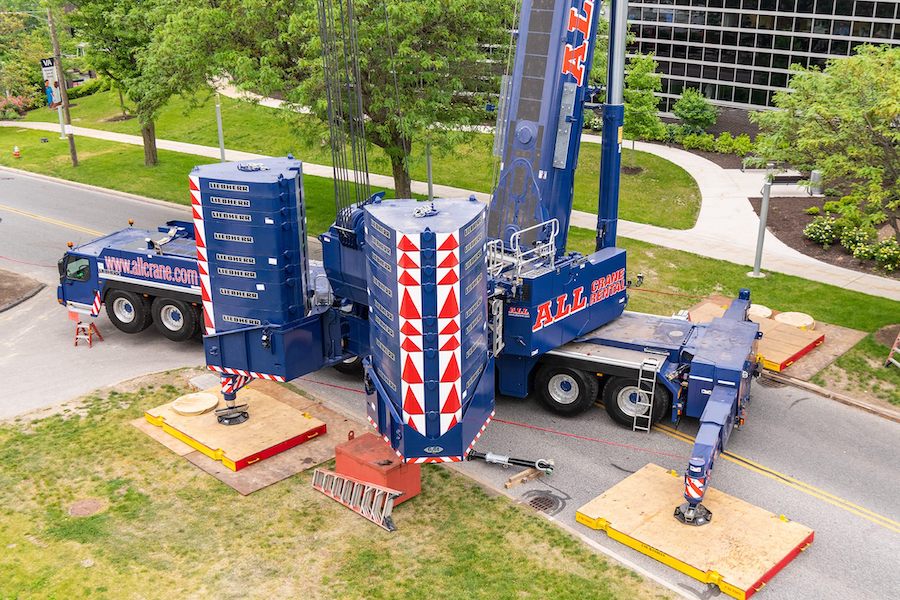 E&C: How does your rental purchase option work?
ALL: The ALL rental purchase option – or RMO – is a great solution for many companies. Basically, it's a "try before you buy" program. It makes sense to sign up for an RMO even if you're not sure you'll want to purchase. This way you'll get credit for the time you rent should you decide to exercise the purchase option. With an RMO you get to know the piece of equipment before you commit to it.
E&C: Who rents from ALL Cranes?
ALL: It seems like everybody does! We have provided equipment and expertise to power generators, industrial plants, every type of commercial construction project you can think of – even the farming industry. Our customers are located all across the United States and parts of Canada. To find an ALL Crane Family of Companies location near you click here.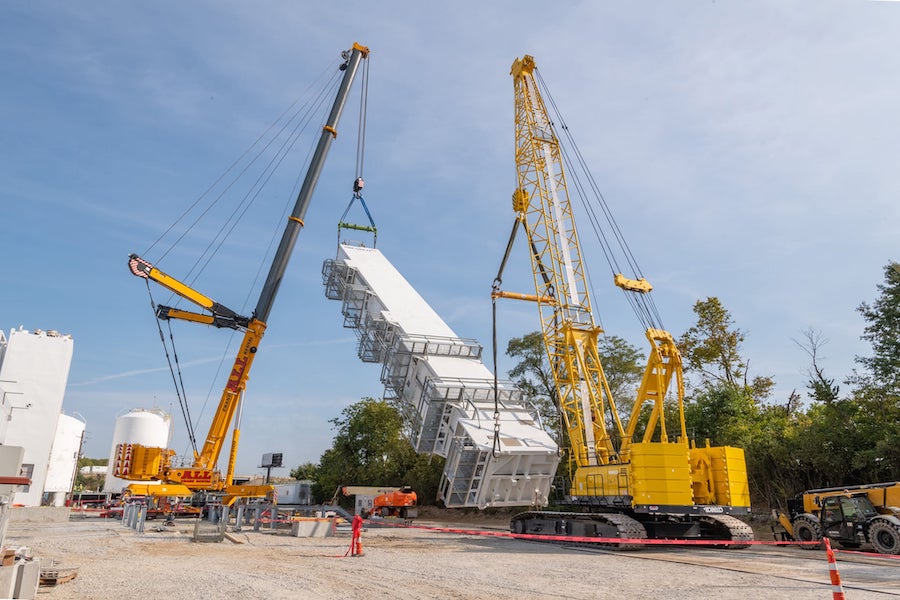 E&C: What have been some of your most challenging projects?
ALL: Well, we've been in business for over 50 years, so we've met many a challenge. There was the hotel project in Panama City Beach, Florida. Nothing like working around tourists on a busy beachfront near a bustling retail area. We used a Potain MDT 368 tower crane with a 185-foot final hook height and 148 feet of jib to construct an 11-story hotel. Did I mention it was right on the beach?
E&C: Tell us about the farming project.
ALL: Oh, you mean Centerra Co-Op. It's an agricultural services company that needed ALL Crane to install an 80,000 pound, 197-foot conveyer on top of 114-foot high silos. Now that required some heavyweight cranes. ALL Crane brought in two: the 550-ton Liebherr LTM 1450-8.1 and the 600-ton Liebherr LTM 1500-8.1. That did the trick.
E&C: What is Lift Line magazine?
ALL: If you're looking for new or used equipment, you should subscribe to Lift Line. It's the premier source for equipment listings published by ALL Crane.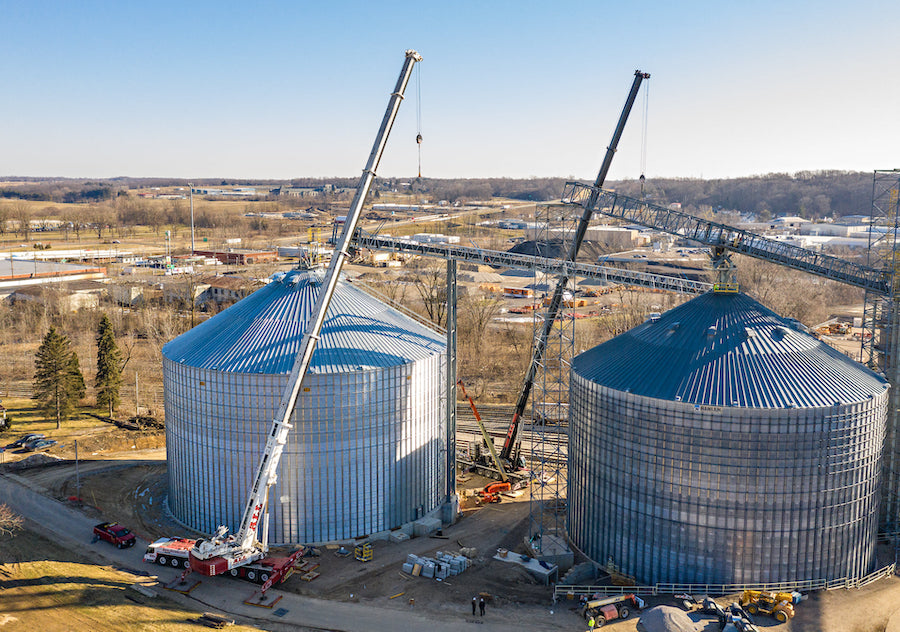 E&C: You sell some very cool apparel on your website.
ALL: We sell ALL Crane branded shirts, jackets, hoodies, and hats. We've had quite a bit of fun with that. Our "It's ALL or nothing" t-shirt is popular. We even sell a "onsie" for babies with a picture of a crane that says, "Not that kind of crawler."
E&C: We understand ALL Crane is looking for good people to "help build America."
ALL: We are looking for people who want a career – not just a job. ALL Crane is built on family – but not just the founders' family. We offer training and mentoring for all our employees and have a strong "promote from within" culture. We also have an amazing benefits package.
What else do you want E&C readers to know about the ALL Crane Family of Companies?
ALL: The ALL Crane Family of Companies literally has everything it takes – equipment, expertise, specialized shops, and a family of employees – to handle your lift projects. Our goal is not to just complete your project – but to become your lift partner.