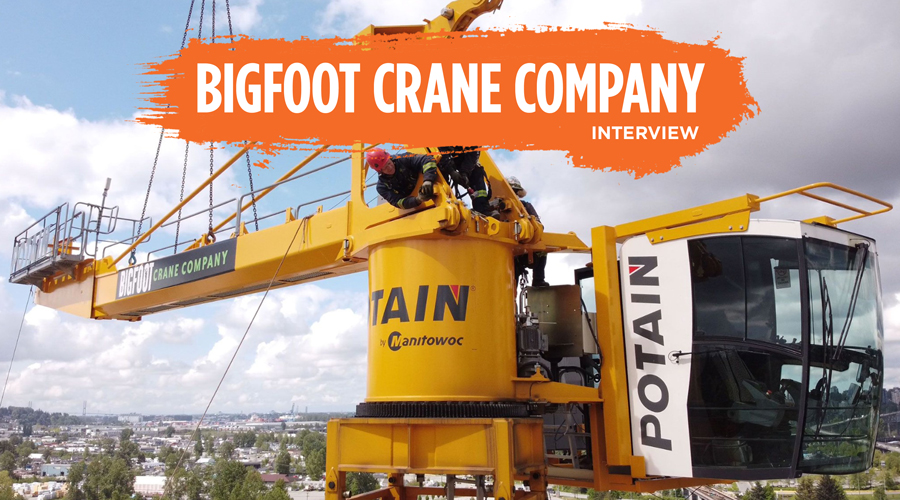 E&C's interview with Bigfoot Crane, one of the top 15 tower crane companies in North America. Bigfoot does it all: Cranes, hoists, crane accessories, service, parts, and training.
E&C: When did Bigfoot Crane Company get started?
BF: We've been serving Western Canada Since 1990. What we're really proud of is being ranked as one of the Top 15 tower crane companies in North America since 2014.
E&C: What services does Bigfoot Crane offer?
BF: We rent, sell, and service tower cranes, hoists, and crane accessories. We also help businesses determine which crane is right for their project. One of the reasons we can do that is we have one of the largest, most diverse crane fleets in North America.
E&C: Tell us about some of your cranes.
BF: Obviously, we only carry the best. We offer self-erecting cranes with service heights up to about 136 feet (41.5 meters). These cranes have jib lengths to about 180 feet (55 meters). We supply these with radio remote controls. Some have cabs. We also have city cranes. These can reach service heights up to about 213 feet (65 meters). Actually, a great example of cranes Bigfoot offers is the Transit Village project from a couple of years ago (see below video).
E&C: We understand you have a dedicated parts warehouse.
BF: We do – along with a full-time parts team. In fact, we can track down parts for nearly any crane. We have many parts for older cranes in stock. If we don't, we've got a global network to tap into.
E&C: What have been some of your most challenging projects?
BF: Oh, there's been a lot of them. There's the time Bigfoot Crane designed and built a customized rock-scaling basket for Dominion Diamond Company. This was for the workers called High Wall Scalers. It's dangerous work. The rock scaling basket we designed and built to Dominion's specifications allows the workers to remove hazards like boulders safely and efficiently. Like from up to 30 meters in the air. We love challenging projects. We've been able to step in where other crane companies fear to tread.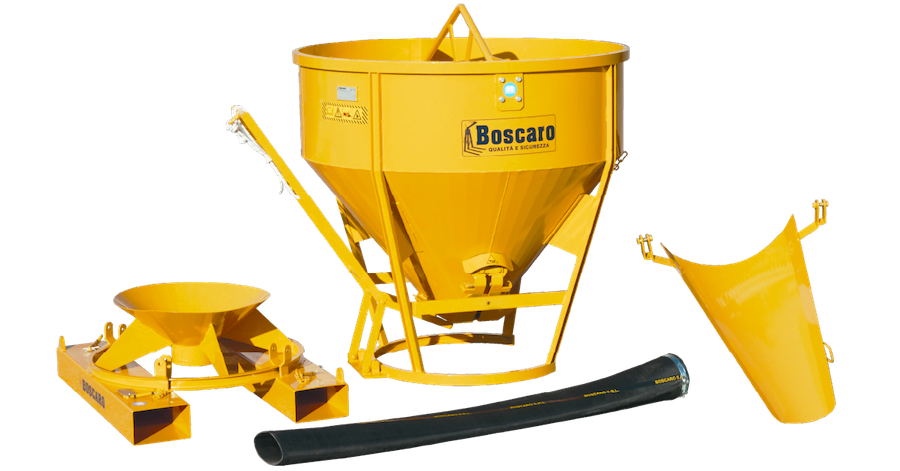 E&C: We understand you brought on a line of industrial dumping bins.
BF: We did. It's a line of self-dumping hoppers by Boscaro. We have several sizes in stock – and several sizes that we can custom order. We keep adding more sizes. Our customers love them. They're a 100% welded steel construction. They're made for hands-free unloading.
E&C: Actually, you sell a lot of Boscaro crane accessories.
BF: Boscaro is such a great company. They're based in Italy. They manufacture truly quality products. We sell their crane baskets, forklift work platforms, concrete buckets, and more. In fact, it's Boscaro we worked with to build that rock scaling basket for the Dominion Diamond Company.
E&C: You offer an excellent line of generators.
BF: Yes. These are environmentally-friendly tier 4-final diesel generators by Inmesol. Amazing machines. They have highly engineered soundproof cabins, so they are really quiet. We offer several sizes.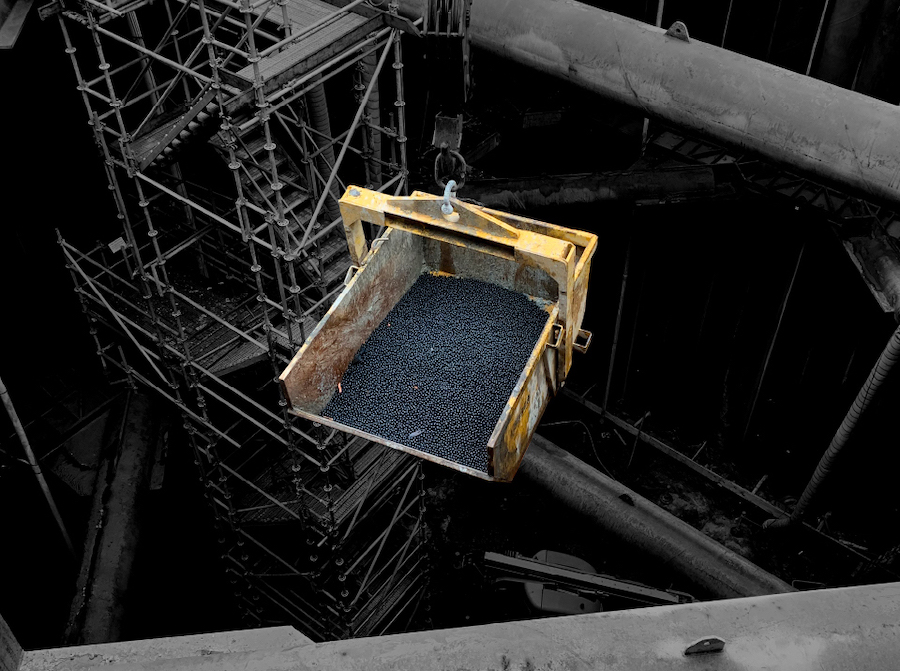 E&C: Bigfoot Crane has quite a reputation for superior customer service. What's your customer philosophy?
BF: A big part of the reason we rank number one is what we like to call "Legendary Service". It's not enough to just deliver a crane to a job site. It's needs to be the right crane. And we consider it our mission to keep that crane up and running.
E&C: Tell us about the Bigfoot Crane Academy.
BF: We offer several training courses. For example, we have a one-day level one rigger certification class. Students learn crane and hoist hand signals, load weight estimating, lift planning, and much more. Those who successfully complete the course and pass the written and practical exams will receive a Fulford Cranesafe picture ID that is valid for five years. We offer a standard course at our location. However, we can customize the class and hold it at a company's location.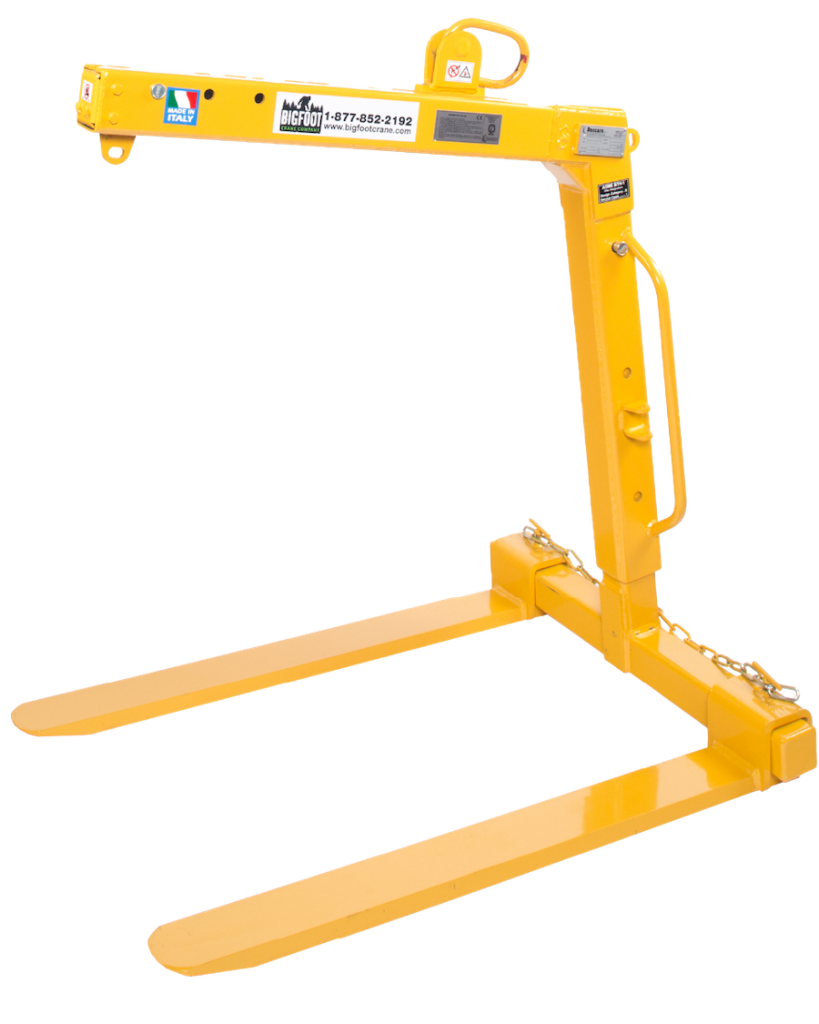 E&C: What other classes are offered?
BF: Stiff boom, tower crane, folding boom, hoist operator, overhead crane, and civil rigging. Our trainers are experts in their field. In the case of the overhead crane and rigging course, you'll need an overhead crane at your location. We only teach that one at a customer's location. Call the academy for more information. We also have a FAQ page.
E&C: We understand Bigfoot Crane Company is always on the lookout for great employees.
BF: The operative word here is "great." We offer a lot of technical training, but we're looking to hire employees who are passionate about work and people. We have high expectations, but we pay and treat our workers well. We don't just want folks who work for us – we want each employee to become part of the Bigfoot Crane family. 
What else do you want E&C readers to know about Bigfoot Crane Company?
BF: If another crane company tells you it can't be done, come talk to us. We will do everything in our power to find a way to meet your requirements. Frankly, we usually do.