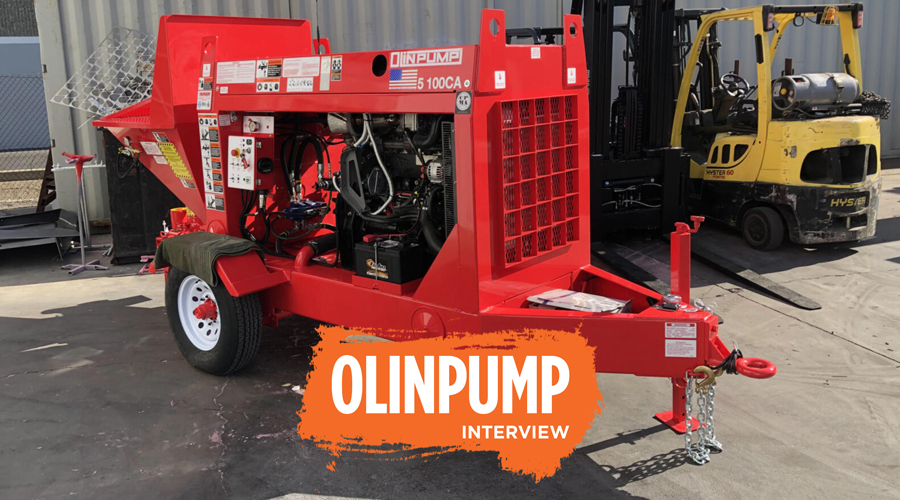 E&C's interview with American owned and operated OlinPump–an innovator in the design and manufacture of pumps since 1975.
E&C: How did OlinPump get started?
OP: Olin Engineering Company was founded by Dave Swain in 1975, as a manufacturer of high quality driveline upgrades for mechanical Thomsen and Mayco grout pumps. The driveshaft assembly was guaranteed not to fail for the life of the pump, and when combined with a manifold upgrade, it increased output by up to 50%,
E&C: How was that accomplished?
OP: By lengthening the drive cylinder stroke. Pistons were changed out to o'ring type, lowering horsepower consumption, and increasing useable cylinder length. Oilers were replaced with splash type oil lubrication. Bottom end bearing o'rings were removed, eliminating the necessity to grease the lower end tapered roller bearings.
E&C: We understand that Thomsen Sales legend Joe Schmidt actually referred several disgruntled customers to Dave.
OP: That's right. The modifications changed the performance and maintenance characteristics of these pumps dramatically. The difference made to an A4.5 or A7 was so impressive, it helped make a name for Olin in the Southern California market.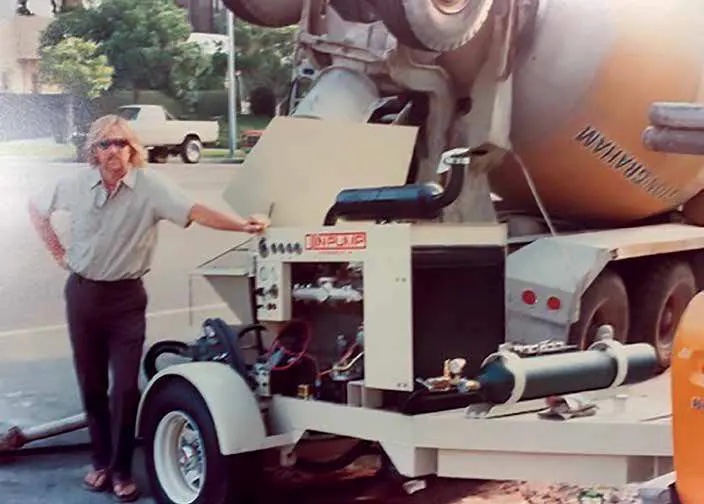 E&C: Tell us about the hydraulic small line ball valve pump.
OP: Several months after purchasing three Thomsen driveline kits, a San Diego customer contacted Dave to ask for his help in developing an idea he had for a hydraulic small line ball valve pump. Dave agreed to design the hopper and manifolds to accommodate the unique pumping system, and in return got distributorship of the product in LA and Orange Counties.
E&C: This led to a new product, yes?
OP: At first, sales of the new pump in LA and Orange Counties turned out to be impossible, as unlike San Diego, the sand was manufactured and poorly graded. This caused poor pumping efficiency, resulting in line surge. Forced to take action, Olin developed the first nitrogen backed surge chamber to be used on a concrete pump, and the units started selling briskly.
E&C: But there were still quality issues with this pump – despite the increase in sales.
OP: Dave was spending up to 8 hours on each unit, just to correct factory defects before delivery was possible. It was at this point in time, in 1979, when a customer suggested that Dave design and build his own pump, which the customer ordered and took delivery on in early 1980. The company was then incorporated, and the Federal Trademark OLINPUMP was registered.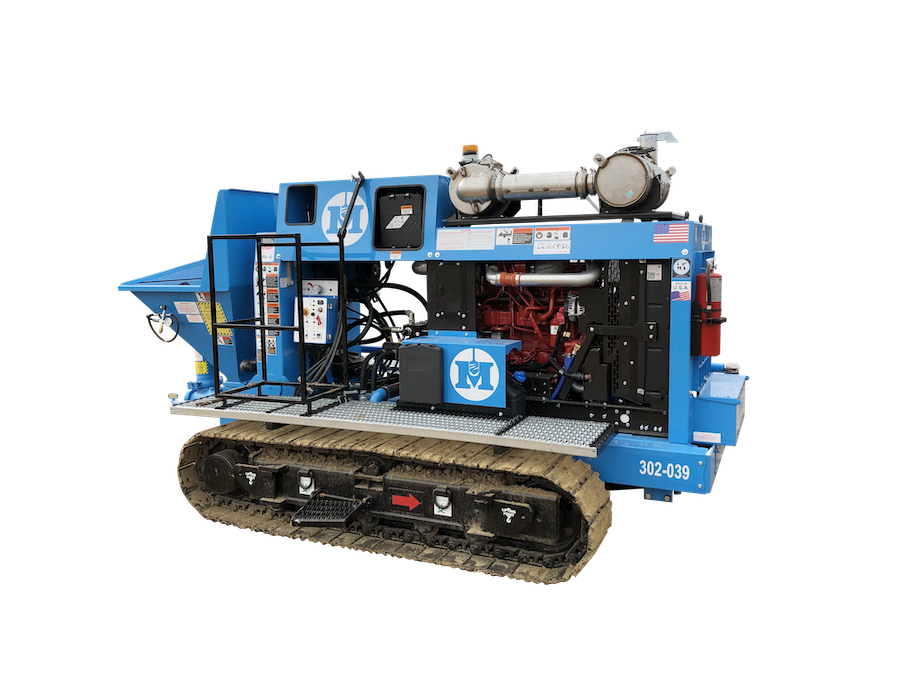 E&C: The Olinpump line of Diesel Hydraulic Ball Valve pumps quickly gained popularity in the commercial market. Why was that?
OP: The Olinpumps efficiently and smoothly handled high sack, low slump, small aggregate structural mixes used in high steel density poured in place structures, upwards of 300' vertically, through 2-1/2" line, easily outperforming the 1" pumps previously thought necessary for the tough application.
E&C: Turns out this new line of Olinpumps was popular in several industries.
OP: From shallow oil well cementing in Canada, to deep foundation Auger Cast pile in Florida, to faux rock Shotcrete in Dubai, to tunnel and mining Shotcrete robots in Scandinavia, Olinpumps serve a world of applications with simplicity and reliability, while continuing to be American owned and operated.
E&C: Tell us more about Olin's S-Tube and Ball Valve pumps.
OP: Over three decades later, with a full line of World Class S-Tube and Ball Valve pumps from 25 to 170 YPH, the 5 80 and 5 95 Ball Valves remain the most efficient means of placing high strength ½" minus mixes up to 50% aggregate, through 2-1/2" line, for vertical poured in place applications.
E&C: What make the Olinpumps superior to small line pumps?
OP: Olin's 5 25 thru 5 45 models are well known for their ability to pump lean 'performance' mixes other Small Line pumps can't. Other brands offer small S-tube pumps for small line pumping, but the line surge, high maintenance, and low output are no match for the small Olin Ball Valves.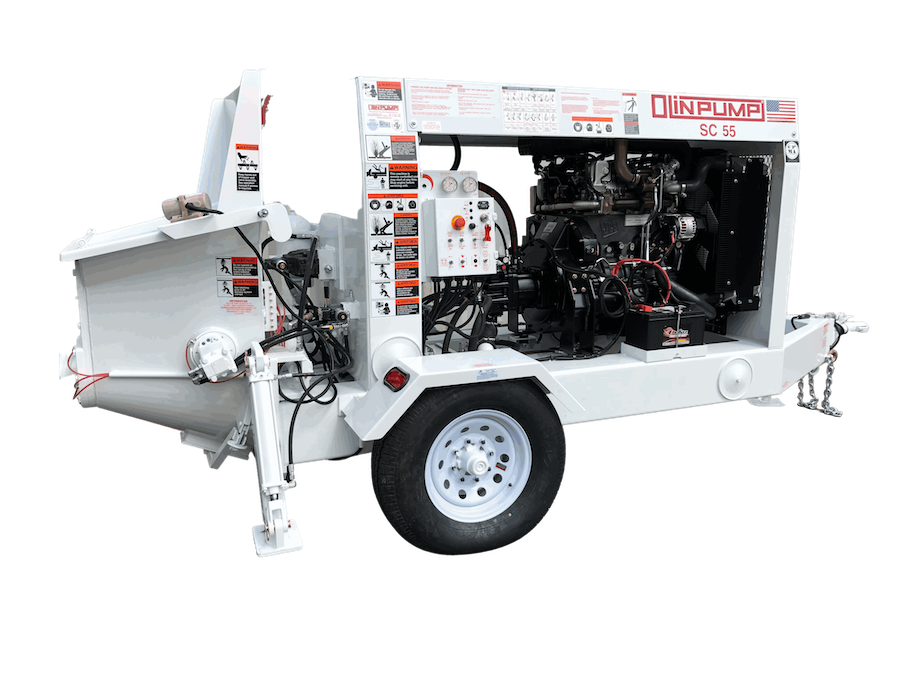 E&C: Let's talk about specs on some of the Olinpumps.
OP: The 5 170CA is a Deep Foundation Ball Valve pump. The 5 140 & 170's 8″ delivery cylinders combined with the Millennium Series manifold, deliver the most efficiency of any auger cast pile pump on the market. No other pumps perform anywhere close to the Olinpump grout pumps. Efficiency, output, low maintenance and smooth delivery with no surge, maintaining constant flow and pressure for maximized intrusion, make it the highest value pump available.
E&C: How about the Shotcrete S-Tube pumps?
OP: First of all, keep in mind that Shotcrete is nothing more than air blown mortar. Any pump that can  handle a 2-3" slump, can be used. It's really no different than pouring single sided stem walls, or formed stairs with a large opening at the bottom, where a low slump at low speed is required. Put on a nozzle with 150+ cfm, and you're ready to Shotcrete. We have three different models of S-Tube pumps popular for the application, he 15 35, 15 45, and SC55. The difference between the models is related to max output, engine power, delivery cylinder, and more. For example, the 15 35 has a max output of 40 yph and a 2.5L 74hp engine whereas the SC55 offers a max output of 60 yph with a DEF free 4.4L 74 hp engine, or 108 hp optional. We also offer the option of several Ball Valve models, from the 5 25 to the 5 75, all of which feature smooth, constant flow, surge free performance, a nozzleman's dream, and without the maintenance cost of an S-Tube.
E&C: Where can our readers find more information about Olinpumps?
OP: You can download specs and manuals for all Olinpumps on our website.
E&C: What else should our readers know about OlinPump?
OP: If you're interested in a pump, have any questions regarding, or would simply like to speak with a member of the Olinpump team, please feel free to call, email, or visit us at any time.
What is unique about Olinpump's products and services?
Olinpump is recognized for its high-quality concrete pumps. Their products stand out due to their robustness, reliability, and the company's emphasis on customer service. The company offers a wide range of pumps with different capabilities to suit various project requirements. They also focus on constant innovation, improving their pumps to provide maximum efficiency and productivity.
What makes Olinpump a strong player in the concrete pumping industry?
Olinpump is a strong player in the concrete pumping industry due to its commitment to quality and customer service. Their concrete pumps are designed and manufactured with the highest standards to ensure durability and efficiency. Furthermore, Olinpump values its customers and strives to meet their needs with excellent service and support, including training and technical assistance.