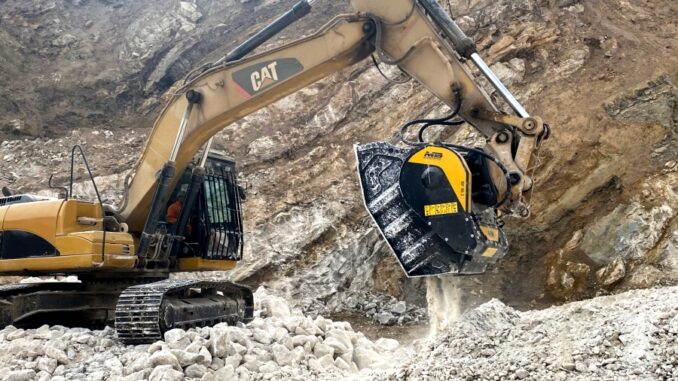 Suppose you need to install a new crusher or replace a stationary plant. In that case, some factors need to be considered: desired output, targeted amount of production, installation stage, maintenance costs, and process.
But one of the most important factors is cost.
MB Crusher attachments are portable jaw crushers that use the hydraulics of the heavy equipment they are mounted on. Reliable. Robustly constructed. Easy to maintain. Easy & safe to operate.
MB Crusher units offer unmatched production flexibility. They do not require to be transported on their own. They move to any location with the carrier machine they are attached to; it is that simple.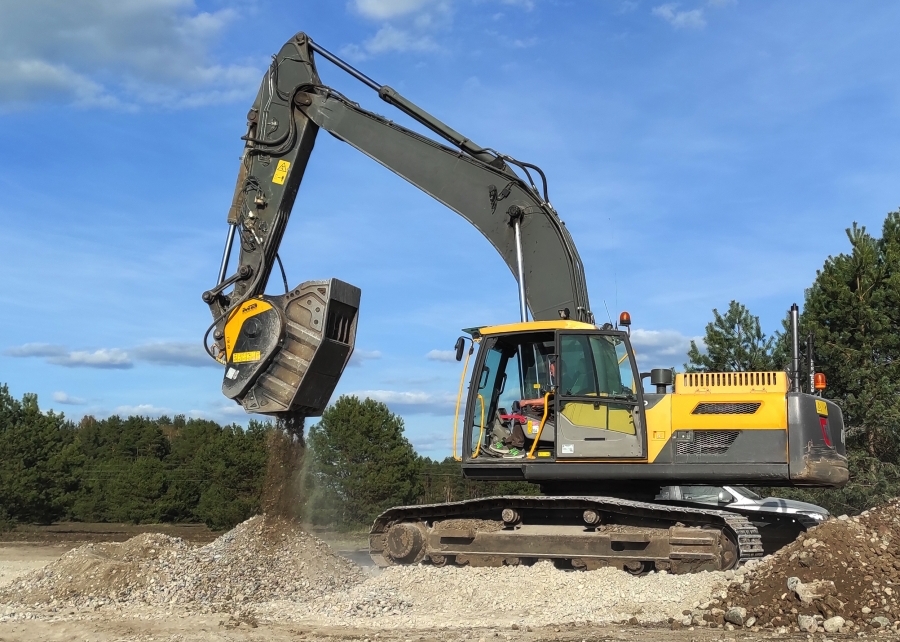 In Latvia, our customer has been accumulating overburdening amounts of granite in his sand quarry. Stockpiling the granite was becoming a waste, so they attached a BF90.3 jaw crusher to their Volvo EC220 excavator to process the rocks directly at the quarry, a one-person one-machine job.
Without the MB Crusher jaw crusher, our customer had two choices in processing the pile of granite. First,  take it to another quarry where a mobile crusher was available. Second, bring in a mobile crusher which requires costly hauling fees. Both cases were too expensive, so they kept accumulating to avoid spending. Using  MB's attachment permitted them to reduce the granite, reduce the cost per ton of the product obtained and sell the reduced rocks at a competitive price while still making a good profit.
Moving more than 8,000 miles across the equator, we have another customer that used our MB Crusher BF120.4 as a primary jaw crusher to reduce limestone in Chile—mounted on their Doosan excavator. They reduced the limestone to be used for concrete production. By using the crusher bucket, they had all the flexibility they needed. The excavator could easily reach into different areas of the quarry to tackle several types of material crushing without including any other machine or truck. The method is highly cost-effective.
Time is of the essence when it comes to saving money. And MB Crusher units are great time savers. For example, the installation and the output size change stages can be done in less than an hour without taking the unit to a workshop.
For example, when working with chalk, our Peruvian client was able to adjust the output to the size of his machine required by his clients, incrementing the commercial demand for its products.