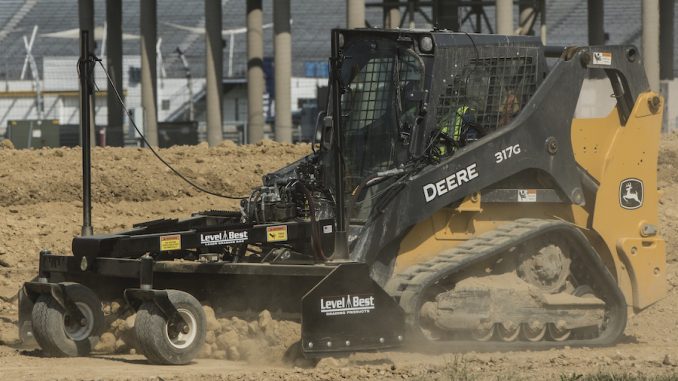 Helping compact equipment operators improve productivity and machine versatility, John Deere is pleased to add three new models, the PD-72 inch (1,829 mm), PD-84 inch (2,134 mm) and PD-96 inch (2,438 mm), to its referral attachments line from the leading manufacturer of grading attachments, Level Best®. The new grade control-ready Level Best Dual Mast PD Series box blades will improve productivity on John Deere skid steers and compact track loaders.
"We pride ourselves on providing cutting-edge solutions to our customers that enhance job site output and maximize ROI," said Jessica Hill, program manager, global attachments at John Deere. "From laser grading parking lots to rebuilding golf course tees, owners and operators will find that there are endless uses for our new Level Best box blade referral attachments."
Level Best box blades are available in Topcon ready 2D precision grading and 3D precision grading options. The 2D Level Best PD Series comes ready to produce precise 2D grading by working seamlessly with laser transmitters. The 2D system automatically adjusts the elevation by controlling the lift and tilt of the attachment to maintain vertical accuracy and smooth grading performance. The Level Best PD Series Grading Box System adjusts dozens of times per second to ensure a smooth grade with tight tolerances — ideal for precision grading.
Level Best designed the PD Series to take advantage of the push-pull directional work style of skid steer loaders for maximum production. The PD Series is made specifically for skid steer loaders and compact track loaders. The unique frame design gives operators exceptional control, efficiency and smoothness, and minimizes the potential "bounce" effect that can occur in skid steer loaders due to the short wheelbase.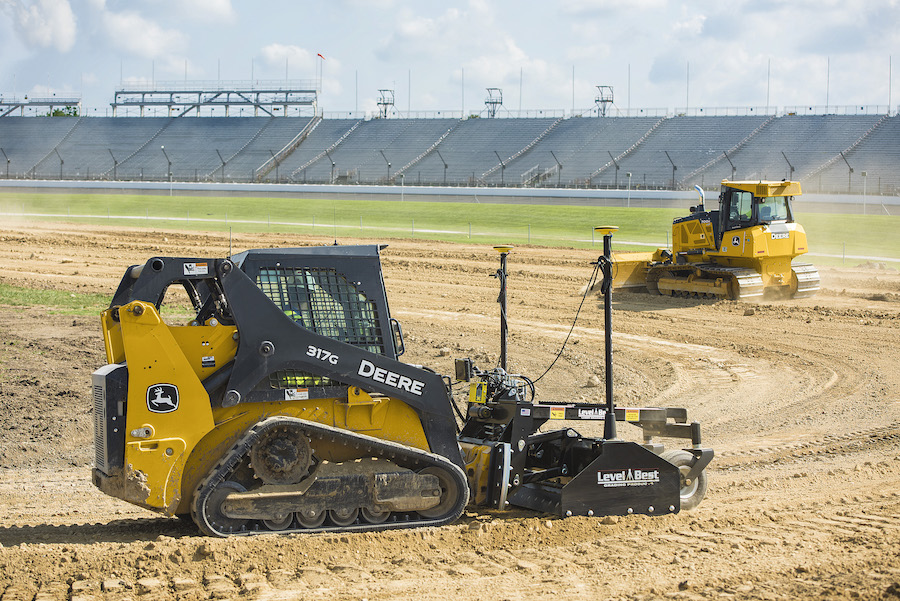 For jobs that demand 3D grading, Level Best grading boxes come ready to be used with Topcon GPS, robotic total stations or sonic technology. The grading box comes installed with the cables needed to work with Topcon 3D GPS. This allows customers to use the Topcon GPS systems they currently use on other machines. The main components can be installed on the grading box for a plug-and-play solution.
The three box blade models offer customers a range of capabilities based on their needs. With a box width ranging from 72 inches (1,829 mm) ranging to 96 inches (2,438 mm), operators can use different widths to improve efficiency when leveling terrain. The PD-72, PD-84 and PD-96 require machines equipped with half-inch quick-connect couplers and a 14-pin auxiliary electrical connector with live power. Rear counterweight is not required to use these models, but will improve stability during use.
Additionally, all Level Best box blades are equipped with the following standard features:
Push-pull design moves the material for fine grading.
Two cylinders provide cross-slope operation.
All cutting edges are reversible.
Convex mirror allows material visibility.
Power-coated paint finish.
Foam-filled tires on oscillating axle.
Universal skid steer compatible mount improves versatility.
Two, 1-1/2-inch diameter mast poles.
The John Deere/Level Best Referral Program allows John Deere Construction & Forestry to sell Level Best branded box blades using low rate financing through John Deere Financial. The new Level Best box blade attachments are serviced through Level Best. To learn more, visit www.johndeere.com or contact your local John Deere dealer.