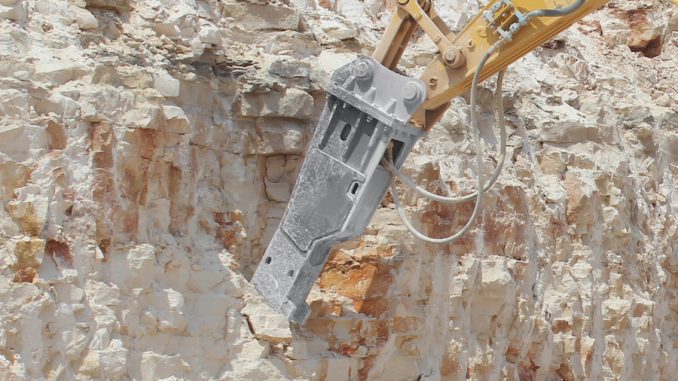 KINSHOFER, a leading global manufacturer of high-quality excavator and loader crane attachments, adds the new KFX-Series hydraulic breaker excavator attachments to its already extensive product line. The manufacturer announced the breaker series with the acquisition of Hammer, an Italy-based manufacturer of demolition, excavation, recycling and material handling attachments. The new series offers features that improve operator comfort and safety, reduce wear and improve productivity and longevity.
"Versatility, safety and efficiency aren't just buzzwords at KINSHOFER," said Francois Martin, KINSHOFER North America general manager. "We strive to provide our customers with high-quality equipment that fits their individual needs and improves jobsite safety and overall efficiency. The KFX-Series greatly expands our product range with a dependable line that completes our offering and gives contractors the option to get all of their attachments from one source."
The 14 models in the KFX-Series offer operators a wide range of weight and power options. This makes it easy to find a breaker that fits individual needs in road work, demolition, recycling, tunneling and underwater applications. The smallest model in the series, the KFX 14 — designed for excavators weighing 8-15 tons — produces 1,475 foot-pounds (2,000 joules) and 600-900 blows per minute. At the upper end of the series, the KFX 200 — for 100- to 200-ton machines — produces 25,815 foot-pounds (35,000 joules) and 150-250 blows per minute.
The KFX 20 to 200 also feature two adjusting valves, allowing operators to adjust the number of blows per minute and select operating pressures from 160 to 200 bar. Choosing a longer piston stroke will result in slower operation and more energy per single blow. This is for when the material is very hard and capacity isn't the main concern. A shorter piston stroke results in less single-blow energy but faster operation, making it ideal for softer material and greater capacity per hour.
KINSHOFER's KFX-Series breakers also improve operator comfort and reduce maintenance needs. A polyurethane shock absorber built within each breaker lowers vibration transmitted to the excavator frame and cab, increasing comfort and minimizing wear on excavator components, such as bushings. This also helps to reduce noise emissions.
The KFX-Series breakers include an autolube system that allows direct greasing of the lower bushing and spacer, thereby improving the longevity of retainer pins and bushings and reducing the need for manual greasing. This option also enables operators to control greasing from the cab or automatically through movement of the hammer.
KINSHOFER can add air tubes to KFX models for tunneling and underwater projects. Air tubes fill the breaker with defined air pressure, preventing water or dust particles from getting inside. Users simply attach an air supply to a connection point on the breaker housing, creating an air cushion that protects from damaging moisture and dust.
"The KFX-Series offers an impressive array of features that make it one of our most versatile products," Martin said. "We are one of the only manufacturers to offer a broad 2-year warranty because we believe in the quality of all our products. The KFX-Series is a welcome addition to our already extensive lineup. We believe the quality and versatility it provides will make it a popular option for contractors looking for an affordable breaker with a ton of great features."
KINSHOFER also offers the KSB-Series of breakers for excavators from 0.5 to 12 tons.