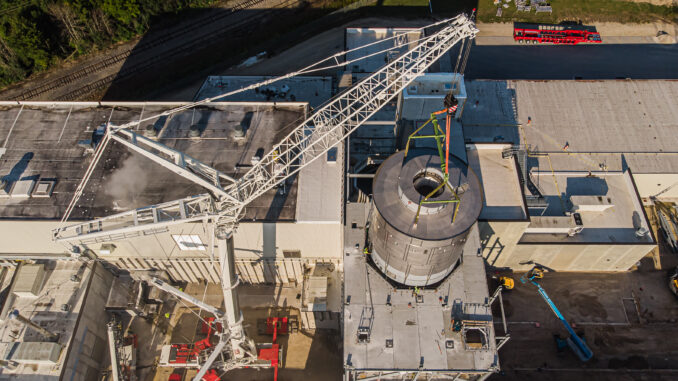 In the heart of America's dairy country, a cheese-processing plant took on a multiyear modernization project to increase its ability to process more milk and make larger blocks of cheese. Infrastructure improvements to the plant in Kiel, Wisconsin, included modernizing cheese-making and packaging processes, expanded plant capacity, and making whey-processing improvements.
There was enough new construction near the building that a courtyard with limited space was the only area to place any crane brought in to lift the whey dryer. And, narrowing the options still more, within the courtyard, there was only one spot that had the necessary tail-swing clearance to position the crane. Adding to the challenge, there was an overhead ammonia line that would need to be avoided. In essence, the crane had to be placed snugly in a box and then carefully navigate around the lid.
Bill Schaller, project manager for Miron, called Scott Jerome, branch manager of Dawes Rigging & Crane Rental, a member of the ALL Family of Companies, for his recommendation on how to approach the lift.
After approximately two months of planning, they were ready to lift the whey dryer into its permanent position, atop a building 170 feet above ground.
The whey dryer was 45 feet high and 35 feet in diameter with a weight of 120,000 pounds. Rigging added another 30 feet, increasing the tip height even further. The crane's jib was constructed under the overhead ammonia line, tipped on rollers, and then rolled clear and boomed up. A preliminary lift was performed to position the workpiece—the whey dryer—farther away from the crane because of the radius required by the close quarters.
To pick the whey dryer for its final placement along the processing line, the LTM 1500-8.1 was configured with 121 feet of main boom, 69 feet of luffing jib, and 383,000 pounds of counterweight.
Based on a site visit and preliminary drawings, Jerome believed the 600-USt Liebherr LTM 1500-8.1 mobile crane, with its mix of capacity, reach, and mobility—and variably adjustable outriggers (known as VarioBase®)—was the best tool for the job. The adjustable outriggers would allow the machine to move in closer than a crane with standard outriggers.