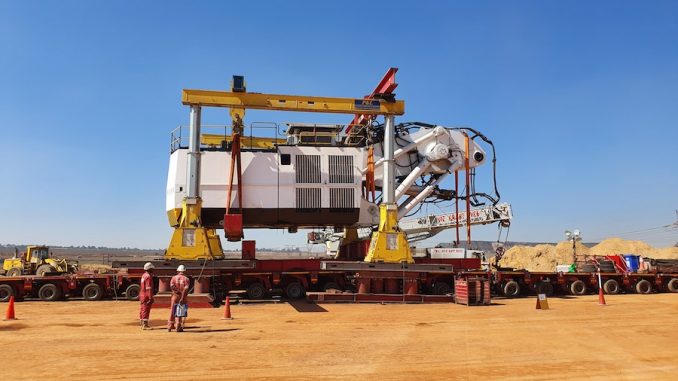 Around 75% of South Africa's energy needs directly rely upon coal mining. So, when a new site is opened, it's vital that key equipment is mobilised as quickly and efficiently as possible; both on a local and national level.
Such was the case when a face shovel excavator needed transportation from Kromdraai Colliery in Mpumalanga Province to a new cut in nearby Emalahleni. ALE was able to mobilise at short notice and provide equipment well-suited to a fragile road surface and critical bridge structures.
ALE received the 552t Terex O&K RH340 face shovel machine from the client at a designated spot on site. A tracked vehicle, it is capable of crawling between different cuts on site by itself. It is however not capable of crawling any great distances between sites or on public roads.
So, it was necessary to split the machine into two primary pieces for transportation: the 291.5t main machine and the 207.9t undercarriage. ALE preferred a four-point lifting system methodology for the splitting procedure, which offered increased stability over crane-based approaches and was less susceptible to sourcing issues. It was the first time the client had attempted to split any of their machines with this methodology.
The main machine and undercarriage were first decoupled before the former was attached to the four-point lifting system, which was raised to a total height of 8.1m. This provided the necessary clearance for the tracks, which were self-propulsive, to be driven out from underneath the suspended main machine.
With its ability to strategically deploy equipment around the world, ALE deployed a Goldhofer THP/SL 22-axle trailer for this project. At 37.8m length and 4.3m width with 1.8m axle spacing, it was sizeable, however, smaller trailers would not have been able to cross over the critical bridge structures on the route.
The trailer – attached to two prime movers at the front of the trailer and one to the rear each with 28t ballast – set off along its 25.4km route. Besides ground pressure, the route had been analysed in advance to make sure its vertical radii didn't exceed the navigable parameters of the 77.1m long convoy.
Arrangements had also been made in advance with a local steel smelting plant, such that high-voltage power lines could be switched off for a small window of time, allowing the transportation to pass. The passage was otherwise smooth, as the journey was planned not to pass through built-up areas.
Upon reaching the Emalahleni site, the main machine was staged off onto four stools lined by two 7m header beams at a height of 1.6m. The team then returned for the 207.9t undercarriage, which was lifted by the same four-point lifting system to a clearance of 1.63m, then transported using the same equipment configuration.
The face shovel was then reattached by the client after its undercarriage was manoeuvred underneath the waiting main machine. It is now hard at work on site, operated by one of South Africa's 90,000-strong coal mining workforce.