View the complete article here.
Mining operations need heavy-duty trucks to transport valuable minerals. Because these minerals are cut off in large chunks, a regular dump truck is unable to safely transport them. Instead, special mining dump trucks are necessary. These off-road highway vehicles are some of the biggest in the world and are constructed to quickly move hefty objects. This article will explore some of the world's biggest mining dump trucks and why they excel at their job.
The 8 Biggest Mining Dump Trucks
BelAZ 75600
Designed by Belarusian Autoworks, the BelAZ 75600 has a payload capacity of 360 tons. It uses a MTU 20V4000 engine that contains 20 cylinders and automatically cleans itself thanks to a built-in three-stage filter. Its frame is constructed out of thick steel allowing it to safely work under extreme conditions while protecting the driver from loose debris. The BelAZ 75600 uses hydrostatic steering and has multiple braking systems – service, parking, retarding, and emergency.
As one of the largest mining dump trucks in the world, it incorporates a massive fuel tank (1,152 gallons) and radial tubeless air tires for smooth transport. Other features built into this mining dump truck include a video-observation system, automatic lubrication system, and high-voltage line warning tool.
BelAZ 75601
Another mining dump truck model by BelAZ, the 75601 has a payload capacity of 320 tons and implements a MTU 20V4000 engine that's built with embedded diagnostic controls. The truck's spacious cabin features an LCD touchscreen that drivers can use to monitor the bed to guarantee even distribution.
The BelAZ 75601 runs on a hydraulic system that improves the truck's performance when dumping, steering, and braking. Some unique features this mining dump truck has include a video observation system, instant lubrication system, and tire pressure monitor.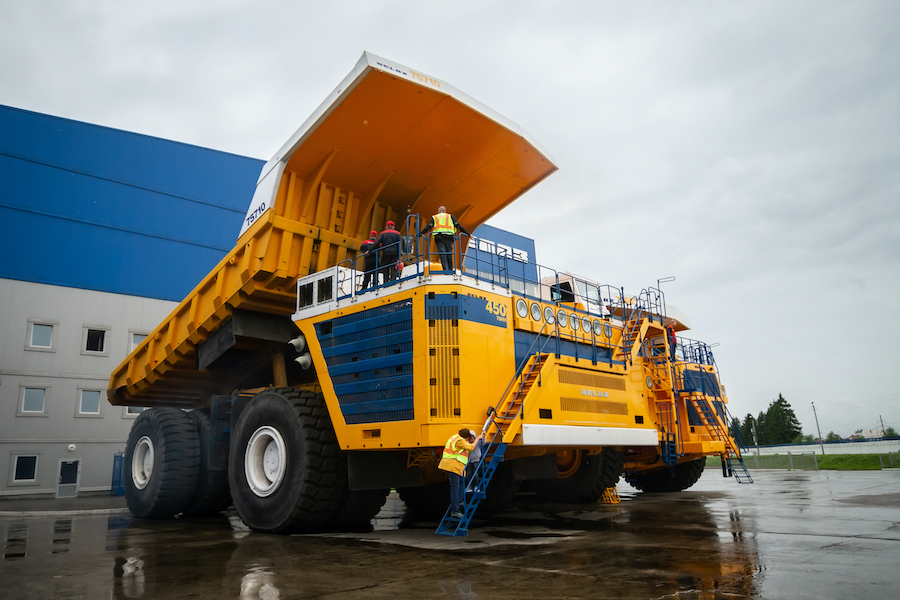 BelAZ 75710
Believed to have one of the largest payload capacities in the world, the BelAZ 75710 stands at a height of 26-feet and can hold up to 496 tons. It first hit the market in 2013 and impressed many with its intricate design. To ensure it can hold and transfer heavy amounts of material, the truck is built with a thick steel frame and two diesel engines that each have 16 cylinders and a combined horsepower of 4,600.
Because it must transport extremely heavy materials, its bed is designed to keep the load evenly distributed. The truck can do this thanks to a unique rear axle system that allows the driver to adjust it so the weight is level. The front and back of the truck also use four tires on each side to keep the weight balanced.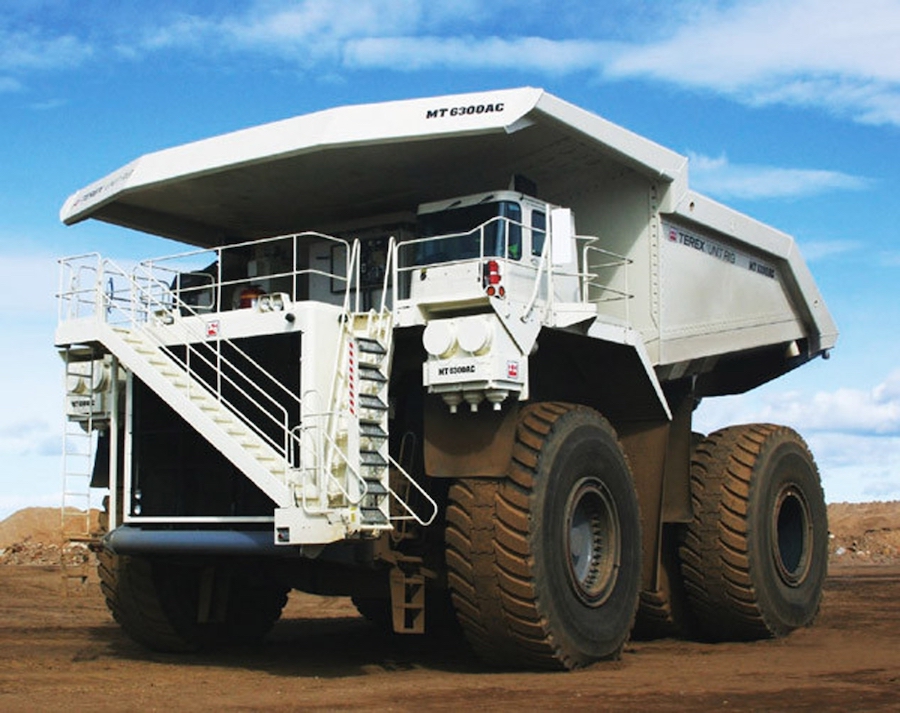 Bucyrus MT6300AC
The Bucyrus MT6300AC (previously known as the Terex Unit Rig MT6300AC) can hold up to 363 tons. It has been manufactured since 2008 and uses a MTU/DDC 20V4000 engine that runs on 3,750 hp. This engine also connects to an AC electric alternator that helps the truck's rear axles rotate better. This off-highway dump truck has a maximum speed of 40 miles per hour.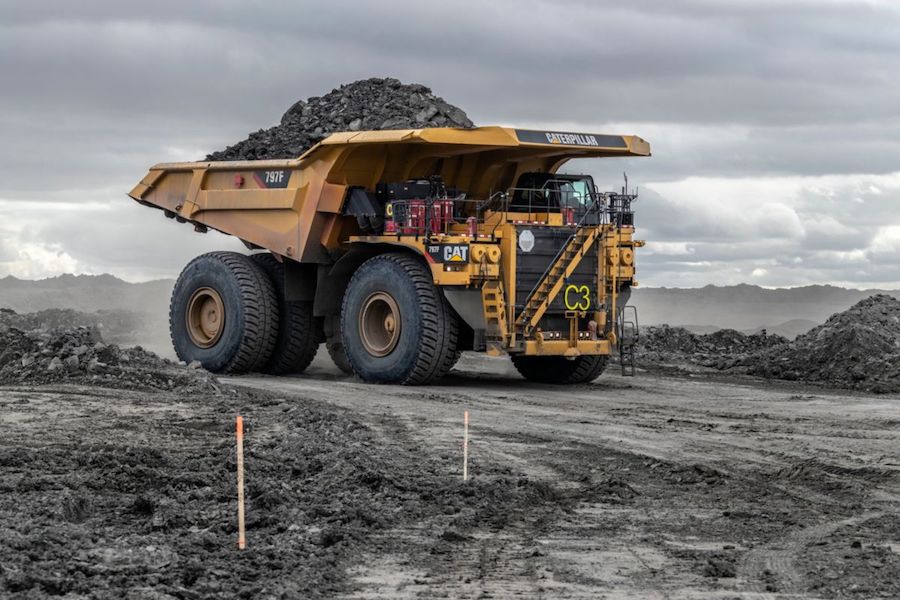 Caterpillar 797F
This mining dump truck by Caterpillar is prided by the company for being a durable yet low maintenance vehicle. As the third version in Caterpillar's 797 series, the Caterpillar 797F features advanced technology that encourages maximum power and sustainability. Some of them you'll find built into this model include a seven-speed shift transmission, detection cameras, and road analysis sensors.
The Caterpillar 797F runs on a Cat C175-20 engine that has a gross power of 4,000 hp. Thanks to this sturdy engine, the dump truck is a bit faster compared to similar vehicles and can move at up to 42 miles per hour.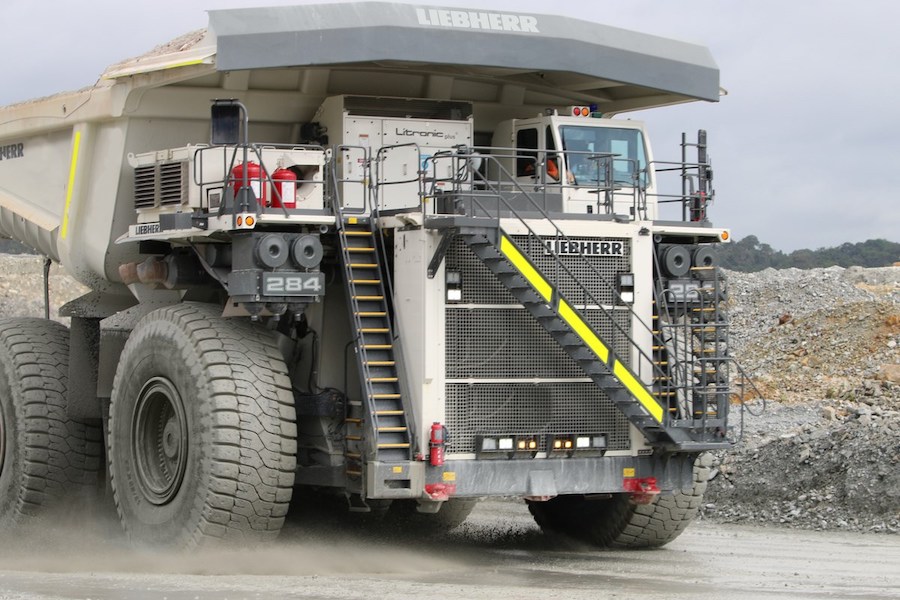 Liebherr T 284
Created in 2004 by the Liebherr Mining Equipment Company, the Liebherr T 284 is thought to be one of the world's most lightweight mining dump trucks at 474,000 pounds. It has an impressive payload capacity of 363 tons and runs on 4,000 hp. Its bed has a dumping angle of 49 degrees.
To help drivers easily operate the truck, it's built with a customized Liebherr Litronic Plus AC System that keeps the vehicle moving regardless of its load. The Liebherr T 284 has a maximum speed of 33.6 miles per hour.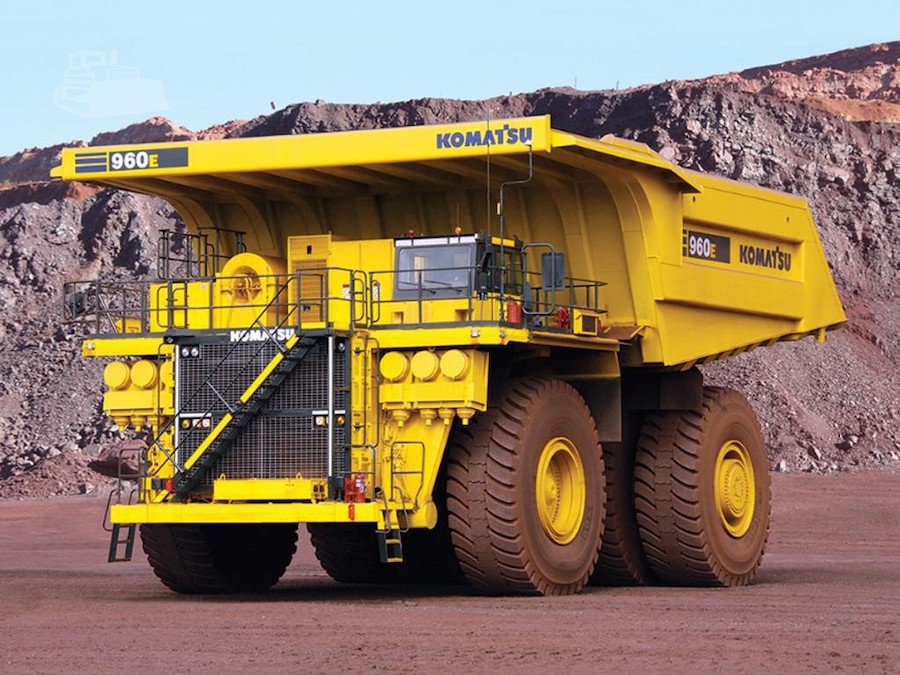 Komatsu 960E-1
The Komatsu 960E-1 has been in production since 2008 and is one of this company's largest vehicles. In fact, it's so big that it must be constructed piece-by-piece at the mining site.
Weighing over 1,270,000 pounds, the Komatsu 960E-1 can hold up to 360 tons and operates at up to 40 miles per hour. It uses a Komatsu SSDA18V170 four-cycle engine that has a gross horsepower of 3,500.
To keep it durable, the dump truck is equipped with almost unbreakable steel castings, especially near its rear body pivot. Other features built into this vehicle include oil-cooled brakes, tinted glass, a thermostatic fan clutch, and propel speed control.
Most of the time the Komatsu 960E-1 is preferred by drivers because of its ergonomic cabin design that provides them with superb visibility.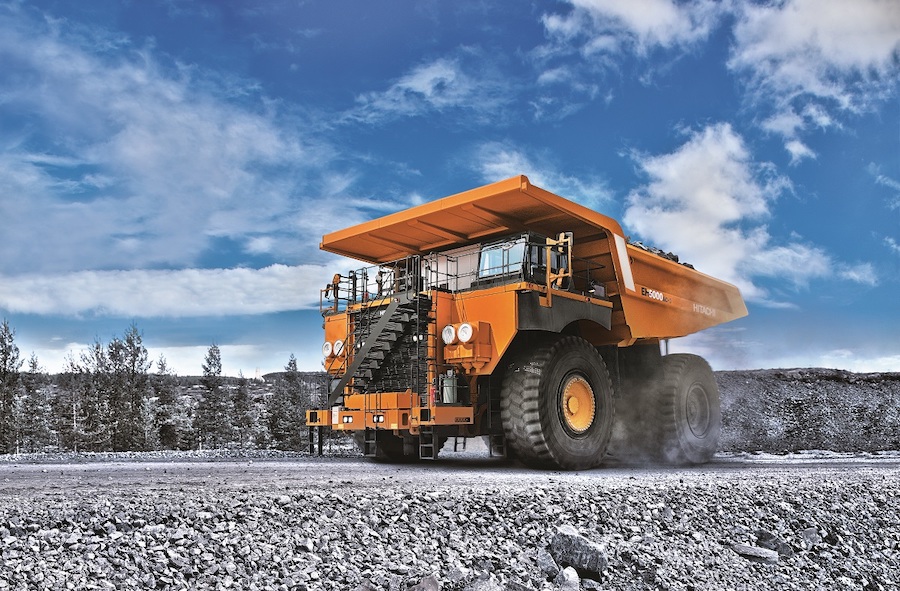 Hitachi EH5000AC-3
The Hitachi EH5000AC-3 was first introduced in 2012. It weighs 1,102,311 pounds and has a payload capacity of 326 tons. To help it move with ease, it's equipped with a Cummins QSKTTA60-CE diesel engine. Despite its large size, the engine doesn't require a lot of fuel making it surprisingly energy-efficient. Hitachi has furnished this massive dump truck with its intricate IGBT AC-Drive System that has a slip/slide control setting allowing you to monitor the traction and activate an anti-lock brake component if necessary. Other features include electric braking and side skid control. To prevent overheating, the Hitachi EH5000AC-3 has a water pump that keeps the engine at a cool temperature and a wheel motor blower to make sure the tires rotate well.
These mining dump trucks are built for heavy-duty work and their unique designs show it. While not assembled for speed or traditional construction work, they have a huge payload capacity to ensure that dense substances are safely transferred for optimum efficiency.