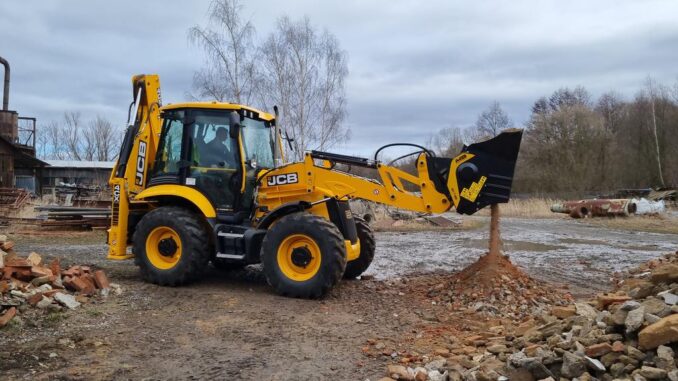 Construction is an industry that has a significant impact on the environment. It consumes natural resources, produces waste, and generates pollution. With the increasing demand for infrastructure and housing, construction activities worldwide are on the rise. However, there is a growing concern about sustainability, and efforts are being made to reduce the environmental impact of construction, here MB Crusher comes to play.
One way to address the sustainability issue is by recycling debris using the MB jaw crusher bucket, in this way, waste is transformed into usable products.
The MB crusher bucket is an attachment that allows heavy machinery to crush and recycle concrete and other construction debris on-site.
When a building or structure is demolished, the rubble and debris are often transported to a landfill, which can contribute to waste and pollution. However, by using a crusher bucket, the debris can be crushed and recycled into new reusable materials.
Exactly what our client did in Ukraine where he installed a BF80.3 S4 on a JCB 220 excavator to crush demolition debris into road base material or aggregates. Before employing the MB unit they used to bring material to landfill, now they have a product they can use for their next construction project, to fill gravel road holes plus they also sell any extra recycled aggregate they have.
Adding an MB jaw crusher bucket is a game changer, not only waste to landfill is reduced, but also transportation costs and emissions and also natural resources are preserved. Crushed and recycled materials are often cheaper and more sustainable than newly mined materials, which can save companies money while also benefiting the environment.
So it is quite easy to understand why the use of MB Crusher bucket is becoming very popular in the industry, supported by a wide range designed to fit a variety of machines, from mini excavators to heavy ones, skid steers and loaders like the JCB 4CX that our customer has in the Czech Republic.
By using an MB-L160 model of the jaw crusher they now have a compact and versatile recycling centre in their yard where they crush the waste and also debris that others are bringing in. Not only do they save money they are also making a profit.
The versatility of MB Crusher tools means that they can be used on a wide range of demolition and construction projects, from small-scale residential work to large-scale infrastructure projects.
One of the key benefits of using an MB Crusher bucket is that it can be used on-site, which means that materials don't need to be transported, cutting down on transportation costs and reducing emissions associated with transport. In addition, it allows for more efficient demolition and construction, which can save time and reduce costs.
In Slovakia, the concrete yard was taken up and crushed down to create the subbase for the new layer, all done at the site with the JCB 3CX loader and the MB-L160 crusher bucket. The old cement did not leave the site and became a resource instead or waste.
Due to low noise and versatility the MB Crusher buckets are designed to work in urban areas so in Spain a BF60.1 was mounted on a Volvo EW160C to reduce the demolition rubble. The use of crusher buckets for recycling construction debris is an innovative and sustainable method of demolition and reconstruction. By reducing waste, conserving resources, and cutting costs, MB Crusher units have the potential to significantly reduce the environmental impact of construction activities worldwide. Let's prioritize sustainability. Let's use MB Crusher buckets.