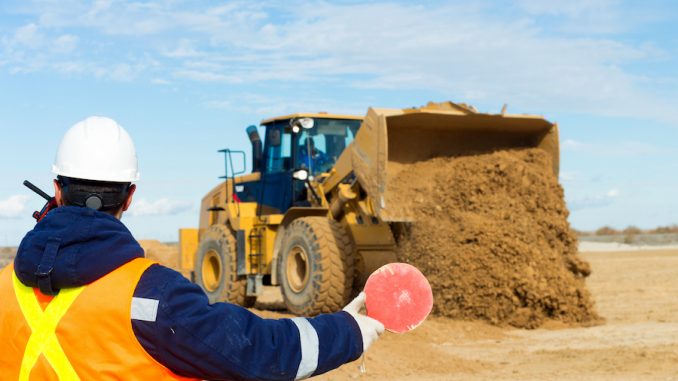 By Rick Longstaff – VISTA Training
Is your operation leaving on-the-job training (OJT) to chance, relying on experienced operators to share the benefits of their knowledge with trainees? If so, you may be opening the door to trouble. Most heavy equipment training consists of two primary elements: Computer-based, self-directed or instructor-led classroom training communicates the concepts to be learned. That's reinforced by field training on the actual machine, where the trainee learns to handle the machine's controls and perform common tasks.
The role of OJT in blended learning
Ideally, this on-the-job (OJT) field training should reinforce what the trainee has learned in the classroom or learning lab. It's the foundation of blended learning:
Provide training in multiple modalities to reach adult learners, who tend to be more hands-on and experiential.
Adults tend to learn best in different ways – some are more visual, while others are primarily auditory or kinesthetic (touch). Blended learning needs to account for these differences in trainees.
Knowledge needs to be broken into digestible chunks, rather than delivered to the trainee in an all-at-once "brain dump." For example, classroom or CBT training on positioning your truck at a loader should be reinforced by an in-field activity where operators practice the techniques they learned. Knowledge plus hands-on practice helps to anchor knowledge in the trainee's mind.
In VISTA's TruckLogic haul truck operator curriculum, CBTs are integrated with simulation and structured on-the-job training activities.
Trainees are given question sheets, so they can solicit their truck mentor's knowledge in a more consistent way.
Field training incorporates a technique called "narrative coaching," in which mentors talk out loud as they're performing tasks, helping the trainee to understand how he approaches different situations and solves problems. When the trainee is driving the truck, she is talking out loud about her thinking process and what she is about to do, so the mentor can keep both of them safe throughout the haul cycle of the truck.
In some cases, trainees are provided with laminated charts, which they can use to refresh their knowledge long after the formal training has ended.
A missed opportunity
But, at many operations this level of integration doesn't take place. The classroom or CBT learning is very structured, as you would expect. But field training is often left to chance – unstructured and ad hoc. Each "mentor" or experienced operator conveys different practical knowledge to the trainees who have been assigned to them. The result, not surprisingly, is inconsistent training. Worse, this approach opens the door to potential incidents, because some new operators may not have learned how to cope with certain operating scenarios.
The high cost of unstructured field training
A real-world story illustrates the potentially high cost of unstructured OJT training. In 2011, I presented a paper at the Haulage & Loading Conference about VISTA's success with TruckLogic at Suncor's oil sands mine in northern Alberta. During my presentation, I made the point that OJT ride-alongs with experienced operators at some mines probably went something like this: Joe, the field trainer, walks Bob, the trainee out to a haul truck, where seasoned operator Jim is getting ready to board his machine and begin his shift.
As the trainer and trainee approach, Joe says, "Hey, Jim! Meet Bob. He's one of our new haul truck operator trainees. We want him to ride with you today." Jim's puzzled expression shows that this is the first he's heard about this arrangement. "What do you mean, he's going to be riding with me? What am I supposed to teach him?" Jim asks. "I dunno. You figure it out. Share with Bob whatever you think he needs to know," replies the trainer.
I characterized this as typical of an unstructured OJT activity, but in the back of my mind I worried that I was overstating this point. Perhaps I was being too harsh. Perhaps most mines are more structured in their field training than the seat-of-the-pants scenario I described. I shouldn't have been concerned. After my presentation, a manager from a southwestern U.S. mine talked to me. During our conversation, he admitted "We have our trainees ride with an experienced operator for a few days. If he looks good, we let him drive on his own!" I was shocked to hear confirmation of my theory, and wondered what it meant in terms of the safety record at this property. So after I returned from the conference, I visited the MSHA FatalGram web page to see if it showed up. Not surprisingly, the mine had a fatal accident the year before.