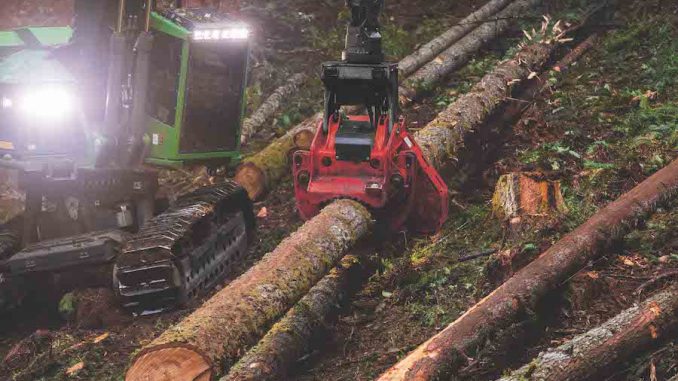 Waratah Forestry Equipment has released a new large felling head model, the FL100. The large directional felling head, designed for 30+ metric ton carriers, improves productivity, increases durability and extends uptime for steep slope, shoveling and traditional felling applications.
"The high-capacity Waratah FL100 gives our customers the benefit of added productivity in a very capable head," said Brent Fisher, product marketing manager for Waratah. "It has high-capacity grapple arms engineered for improving operational picking and holding force of logs – this provides exceptional operational capabilities in traditional felling and steep slope shoveling applications. It also includes a valve-in-head design and our new TimberRiteTM X-20 control system, simplifying installation."
Maximized productivity
New features on the FL100 that contribute toward maximum productivity include continuous rotation and dual rotate motors that enable high rotation power requirements. As a large class of directional felling head with a 1m (39.3") cut capacity, the FL100 also features extra-long, continuously curved opposing arms for enhanced grapple capacity and picking capability and a 1470mm (57.8") opening and 0.78 m2 (8.4 ft.2) payload capacity.
The FL100's forward placed saw unit allows for easier cutting of larger timber. For power in small or large capacity loads, the FL100 has one cylinder per arm plus a synchronizing link for maximum grapple holding force and control.
This new head also leverages Waratah's TimberRiteTM measuring and control system. The TimberRiteTM X-20 stand-alone controller provides configurable settings for improved head performance, productivity and measuring accuracy. Features include a stem counter, sawcut/home indication, production reports and individual operator settings. Together, the new features allow enhanced flexibility in operation that improve overall productivity by allowing operators more capabilities to properly position timber.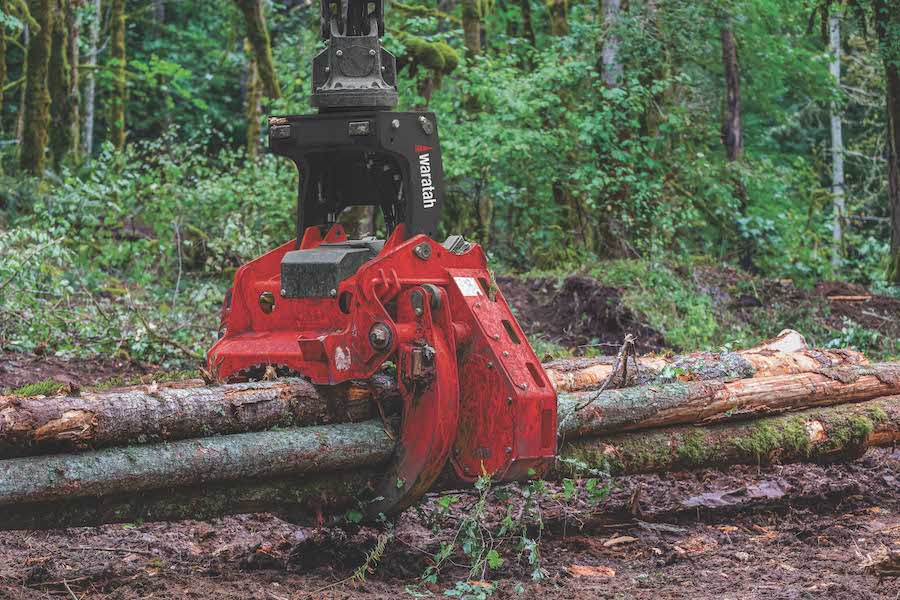 Increased durability
In addition to maximized productivity, the FL100 has a robust and sturdy design for increased durability. Its one-piece, welded, high-strength steel frame is coupled with large pin diameters and a grapple geometry with an arm profile designed to handle various sizes of timber.
As an added bonus, the FL100's grapple force remains high even with its arms at capacity. For simplified integration, the FL100 has a valve in-head design. Its fixed saw box design also contributes toward increased durability in a variety of applications.
Extended uptime
The FL100 utilizes proven Waratah saw system components, some rotate components and electrical and oiler systems while providing extended uptime with a variety of new features. For improved serviceability, the chain oil capacity is 35L (9.2 US liquid gallons), and a large chain oil reservoir minimizes frequent top ups.
The new machine also can adapt to any carrier and provides efficient pump control, hydraulic system protection and required safety/service lock-outs for added uptime and efficient serviceability.
"We are always looking for opportunities that improve our customers' productivity," Fisher said. "The FL100 does exactly that. We're excited for our customers to enjoy the benefits of this new machine."
The Waratah FL100 is available to customers in the United States, Canada, Australia, Latin America and New Zealand.
For more information about Waratah, please visit Waratah.com or contact Sarah Larson at [email protected].