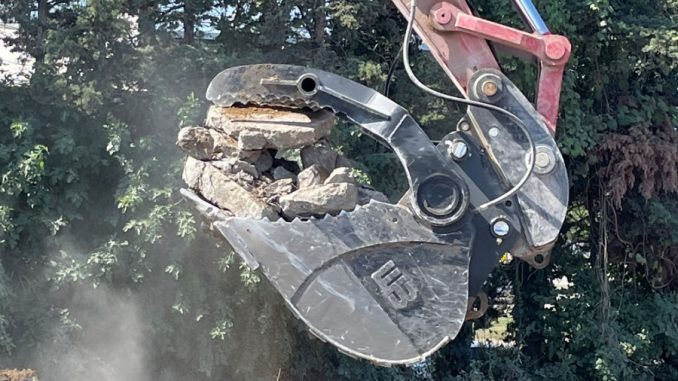 Findlay, OH – Werk-Brau introduces the Hydra-clamp® bucket with a built-in rotary actuated thumb which maintains consistent clamping force on the load through the entire rotation, for improved flexibility and precision.  Constructed of abrasion and wear resistant and high-strength AR400 steel in all critical areas, this versatile attachment is ideal for handling heavy, awkward, or bulky items, moving debris, or sorting scrap, riprap, or other demolition rubble.  A helical actuator provides up to 54,000 ft. lbs of torque at 3000 psi, considerably more clamping force than a traditional bucket and thumb set-up, with no exposed cylinders to become damaged.  Consistent clamping force throughout the thumbs 120-degree range of motion allows operators to maintain control of materials regardless of positioning. Werk-Brau Hydra-clamp® Buckets include serrated side plates which help secure debris while moving and are available in various sizes to match machines capacities.
Operators can use 100% of the excavators reach.  There is less machine repositioning to grab or stack materials, so operators are more productive with less wear on the undercarriage.  Installation is easy – with no welding to the stick. The Hydra-clamp® can be transferred from machine-to-machine, making it ideal for multi-machine fleets.  This minimizes machine downtime and installation and labor costs, thus increasing machine usage and profitability.  Total weight of the Hydra-clamp is typically less than a bucket and thumb combination, helping to optimize machine efficiency and productivity.
High strength steel is used throughout the weldment. Hardened, greaseable bushings are utilized at all pivot points.  Tapered side plates reduce wear on bucket sides and allows easier dumping.  A variety of tooth options or bolt on cutting edge are readily available for customization of Hydra-clamp® to suit specific needs.
The Hydra-clamp® is also available as a rake.