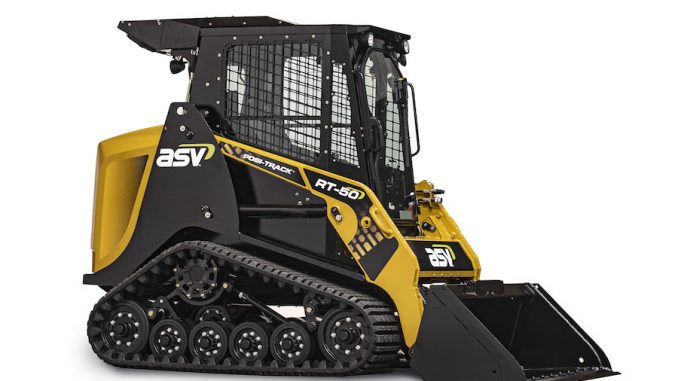 ASV Holdings Inc., an industry-leading manufacturer of all-purpose and all-season compact track loaders and skid steers, introduces the new compact RT-50 Posi-Track® loader, featuring an industry-leading performance-to-weight ratio. The RT-50 perfectly positions itself between the RT-40 and RT-65, completing ASV's line-up and allowing operators to do more in more places. The track loader includes best-in-class ground pressure, ground clearance, serviceability and performance. The nimble machine features serious performance for its weight and is easy transportability, making it an ideal compact track loader for rental houses, commercial businesses, weekend warriors or as an addition to landscape, construction or snow-clearing contractors' fleets.
"The new RT-50 fits into a size class our customers were asking for," said Justin Rupar, ASV Holdings Inc. vice president of sales and marketing. "We're excited to offer the machine as an extremely versatile compact track loader for its class. The RT-50's size and capabilities will make it very attractive to both existing and new ASV customers. It offers exceptional value to a wide range of industries due to its groundbreaking design and performance features, allowing operators to complete tasks in places other machines aren't able to."
Performance-to-Weight Ratio
The RT-50 features a greater performance-to-weight ratio than any machine in its class, giving operators more clout in tight areas larger machines can't access. The track loader boasts a 1,400-pound rated operating capacity. Some competitive machines with a similar ROC weigh more than 1,000 pounds more.
ASV builds the RT-50 for maximum ease of transport. The lightweight unit's low trailer weight makes it easily towable by a 1/2-ton pick-up truck or SUV. Its narrow width allows it to fit into small trailers.
A robust hydraulic system features direct-drive pumps, large line sizes, and industry-leading hydraulic coolers, transferring more flow and pressure directly to the attachment with maximum efficiency. Drive motors transfer the machine's torque to ASV's patented internal-drive sprockets. The internal rollers reduce friction loss in the undercarriage, transferring maximum power to the track regardless of drive speed.
Performance
ASV builds the RT-50 with features to optimize productivity and quality of work. The machine's high pin height gives it the ability to load landscape trucks and small dump trucks. Its wide tracks and even weight distribution from the large number of contact points within the patented Posi-Track undercarriage allows for class-leading ground pressure. This, combined with optional smooth turf tracks, minimizes risks of turf damage. Plus, ASV builds the RT-50 with best-in-class ground clearance. This allows the unit to operate on more sites, easily traveling over logs, stumps, rocks and other obstructions with less risk of getting hung up. Its width also means ease of use in tight areas other loaders can't reach, such as sweeping or plowing snow on sidewalks or working in narrow home developments.
The RT-50's innovative undercarriage allows customers to use the machine as an all-terrain, all-season piece of equipment with maximum control, flotation, traction and pushing power in steep, wet, muddy and slippery conditions. Numerous contact points and guide lugs also virtually eliminate the risk of track derailment.
ASV engineers design Posi-Track loader frames separately from skid steer designs for maximum performance from each machine. The RT-50's purpose-built chassis provides even weight distribution, decreasing the risk of the machine getting stuck. This differs from other manufacturers that use a skid-steer frame for their track loaders, resulting in a lower ground clearance and an uneven weight distribution.
Comfort
The patented Posi-Track undercarriage significantly improves operator comfort. The RT-50 features a torsion axle suspension system that allows for a smoother ride over rough terrain, meaning less fatigue for operators spending a long day in the cab. Standard joystick controls make operation easy and intuitive.
For additional comfort, ASV offers an optional suspended seat. An optional a cold weather cab with heater or pressurized all-weather cab with heat and A/C allow for year-round comfort while working in extreme temperatures.
Serviceability & Reliability
The RT-50 includes features allowing for the highest ease of serviceability, saving operators maintenance time so they can get back to work. A large rear-tilting hood gives easy access to all maintenance points.
A flexible rubber track with internal positive drive sprockets provides superior traction and track life. The open-rail and drive-sprocket design results in increased sprocket and bogie wheel life along with easier and faster undercarriage cleaning. All of the wheels are exposed in the undercarriage, allowing material to spill out, reducing the risk of abrasive material getting trapped and wearing away at components.
ASV builds its loaders with standard metal-face seals on the to ensure the idler wheel hubs don't require maintenance for the life of the machine. Individually replaceable steel sprocket rollers within the undercarriage save both time and money.
The RT-50 will be available for purchase in Spring 2020.
For more information on the RT-50 and available options, visit ASV online: www.asvi.com. Interested in seeing or test driving the equipment? Find a dealer near you.