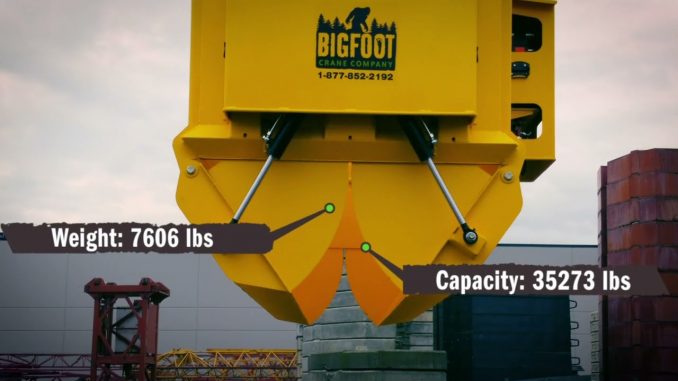 ABBOTSFORD, B.C., — Bigfoot Crane Company has just introduced a new remote-controlled hydraulic construction bin into the North American market. Manufactured for Bigfoot by Boscaro S.r.l. (Italy), the A-800DBR is a huge bin with a loading capacity of 16,000 kilograms (over 35,000 pounds).
With its capability of transporting vast amounts of earth, gravel, and other loose material, the A-800DBR will be primarily used by clients in heavy commercial construction and on large civil development projects.
The A-800DBR is powered by a 24-volt rechargeable lithium-ion battery powering the hydraulic dumping system. The dumping mechanism is completely incorporated within the bin itself and is operated by remote control from the crane cab, so as not to require any person's direct access to the unloading area. When ready to unload, the bin's floor opens laterally by way of two giant mobile flaps in order to release its contents. Aside from the bin being properly attached to the hook of the crane, there is no additional support required to operate the bin.
According to Bigfoot's Marketing Manager, Gerry Wiebe, "This bin not only has the potential to offset the need for numerous other pieces of equipment, but it will certainly increase safety and decrease labour on work sites wherever it is put to use. This is essentially a value-added product for companies that need it due to the size of their project."
As with all of Bigfoot's Boscaro products, the A-800DBR is built to meet or exceed the regulations of ASME and OSHA, and comes with the required tags, certifications and documentation, making them suitable for use throughout the USA and Canada.
The A-800DBR is the first product in a series and will eventually be accompanied by the smaller A-400DBR (5.33 yards) and the larger A-1000DBR (13.33 yards), to serve a wider variety of prospective clients.
Boscaro crane attachments and accessories have been leading the heavy construction industry for more than thirty years. Since 2005, Bigfoot Crane Company has been the exclusive dealer of Boscaro products in North America.
In particular, Bigfoot has been busy supplying Boscaro's self-dumping bins for commercial clients across North America. The bins have been in high demand due to their quality, durability, and effectiveness. Now, with the advent of the Boscaro A-800DBR, Bigfoot's biggest clients will be able to reach a new level of efficiency, safety, and productivity.