View the complete article here.
A grapple is designed to help an excavator pick up, move, and sort materials. There is a wide array of grapples used for specific applications such as demolition, scrap and rock handling, forestry, and land clearing. That's why grapples are a staple on many job sites. The challenging part is picking the right grapple for the job.
Grapple Trivia
In construction, you've got a lot of heavy stuff to move around. Like busting up concrete and moving it off the site. But the word grapple comes from a tool that helped French winemakers pick grapes. In time, folks turned the name of the tool into a verb. Today, excavator operators grapple with moving things around on the job site by using a grapple.
Job Requirements
You'll first want to determine specifically what you need the grapple to do. Of course, you'll first focus on the current project. However, if you select the right grapple, you'll be able to use it on multiple jobs. You'll increase your productivity and save money. Choose the wrong one and you'll struggle to complete the job at hand.
Jaws
A grapple is made of two jaws mounted onto the frame of the equipment's main body. In one version, the lower jaw remains stationary while the upper jaw operates off the bucket cylinder. Its simpler design is less expensive and is requires lower maintenance.
A popular, but higher-cost grapple has jaws that move simultaneously. This type of grapple is powered by two to four connected lines.
Hydraulic or Mechanical?
A key decision you'll need to make is whether or not you need a hydraulic or mechanical grapple. There are advantages to each.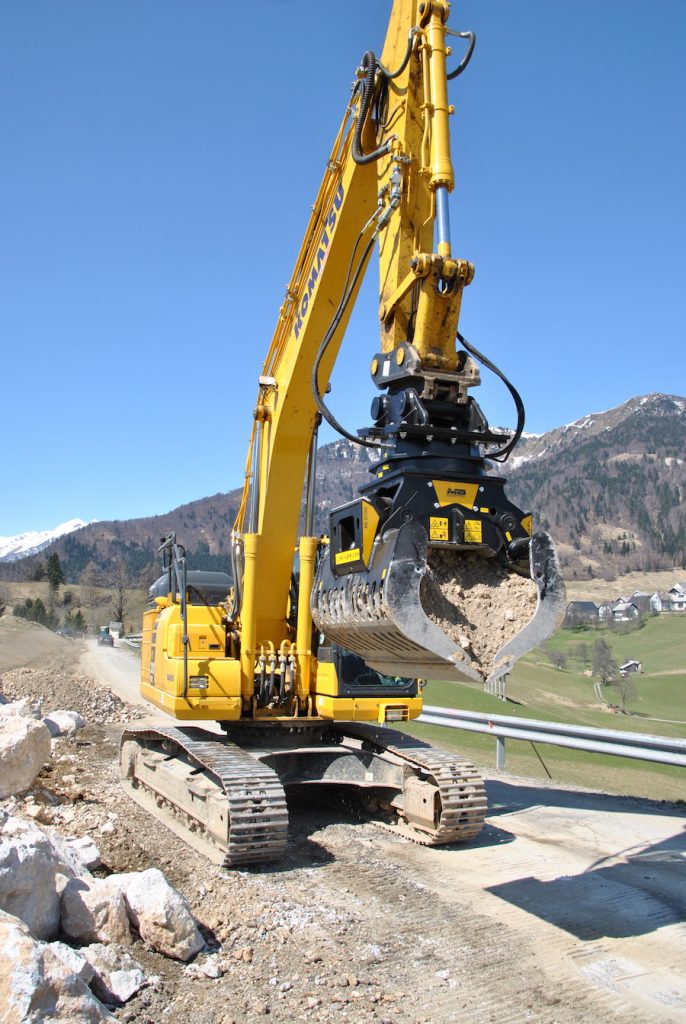 Mechanical Grapples
It's the excavator bucket cylinder that drives the mechanical grapple. Opening up the bucket cylinder opens the grapple. Of course, the opposite is true. Closing the bucket cylinder closes the jaws. The simple design – a stiff arm is attached to the excavator's dipper arm – is the main reason a mechanical grapple is low-maintenance. Far fewer points of failure compared to a hydraulic grapple.
A mechanical grapple can handle the big jobs, too. From picking up scrap to demolition. That said, they are best for tasks that require less precision.
Hydraulic Grapples
A hydraulic grapple gets its energy from the excavator. It's the hydraulic circuit of the machine it is attached to that drives it. This type of grapple is best where precision is critical to the job. It has up to 180 degrees of movement.
Application Area
You'll need to consider which grapple is best suited for the job. Each variation comes with a different application area.
Demolition & Sorting Grapples
Most versatile grapple.
Capable of picking up large materials.
Can create debris and pick it up.
Log Grapples
Focused on forestry.
Can pick up long or full-length timber.
Able to pick up large or small bundles.
Orange Peel Grapples
Material handling.
Ideal for picking up loose scrap.
Can have 360 rotation.
Narrow-Tine Grapples
Have skinny tines.
Can pick up soft scrap.
Can dig into scrap easier than an orange peel grapple.
Specifications
Grapple manufacturers list their products with the following specifications. This helps you select the appropriate grapple for your excavator. Here we break down the specs for MB Crusher's MB-G900 as an example.
Recommended Excavator
This is based on your excavator's weight handling capacity. The MB-G900 is recommended for a range between 26,500 and 39,700 pounds. You can find this information in the manufacturer's manual for your excavator.
Weight
This is the weight of the grapple. You'll need to deduct this weight from the maximum amount you'll be able to lift when the grapple is attached. The MB-G900 weighs 1,720 pounds.
Load Capacity
This is the max capacity with the jaws closed. The MB-G900 handles 15 ft3.
Rotation
This is how far the grapple will rotate. The MB-G900 is capable of rotating a full 360 degrees.
Flow Direction
The MB-G900 is rated at 4-8 gallons per minute.
Pressure of Rotation
The MB-G900 is rated at >2,321 Pounds per Square Inch (PSI).
Pressure
The specs will identify the amount of pressure exerted by the grapple when the jaws are open and when they are closed. The MB-G900 is 2,900 PSI open and 5,802 PSI closed.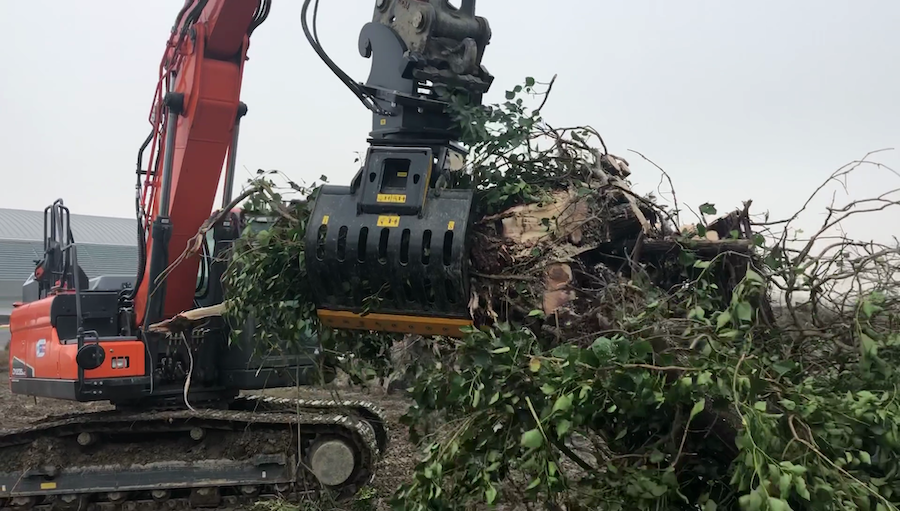 Grapple Installation
Installing a hydraulic grapple is fairly straightforward:
Hitch on the equipment.
Connect the hydraulic lines.
Lock the pins in place.
You'll want to double-check that the grapple, the hydraulic lines, and the pins are firmly in place before you start the job.
Grapple Kits
Grapple kits allow you to get more out of your grapple. For example, a rotation power extender kit magnifies the rotation strength of your grapple so you can more easily move heavy material.
MB Crusher's rotation power extender sits on the top part of your grapple. They are specifically designed for MB grapple models. Using grapple kits gives you more flexibility to handle multiple tasks – and use the same equipment for different projects.
Consult a Pro
At MB Crusher, we understand everything that you need to think about when purchasing new equipment. To help make the decision easier for you, we've designed our grapples with versatility and cost-efficiency in mind.
Conclusion
The best grapple is one that will meet your job requirements now and in the future. Grapple kits can extend the functionality of your grapple. You don't want a piece of equipment that sits in the back because it only handles a limited set of tasks. A professional equipment dealer can help you select a grapple that is versatile and cost-effective.