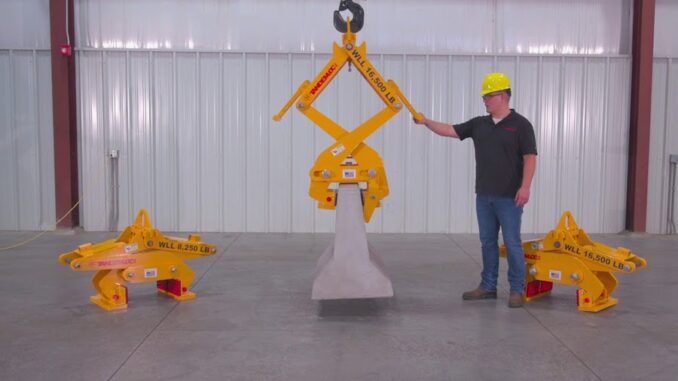 View the complete article here.
Typically attached to cranes or excavators, barrier grabs are specialized pieces of construction equipment used for handling and transporting precast concrete barriers with precision and ease.
There are many use cases for barrier grabs, however, they are most commonly utilized on in highway and bridge construction, as well as other infrastructure projects where temporary barriers are required to divide construction and traffic.
For contractors who work with precast concrete barriers on a regular basis, the barrier grab is an essential piece of equipment to have in the fleet—with the ability to significantly reduce the labor required to move barriers efficiently and safety in a time-saving manner.
Factors to Consider While Choosing a Barrier Grab
Want to make sure you're choosing the right barrier grab for your projects? Here are some of the most crucial factors to consider before you make a purchase:
Load capacity: First-and-foremost, ensure that the barrier grab you are considering has the capacity to safety lift and move the barriers you are planning to work with.
Compatibility: Check that the barrier grab is compatible with the crane or excavator that you are planning to use it with.
Weight and dimensions: In addition to the weight and dimensions of the barrier grab, make sure that it can be stored in the appropriate space you have available.
Safety features: Look for barrier grabs that have safety features such as overload protection, emergency stop buttons, and secondary locking mechanisms.
Operating system: Some barrier grabs have a manual operating system while others have hydraulic or electronic systems. It's important to do your due-diligence to decide which operating system is ideal for you and your projects.
Warranty and after-sales service: Try to find barrier grabs that come with a warranty, as well as good after-sales service to ensure that you can conveniently get any repairs or maintenance performed.
Price: Different suppliers will offer different price options, so be sure to compare the prices of the different barrier grabs available. Not sure where to begin? Check out Tandemloc.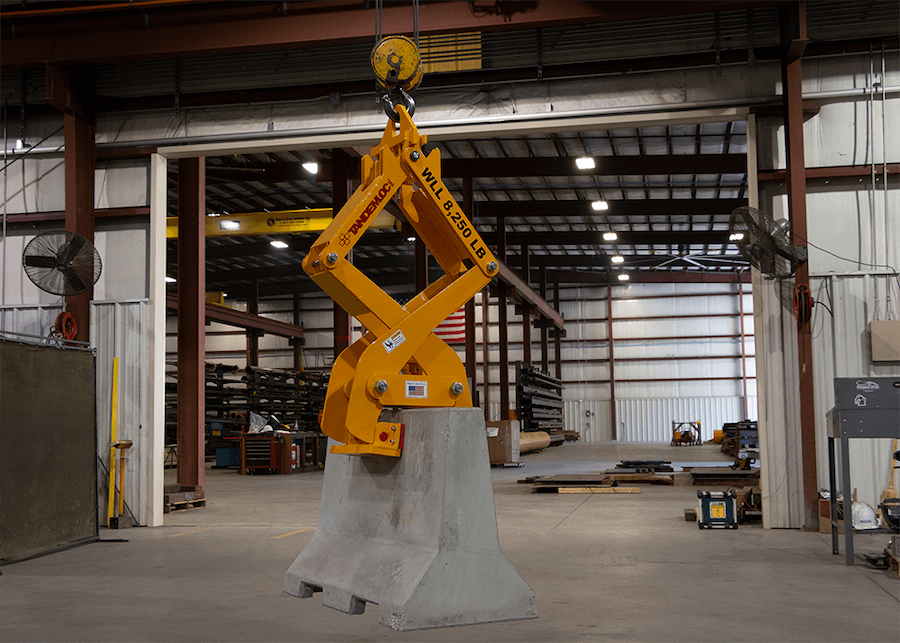 Safety Tips for Using Barrier Grabs
The improper use of barrier grabs with concrete barriers and other objects can lead to serious injury or—in some cases—death. For that reason, it is imperative to follow strict safety guidelines.
Here are some tips to help keep you and your team safe while operating barrier grabs:
Proper use: Use the barrier grab only for its intended purpose—following the manufacturer's instructions for operation.
Maintain clearances: Workers and other equipment should keep a safe distance from the barrier grab while it is in use. In addition, the operator should remain aware of power lines and other hazardous conditions.
Proper training: Make sure that all operators who will be using the barrier grab have received proper training.
Inspection: Inspect the barrier grab before each use to ensure that it is in solid working condition and that all safety mechanisms are functioning properly.
Safety gear: Wear the appropriate PPE—such as safety glasses, a reflective safety vest, a hard hat, and steel-toed boots.
Follow OSHA regulations: Follow OSHA regulations for construction sites—including proper use of fall protection equipment, as well as lockout/tagout procedures for maintenance.
Effective Communication for Barrier Grab Use
When using barrier grabs for concrete barriers, effective communication is crucial to ensure the safety of workers, as well as the success of the project.
For this reason, consider the following:
Clear and concise instructions from the supervisor to the operator regarding the positioning and movement of each barrier.
Communication between the operator and other workers on the site—like forklift operators—to coordinate the positioning and movement of the barriers.
Communication between the operator and any other equipment or vehicles on the site—like trucks or cranes—to avoid collisions.
Communication between the operator and any possible pedestrians or nearby traffic to ensure their safety.
Communication between the operator and the supervisor regarding any changes in the project plan, as well as any possible issues that arise during the operation, such as equipment malfunctions or safety concerns.
When in doubt, communicate. It never causes harm to speak-up—especially when it comes to safety.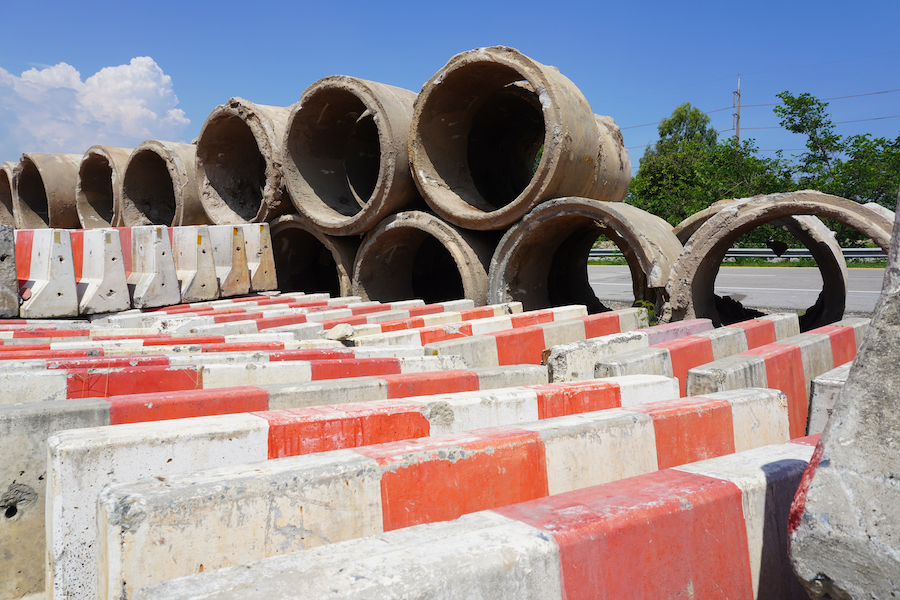 Maintaining and Repairing Barrier Grabs
Proper maintenance and repair of barrier grabs is essential to ensure that they function efficiently and safely.
Some tips for maintaining and repairing barrier grabs include:
Regular inspections: Inspect the barrier grab on a regular basis to identify any potential problems. Be sure to address these problems before they develop into major issues.
Cleaning: Clean the barrier grab to remove any dirt or debris that could eventually cause damage or hinder its function.
Lubrication: Lubricate the moving parts on the barrier grab to prevent wear-and-tear.
Hydraulic system: Check the hydraulic system for any potential leaks or damage, and make sure the hoses are properly connected and tightened.
Tighten nuts and bolts: Check the nuts and bolts of the barrier grab, tightening them if necessary to prevent the barrier grab from becoming loose.
Worn parts replacement: Check potential worn parts—such as jaws, pins, and bushings—and replace them if they are worn or damaged.
Additional assistance: If you are not familiar with the barrier grab's mechanical systems—or if you are having trouble troubleshooting an issue—it's best to consult with a professional or the manufacturer for help.
Proper storage: When not in use, make sure the barrier grab is properly stored in a dry place, safe from elements that could damage the equipment.
It's important to note that regular maintenance and repairs can help prevent costly downtime and accidents, and prolong the life of the barrier grab.
Tandemloc AS23B Series Concrete Barrier Grabs
Looking for a solid barrier grab? We recommend Tandemloc's AS23B model.
The Tandemloc Concrete Barrier Lifting Grab is available in two sizes; one with a capacity of 8,250 LBS (4.125T) and another with a capacity of 16,500 LBS (8.25T). Each barrier grab is individually proof tested, made in the USA by Tandemloc and comes standard with the Tandemloc Autolatch™ mechanism for safe, touchless operation. Tandemloc Barrier Grabs are built for severe service.  Designed to BTH-1 Category B and Service Class 3 means it is made for high volume rugged use in the real world!
Tandemloc Barrier Lifting Grabs are compatible with the 3 most common profiles of barriers; that includes Jersey, California, and Texas. They also lift barriers with a type F profile.
Two optional features are offered on the AS23 Series Barrier Grabs. The first option is a positioning guide that assists the optimal positioning of the lifter on the width of the barrier when making the lift. The second option is a positioning handle that are designed to help ground personnel to fine tune the barrier location when completing the lift. You can purchase one or two handles based on your preference. Replacement pads are also kept in stock. All options are field installable.
Two capacities available, 8,250 LBS and 16,500 LBS
Designed to BTH-1 Service Class 3 means its designed for severe service
Prior to shipment, each barrier grab goes through extensive operational testing plus proof testing at 125% of capacity to assure safe and trouble free use in the field.
Tandemloc pads have been designed and tested to combine outstanding grip beyond the standard and are long lasting.  If they should wear out, replacement pads are in stock.
Designed manufactured and tested at Tandemloc's ISO 9001-2015 certified plant, which is also a OSHA Sharp Award recipient for safety
View the complete article here.
How to choose the right barrier grab?
Choosing the right barrier grab depends on the specific requirements of your project, the type of barriers you are handling, and the capabilities of your machinery. Consider factors such as the weight and dimensions of the barriers, and the lifting capacity of the equipment you're using. The barrier grab should also comply with all safety regulations and standards.
What are the guidelines for using a barrier grab properly?
Proper use of a barrier grab includes careful inspection before use to ensure it is in good condition, adhering to the manufacturer's instructions for attaching and detaching the grab, and never exceeding the grab's rated load capacity. Additionally, operators should always use protective gear and keep the work area clear of unnecessary personnel to ensure safety.