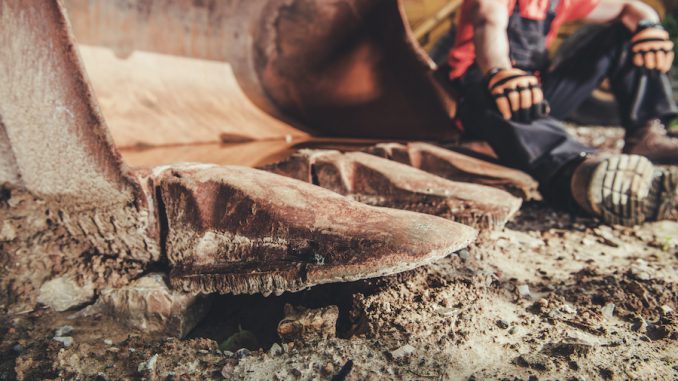 View the complete article here.
Construction equipment is a substantial investment. You want to make sure you have the right machine for the job at hand. But savvy construction managers also consider their longer-term needs. The right excavator does more than dig a hole in the ground. The one you choose may handle several tasks, like moving materials and clearing the site. These tips will help you invest in the right excavator.
What Do You Really Need?
To determine which excavator will meet your needs, it is best to document what your needs actually are. Requirements fall into three categories: Must-have, nice-to-have, and I want it but it's totally optional. At this stage, don't think about price. Figure out the requirements and then get bids. This process often moves must-haves to the nice-to-have list. Every once in a while, you get lucky and optional items are more affordable than expected.
Historical Data
Looking back at past jobs can assist you in determining your current requirements. In fact, if you're not already doing it, you should review and document each job at completion. Knowing what worked – and did not work – on a job helps you improve future projects. This data is an important part of accurately defining requirements for future jobs.
Task List
What do you need this excavator to do? What are optional tasks that would be nice if the price is right? Keep in mind future jobs. Maybe you don't need to move materials around on this project, but you anticipate that this task might be required on other jobs. You'd like to have that option, if needed.
To determine which excavator is right for your business, document the following:
Job Site
How much space will you have to maneuver?
What is the terrain like? Is it flat or are you working on a steep slope?
How deep do I need to dig?
What types of materials do you need to move? How heavy are they?
Are you working in an urban area where you need a wheeled excavator to travel over city streets?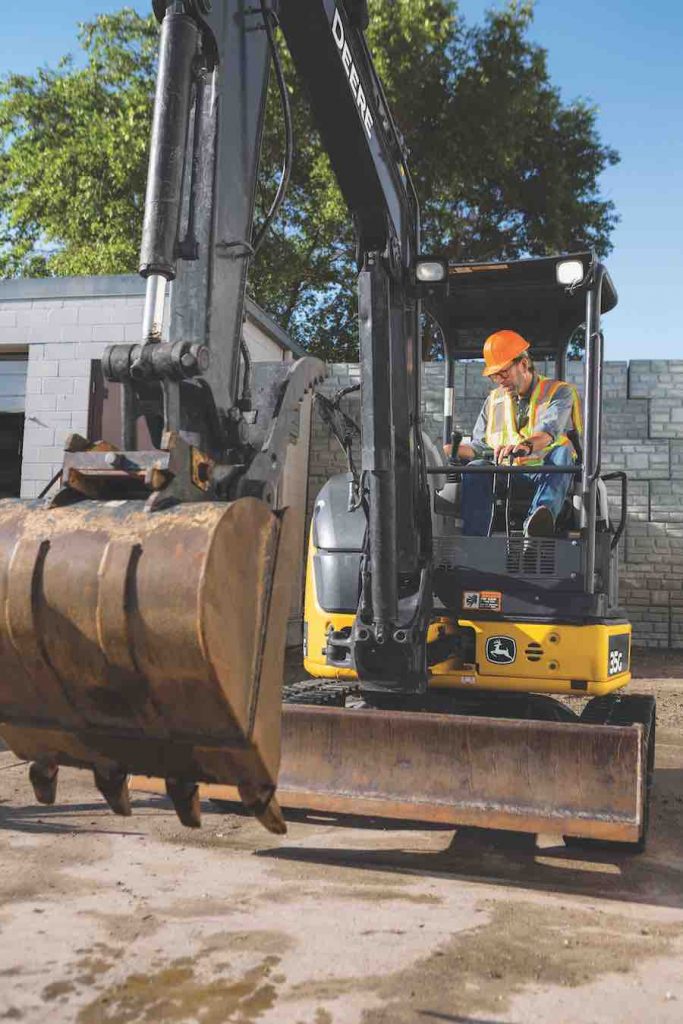 Size
A key consideration is the size of the excavator. There are basically four size categories:
Mini / Compact
These smaller excavators weigh about 13,000 pounds (6 metric tons). You'll save on fuel costs, but how deep you can dig, how high you can reach, and your lift capacity are limited. However, you may not have a choice in tight spaces. The mini / compact excavator works well on sites with existing structures. It's also a good choice for landscaping and sidewalks. Some states will allow you to transport these smaller machines on a class-1 or class-2 size track (no commercial driver's license required).
Midi Excavators
These mid-sized excavators range from about 15,000 pounds to 22,000 pounds (7-10 metric tons). It will still work in tighter spaces, but allow you to dig to greater depths and reach greater heights. Some models are available with little or no tail swing.
Standard Excavators
Standard-sized excavators are in the 22,000 to 99,200-pound range (10-45 metric tons). Now we're getting into a machine made for commercial construction. You'll get a lot more power and capacity from this machine. Hydraulics will allow you to use more attachments for a broader range of tasks. However, you will need a larger trailer and a commercial license to move it to and from the job.
Large Excavators
A large excavator weighs at least 99,200 pounds (45 metric tons). These are powerful machines meant only for heavy construction. If your job requires major demolition and truck loading, you likely need to invest in a large excavator – and a big truck. Oversized vehicles and trailers are used to transport these monsters. Don't forget storage. You'll need a good amount of space to store this machine.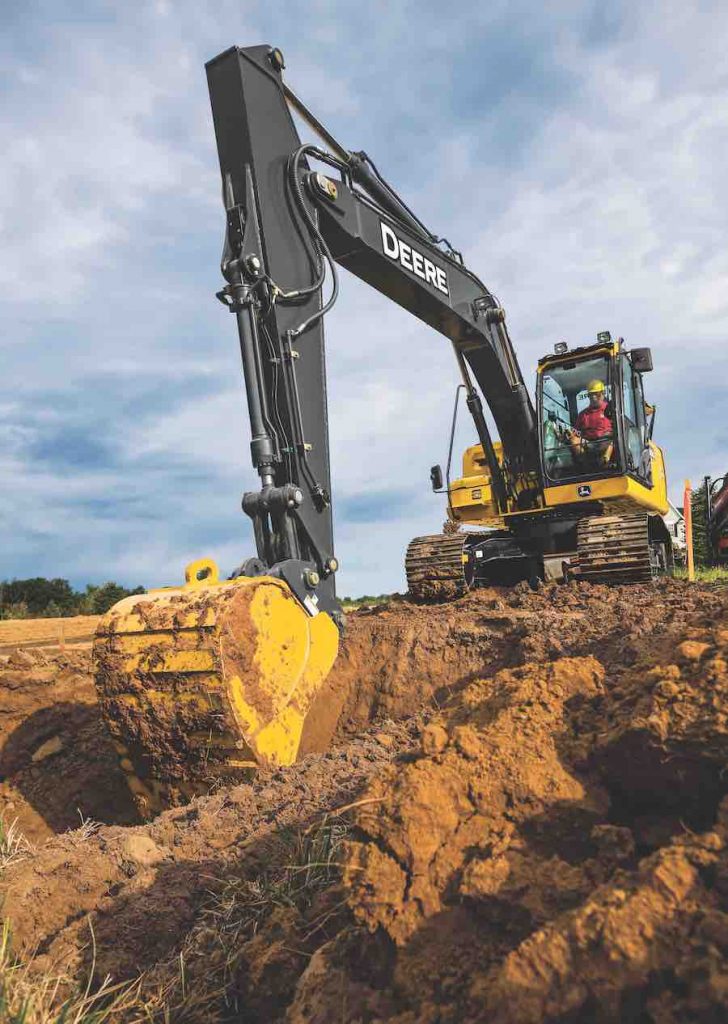 Excavator Weight
An excavator may meet the maneuverability requirement, but still weigh too much for your job. What are the ground conditions of the job site? A machine that is too heavy will damage the ground underneath it. You also want to be aware of working in landscaped areas. The machine can damage the road it's traveling on.
Digging Depth and Strength
Your requirements should include how deep you need to dig. If your tasks involve moving material, the machine must have sufficient breakout force. (Breakout is the upward force generated at the bucket lip.) This is where that historical data comes in handy. You can look back on past jobs and calculate the average- and maximum-depth requirements. This in an area where adding a bit of contingency to your estimate can ensure the machine will meet your needs. Consider that a longer boom or a particular stick option may allow you to buy a smaller machine, but still meet the required digging depth.
Dump Height
You'll need to know where you will be dumping the material you excavate. For example, if dirt will be dumped into a truck for haul-away, you need to ensure the boom height is sufficient.
Bucket Size/Capacity
Here you will consider the excavator's maximum operating weight as opposed to its actual weight. You need to know the maximum poundage the machine can lift with the boom fully extended.
Document the following to determine the required bucket size and capacity:
What is the maximum lift capacity required for earthmoving?
How often will you handle material?
What types of material do you need to move?
What is the maximum volume and density of these materials?
Do you anticipate larger jobs in the future?
Will you require multiple buckets and tools? If so, you may need a quick coupler.
Does the excavation for this job require precision?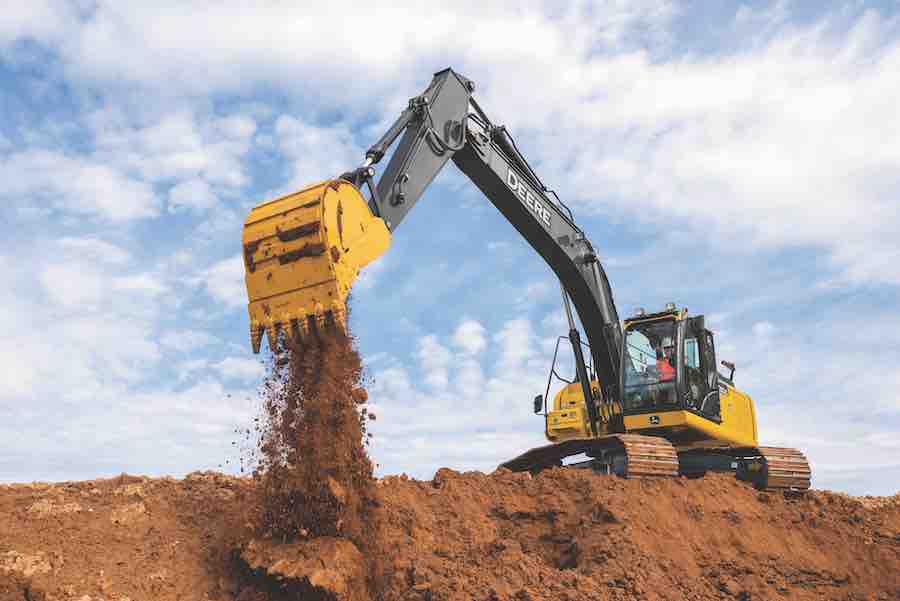 Ergonomics
Your driver's comfort may not be the first thing on your mind. But there are benefits to selecting an excavator with good ergonomics that go beyond a comfy tush. Your concern for your operator's physical well-being provides better results. A happy, comfortable operator tends to focus more intently on the job. They are more alert – which increases safety. Ergonomic criteria should include:
Easy entry into the vehicle.
Expansive visibility when sitting inside the cab.
Comfortable seats that support the body for longer periods of time.
Equipment controls that operate smoothly.
Easy-to-access climate controls.
Counterweight
The excavator you select may need a counterweight for stability. This, of course, depends on your lifting requirements. The machine may already include a counterweight. If it does not, find out what counterweight options are available.
It's More Than the Machine
It's easy to get focused on just the excavator. But there are several other things to consider. Include these critical items in your requirements document:
Transportation
How you are going to get your excavator to the job site requires as much thought as which machine will get the job done once you arrive. Consider:
The type of trailer capable of hauling the excavator you select.
Driver criteria. Can you find drivers with the experience and required licenses to transport the machine?
Weight restrictions. Do your jobs typically involve traveling over weight-restricted roadways, tunnels, and bridges? If so, could you incur permits or fines?
Maintenance
The dealer should provide the maintenance track record on the machine you are selecting. Talking to other owners and operators of a particular excavator can help you determine if the machine has problem areas. What kind of maintenance and repair contract, if any, does the dealer provide? At what cost?
If you are renting the machine, carefully read the contract (or have your lawyer do so) to ensure you understand what maintenance and repair you are responsible for handling.
Remember that any piece of construction equipment will require maintenance and repair. The equipment dealer should be able to provide service kits and emergency parts as needed. Be sure to ask the typical lead time to get your hands on these items.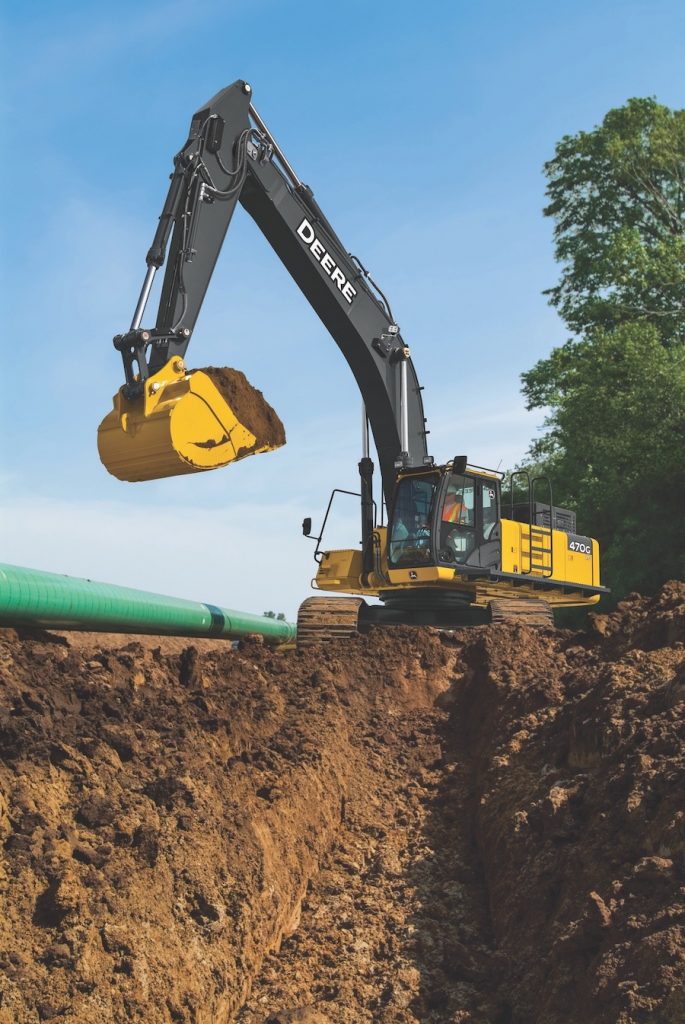 Attachments
What are going to need to perform all the tasks identified in your requirements document? Some considerations are the type of power and kind of hydraulic flow needed for your work tools. Identify which attachments will allow you to quickly make tool changes with your excavator.
Technology
Some excavators include technology to increase the efficiency of grading or sloping. A machine with the right technology may increase productivity without the need to buy a larger unit. Of course, your operators may require additional training on how to use these fancier excavators. You'll want to include these training costs in your estimate.
Budget
You need to estimate the ROI (Return on Investment) on the excavator you select. It's always tempting to use rosy numbers. It is helpful to build in a reasonable buffer in your estimate. Ultimately, you want to determine how much you need to use the excavator to still make money. At the same time, you don't want price to completely drive your decision. The machine does need to be large enough to meet at least your basic requirements. You'll want to determine:
Operating cost per day or hour.
How often will you use the excavator.
The cost for storing and maintaining it.
The cost to finance, rent, or lease compared to outright purchase.
The type and cost of insurance.
Possible cost offsets, such as renting it out during downtime.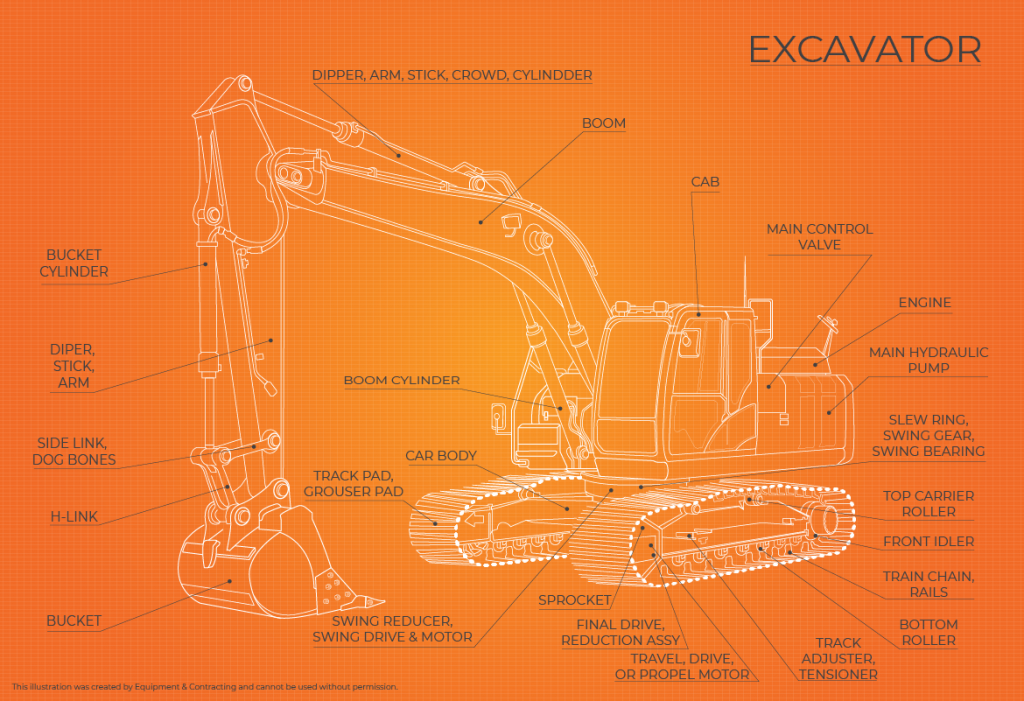 Buy or Rent?
Buying is best when you have a solid list of requirements. However, even if the numbers look good, there are many benefits to renting an excavator.
You can more closely match the machine to the current project. You won't have to concern yourself with the future value of the excavator you select. Other benefits include:
Having access to higher quality equipment that may be beyond your budget.
The ability to use an excavator with specialized equipment that may be too expensive to buy. Or, is highly specialized for the current project and not likely a good fit for future jobs.
A vendor may modify the excavator specifically for your job. It may cost more to rent, but still less expensive than buying.
The vendor will handle maintaining and repairing the excavator. They will also quickly provide any needed parts.
Used Equipment
If you are set on owning your excavator, but can't quite come up with the bucks for a new one, consider a used machine. Here, the vendor's reputation is as important as the machine you buy. A reputable dealer will stand behind what they sell.
Financing
There are several ways to avoid huge up-front costs for heavy equipment purchases, like excavators.
Borrow. Your credit score, the down payment, your business cash flow, and other considerations will impact the cost of financing.
Rent. As discussed above, renting is a good solution for short-term use.
Lease. Leasing is the middle ground between purchasing and renting. It is a good option if you intend to use the excavator for a longer period of time, but are not sure if you want to purchase. At the end of the lease term, you either return the equipment, or buy it.
Even if you're flush with cash, borrowing can make sense. For example, financing may free up cash to expand your business. No matter which way you go, you want to determine If you can make more money than the cost of the financing.
Choose Carefully
Choosing the right excavator is largely based on a detailed analysis of your requirements. Take the time to think through and document what tasks you need the equipment to handle. Carefully consider all the related costs, like transportation, attachments, and training. Take your requirements document to your equipment dealer to discuss which excavator will work best for you. Be flexible and don't be in a rush. An inadequate machine purchased on less than ideal financing terms can broadside your business.