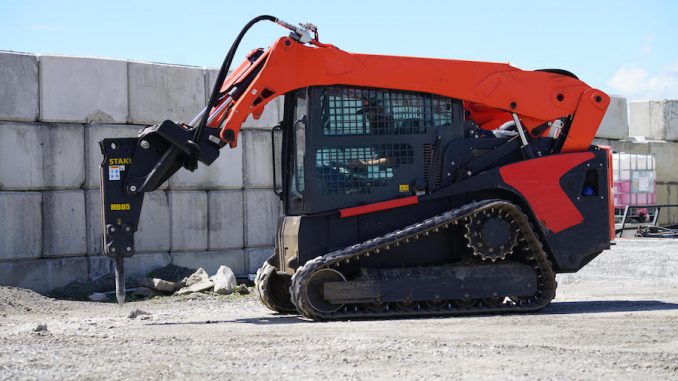 STANLEY Infrastructure knows what you look for in skid steer mounted concrete removal attachments, which is why they've developed two useful ways to get the job done. 
The first option is the hydraulically powered MB-05 Concrete Breaker attachment – it has only two moving parts, which means better performance and less frequent service intervals. At the lower end of the housing, they added steel reinforcement to not only protect the housing, but to protect the power cell and keep operators running longer, the company says. 
Another option to get rid of unwanted concrete with Stanley is the Cyclone Series of Drop Hammers – this attachment was specifically developed for the demolition and recycling industries to break-up or crack big concrete slabs. 
The Cyclone Drop Hammer uses a shock free "skid" system that keeps the Cyclone hammer grounded and dissipates the shock as it pulverizes the concrete below. With it's adjustable hammer pin, you can regulate the impact energy to the desired level of operation for the work you're trying to do. 
Both of these helpful attachments are being offered by
Skid Steer Solutions
. 
See below two videos of the attachments in action.