View the complete article here.
Fleet management is the administrative approach referring to the purchase, organization, and coordination of work vehicles for a company. Implementing a good fleet management system plays an integral role in reducing costs, improving efficiency, ensuring safety, and evaluating government regulation compliance.
The fleet varies depending on the needs of your company and might encompass a range of vehicles and machinery, including commercial motor vehicles, mobile construction machinery, trucks, trailers, vans, ships, rail cars, aviation machinery. In this article, we are looking at vehicles and machinery used in the construction industry specifically, such as trucks, cranes, excavators, skid steers, dump trucks, compactors, mixers and more.
Purpose of Fleet Management
Not only is the right equipment essential for construction and project completion, but it is important to ensure that these vehicles and machines are in working order. Fleet management covers a range of functions to oversee the sourcing, maintenance, tracking, and supervision of these commercial vehicles. Proper care and upkeep of this equipment can be helpful to minimize or even remove risks on the job.
In many areas, government regulations are in place to improve safety measures. It is also smart to implement in-house safety measures and tracking systems to improve the overall performance of the fleet. These efforts are beneficial for multiple reasons:
Ensure the vehicles and equipment are operating smoothly
Improving performance on the job
Minimize operation costs
Maintain compliance with government regulations to avoid fines
Oversee the activities of drivers and vehicles
Save money with fuel management and decreased accident risk
Decrease maintenance and insurance costs
Track vehicle location
Equipment/Truck Acquisition
At first, fleet acquisition seems like a simple process. Isn't it easy to select the vehicles that are required, then the purchase can be completed? It's not as simple as you might think because a range of decisions needs to be addressed, such as:
Considering your general scope of work, what specific equipment is needed and why?
Where will you purchase the equipment? Will it be new or used?
When is the best time of your fiscal year to complete these transactions?
What maintenance plan to you have arranged for the fleet?
How will the fuel be handled?
What systems should be followed for inspection and tracking?
Have you considered all of the laws and regulations in your state?
How will drivers be supervised?
As you are choosing the vehicles, the goal is to ensure that the company's money is well spent on the fleet. Construction firms can choose to create an in-house team for fleet management, or outsourced fleet management firms can be hired to oversee both vehicle acquisition and management.
Whether you have an in-house fleet manager or you are hiring an outside team to source the vehicles for your construction firm, it is essential to plan enough time for price negotiations, equipment improvements, and delivery. This ordering cycle requires a bit of lead time to avoid schedule delay on site.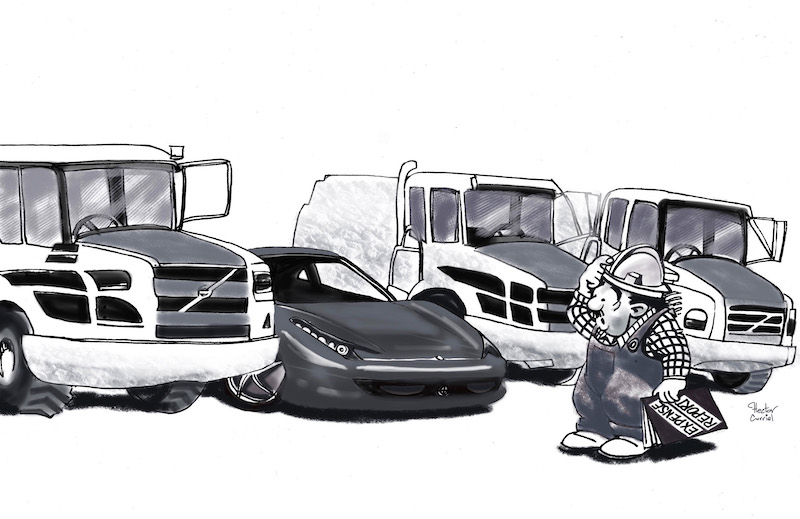 Equipment/Truck Financing
If you don't have cash in the bank to pay for the equipment outright, then you will need to choose a financing company. Even if you have the cash available, it might not make sense to tie up your funds in equipment. Instead, the trucks and equipment can be financed so that you have cash on hand for ongoing costs and materials.
There may be situations where fleet leasing makes sense. But it can often cost more money in the long run since you don't have an asset that can be sold when you are finished with the equipment. Determine the length of time the equipment will be used as well as the potential resale value to compare the cost of leasing vs. buying.
When it comes to financing, you can find financial services that specialize in fleet acquisition. Talk to your current bank or credit union, or explore options for financing companies that cater to construction firms and fleet purchases.
Equipment/Truck Maintenance
Every company should implement a fleet preventive maintenance program from the moment the vehicle acquisition takes place. This program needs to consist of scheduled inspections, servicing, and repair work, with the goal of maximizing the availability of the vehicles and preventing potential problems.
If preventive maintenance is not a priority, you can expect the life span of the vehicle to be reduced greatly. Additionally, your overall costs will go up due to repair work and acquisition of replacement vehicles. Certain equipment is prone to breakdown, which leads to costly repairs. Another common issue is that the vehicle will be out of service when it is needed the most. These costs and issues can be minimized by implementing a proactive approach with the maintenance schedule.
Safety is another issue that should be highlighted as essential. Improper care and upkeep of your fleet will result in vehicles that are unsafe for use. Not only do these safety issues put employees and contractors at risk, but poor maintenance could lead to negligence and litigation costs if something goes wrong.
Your preventive maintenance program should include:
A checklist of maintenance tasks, based on the specific requirements of each vehicle
A timeline as to when these tasks should be performed
A convenient system for operators to record inspection details and possible complaints about the equipment
Scheduled periodic staff meetings to discuss status of fleet
In-house or outsourced trained mechanics to complete repairs and maintenance
The most effective preventive maintenance schedule should be based on mileage, time, engine hours, or the number of fuel gallons used. Specific tasks should include testing, inspection, cleaning, lubrication, repair, and the replacement of worn out parts. The timing varies based on the type of vehicle, so the best solution is to schedule this system based on the manufacturer's recommendations.
Routine preventive maintenance should include:
Engine oil and filter changes
Fuel system
Cooling system
Belts and hoses
Brake system
General tune-ups
Exhaust system
Steering system
Transmission fluid
Transmission and engine mounts
Fluid leaks
Frame and undercarriage
CV joints or drive shafts
Suspension system
Electrical system
Glass, body, and mirrors
Interior and exterior lights
Seatbelts and seats
Wheels, tires, and rims
Horn and sirens
Windshield wipers
Auxiliary systems
Equipment/Truck Telematics
Software programs can be used to develop, implement, and maintain a preventive maintenance program for your fleet. This technology eases the scheduling burden with the implementation of an automated computer system. Manually managing the fleet is not only time-consuming, but it can be a tedious task. The best solution is to implement a computerized tracking and maintenance system to improve efficiency and gather reports on the fleet.
Automated telematics can gather data relating to all aspects of the fleet, including the location of the vehicle, behavior of the driver, vehicle activity, engine diagnostics and more. This information is gathered and stored to provide easy reporting access for fleet managers and technicians. The reports are critical in helping fleet operators with the management of the vehicle and equipment resources available in the company.
Make sure that the selected system meets your individual requirements and can be customized based on the needs of your company. Information that can be tracked might include:
Preventive maintenance schedules
Creation and tracking of work orders
Fuel usage
Mileage
Driver time and labor
Tire logs
Claims and accidents
Inventory management
Invoicing for purchase and maintenance receipts
Stock reports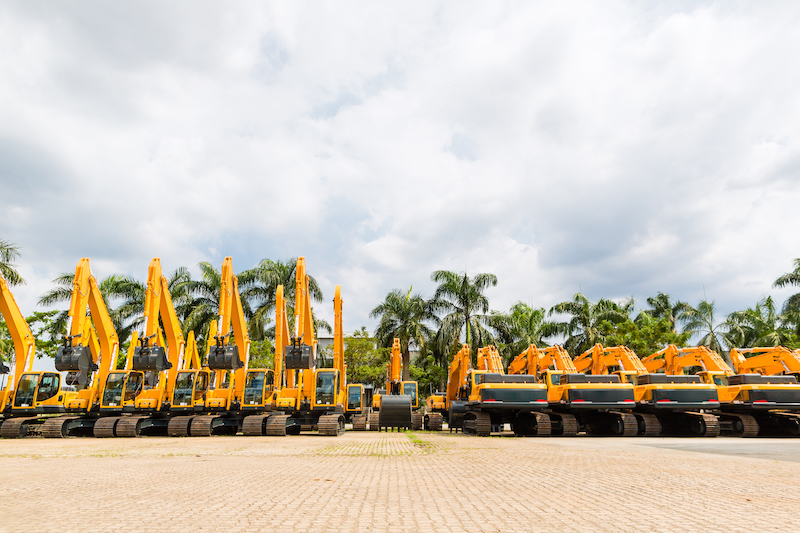 Driver Management
Effective management of your drivers can save your company thousands of dollars each year. A good driver training program, as well as ongoing telematics systems, will help with the reduction of costs without a negative impact on the level of service.
Driver onboarding might include license checks as well as risk assessments. Then, initial training should be focused on mapping the best routes, economical driving, use of the telematics systems, safety on the job, and anything else applicable to your projects.
Three important categories are applicable to driver management:
Speed Management: Speed is a dangerous factor that can increase the risk of fatal road accidents and expensive loss of equipment. Additionally, speed management has a direct impact on fuel and emission savings. Both drivers and vehicles should be monitored for speed. Even if drivers are trained in safety and speed practices, there is always a risk of noncompliance. Vehicle tracking telematics allows fleet managers to generate reports that uncover dangerous driving habits by showing the drivers who have been speeding and how often the speeding occurs.
Fuel Management: According to the US Department of Energy, gas mileage decreases significantly at speeds over 50 MPH. Every 5 MPH increases the costs by $.16 to $.32 per gallon, depending on the type of vehicle. In addition to the management of speed, other policies need to be in place to reduce engine idling, manage routing for fuel optimization, and keep up with routine maintenance that affects vehicle fuel usage. Consider a system using fuel cards for each driver to see how much is spent on fuel and historical data for the vehicle.
Safety Management: Fleet vehicle accidents are often the most expensive injury claims employers need to bear. A formal fleet safety program will reduce the risk of these accidents, especially when the program is designed to your company needs specifically. Safety management should include the selection and identification of drivers, onboarding and ongoing training for drivers, management of updated fleet safety rules, written policies, and a formalized plan for vehicle repair, inspection, and maintenance.
Laws and Regulations for Fleet Management
Both federal and local agencies have laws and regulations that will affect the management and efficiency requirements for your fleet. A broad range of laws could be applicable depending on your location and the types of vehicles you are using. The most important thing you can do is consult with a local fleet management expert to identify the regulations and laws that apply to your situation.
Legislation often affects petroleum consumption and rewards alternative fuel use. Other common regulations require the submission of annual reports that show the makeup of the vehicle fleets and details about vehicle usage.
What Makes a Great Fleet Manager?
It doesn't matter if you choose to hire an in-house fleet manager or if your preference is to outsource these services. Either way, you need to evaluate the qualities and skillsets of the fleet manager to ensure an optimal outcome for your company.
These are some of the things that should be considered when hiring a fleet manager:
Knowledge: A fleet manager needs to understand all aspects of vehicle care, tracking, safety, and more. A great leader knows how to implement the right tools to improve results, such as computer software and accountability practices for drivers and technicians.
Vision and Goals: This person or team will oversee the acquisition and management of all company vehicles and equipment. So, it is important that they have a clear picture of current processes and target outcomes in the future. Decisions should be data-driven to support positive changes in the fleet.
Commitment: Consistency is key for fleet management. When you are consistent with repair and maintenance tasks, it improves the performance of the vehicles and equipment. Additionally, ongoing documentation and metrics need to be measured to stay ahead of the details that matter for safety and efficiency.
Pitfalls to Avoid with Fleet Management
While good fleet management practices can optimize the long-term results available for your company, pitfalls could take a hit on your business success. Common pitfalls include a rising accident rate due to driver errors and improper maintenance practices that result in expensive repairs.
One thing to consider is the quality of your driving team. High turnover can make it difficult to retain a team of experienced, trained drivers. As a result, you might find it difficult to trust new operators who aren't yet familiar with the company goals, safety practices, and more. It's important to hold onto good drivers, which means that you need to show your staff that you value the contributions of the team. Consider implementing a driver incentive program based on performance and other data-driven metrics.
Cost is one of the biggest factors that can injure your company. Necessary maintenance and safety precautions are an investment so that you can reduce fleet collision rates, avoid liability exposure, and keep insurance rates low.
Also, consider that most fleet vehicles will eventually fail to offer a significant return on the investment due to reckless driving and poor maintenance. These poor practices take a toll on the resale value of the vehicles and cut into profit margins.
Long Term Strategy for Fleet Management
It might seem like an endless challenge to keep up with fleet management, but many risks, costs, and hazards can be avoided with the right tools and good planning. The best way to maximize your Return on Investment (ROI) and ensure the performance of the fleet is to enlist the services of an experienced fleet manager. An industry expert will help your company in implementing the right long-term strategy based on the equipment and vehicles needed for the services that are offered.