View the complete article here.
Sealcoating is a good entry-level business. If you already have a solid work truck and contacts in your community, you're off to a good start. In this article we discuss the basics of sealcoating, the equipment you'll need, and the products you will use. We also provide some helpful sealcoating tips.
What is Sealcoating?
Sealcoating is applying a liquid product to asphalt to protect it from the elements and prolong its useful life. Sealcoat can be sprayed on or applied by hand with a squeegee. Typically, sand or other aggregate (such as gravel or crushed rock) are added to the sealcoat to fill in minor cracks, provide a uniform appearance, and add traction.
The Value of Sealcoating
Selling any service is all about solving a customer's problem. There are many benefits to sealcoating that many customers will find valuable, including:
Protects asphalt from UV rays.
Helps keep vehicle fluids and moisture from rain and snow from penetrating the asphalt surface.
Fills in surface damage.
Part of preventative maintenance to extend the life of asphalt.
Makes faded asphalt look brand new.
Snow will melt faster on asphalt that's been protected with sealcoating.
It costs less and is far less invasive to regularly sealcoat asphalt than to have to replace it or complete major repairs.
Sealcoating Jobs
Anywhere there is asphalt is an opportunity for a sealcoating job. Customers are residential, commercial, or municipal. Parking lots, driveways, bike and walking paths, and playgrounds are all possible jobs for sealcoating. Contact procurement departments at local government offices and hospitals to find out how to bid on jobs.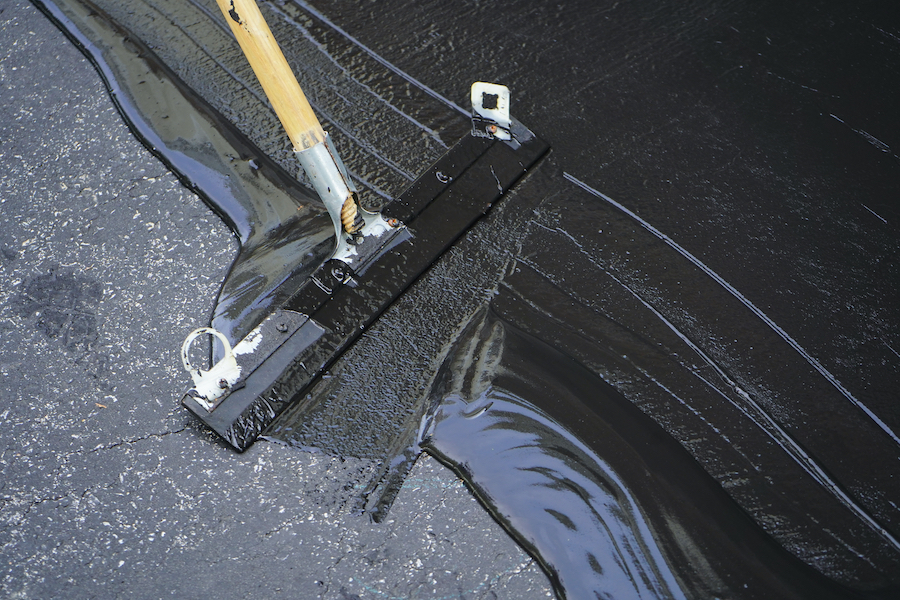 Pricing a Sealcoating Job
Pricing any service can be challenging. Start with getting quotes from competitors. This is something you should do as part of your business planning process. You'll measure to get the square footage of the area you'll be sealcoating. You begin with a price per square foot based on ideal conditions. Then make adjustments based on the following:
Discount for:
Larger jobs
Especially clean, undamaged asphalt
Multiple jobs for one customer
Additional charge for:
Asphalt that requires more cleaning and / or filling
A job requiring more than one coat and / or more sand
Need for additives
Conditions that require manual application
A job that requires working in sections
A challenging environment, like a very steep driveway
Striping a parking lot
If it's a very competitive market, offer a discount to the overall price, rather than just presenting a lower price.
Example:
Prices in your area may be different. The rate shown is just an example.
Standard rate is .20 a square foot. The job is a 100 x 200 square foot driveway. 20,000 x .20 = $4,000. It has oil spots and some cracks. Let's say the job requires a double coat with extra sand and a latex additive, so you add 50%. This increases the price to $6,000. You offer a "new customer" discount of $400. Final estimate is $5,600.
Over time, you'll get a better sense of what you should charge. If a customer says they may have more work for you, we recommend offering a discount on the next job.
Another way to determine price is to add up material, labor, and overhead costs. Add the percentage of profit you want to make. Then divide the amount by the square footage.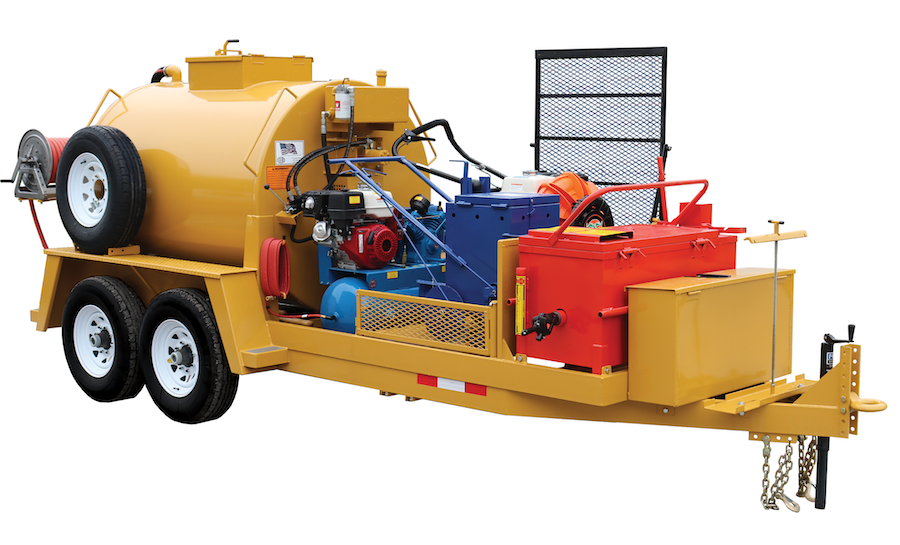 Sealcoating Equipment
Sealing equipment comes in various sizes from portable to very large models. Key criteria include the number of gallons the tank holds, the dimensions, and the weight. You have to be able to haul the equipment to the sight. You could do small sealcoating jobs can be done by hand with a squeegee. All you need is time and a strong back. For most people, starting with smaller, less expensive equipment will allow them to do more jobs. Here are examples of sealcoating equipment:
NAC Supply Sealcoating Tote Spray System. This sealcoating system is meant for smaller jobs. It has a 275-gallon tank. However, it can only apply sealer without sand. Obviously, it will limit the types of sealcoating jobs you can handle. At $1,575, it's a low-cost option to get started in the business.
Asphalt King Contractor's Parking Lot Packages. Asphalt King sells packages to get you up and running with small residential and commercial jobs. Their Silver Package includes: a walk-behind leaf blower for surface prep, a crack filling machine, their AK230 spray system, and a pallet of coal tar sealer. There are optional add-ons including a hose reel and sealcoat edger. The AK230 sealcoating machine has a 230-gallon tank that covers 20,000 square feet. It fits on a 1 ton truck or trailer. Packages start at $8,242 with free shipping.
Seal-Rite SR-700 Trailer. Seal-Rite has several commercial models for the professional. Their SR-700 Trailer has a 700-gallon steel tank. Just add the sealer and go. You have to call for pricing, but to give you an idea, we did see a new 550-gallon Seal-Rite model on eBay for $16,800.
Accessories
You'll want to research and price the accessories you need to complete a solid, long-lasting sealcoat. These include:
Power Brush and Handle
Brush Holder
Sealcoat Edging Brush
Spray wand
Squeegee
Sprayhose
Keep your accessories in good condition. Replace as needed. A worn or dirty accessory can result in a poor finish.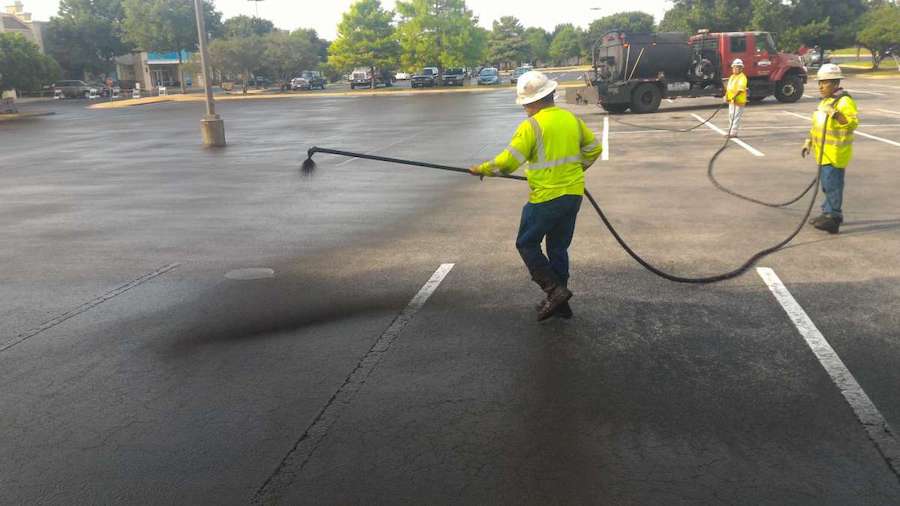 Types of Sealers
There are different types of sealers, including:
Coal Tar Sealer
Coal tar sealer is a black liquid made from coal and a by-product from steel processing. Advantages include its wide-availability and lower price. It forms a very hard layer on top of the asphalt.
Asphalt Emulsion Sealer
Asphalt emulsion sealer is made from asphalt products, water, and emulsifying agents. It is considered an environmentally-friendly alternative to coal tar sealer. However, you cannot dilute it with water. But it does tend to expand and contract with the asphalt below it. This can reduce cracks.
Plain Sealer
Plain sealer has no sand in it. It's for asphalt that is in good condition – as it won't fill in minor cracks. You also won't get the benefit of the traction that sand provides.
Fill and Seal
These sealers already contain sand that will fill minor cracks up to 1/8" wide.
Benefits of Additives
Rubber, latex-based additives can improve sealer performance or improve the final finish, including:
Improves sand distribution and gives the textured surface an even appearance.
Decreases drying time.
Improves protection against oil and gas penetration.
Gives the final finish a darker, more uniform color.
Improves bonding to the surface.
Extends the life of the sealcoat.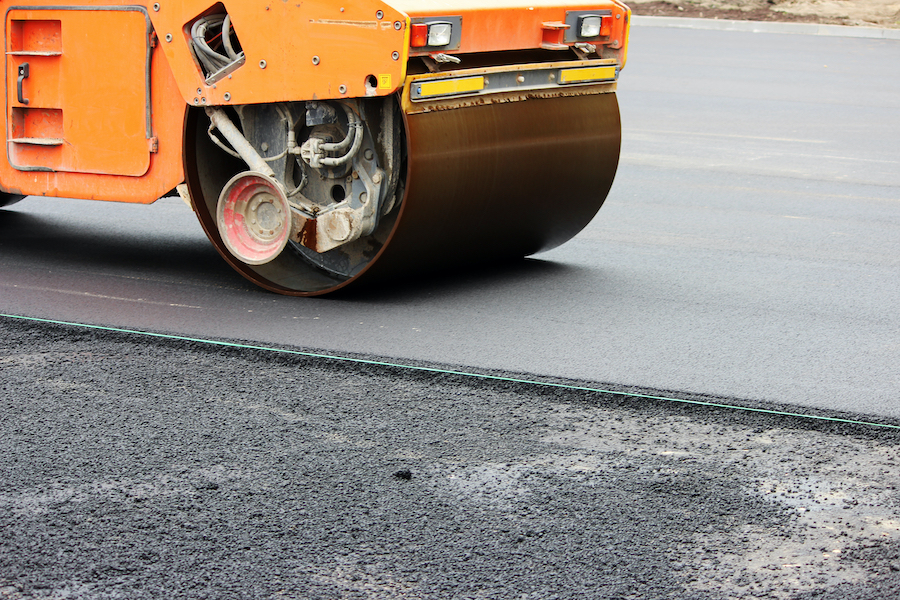 Sealcoating Tips
These tips will help you create an attractive finish with a high-quality seal that won't chip or flake.
The weather should be at least 55 degrees (Fahrenheit) with low humidity.
Put up barricades around the area.
Clean the asphalt.
Clean oil spots.
Follow manufacturer's instructions for preparing the sealcoat.
Apply sealcoat the pavement.
Make sure you have not missed any spots.
Keep barricades up while sealcoat dries.
Keep the area clear of tools and debris while spraying.
Apply sealcoat in long passes. This results in a better finish.
Humidity level changes the amount of water you add to the mix. Generally, higher humidity needs less water.
Getting Started
Before starting any business, you'll need to do some basic research. What kind of jobs can you realistically do? What equipment do you need and how much will it cost? Can you get financing? How much can you charge? How long will it take to make a profit? Remember that you need a reliable vehicle to haul the equipment. How will you get customers? Most businesses require you to market your services. You'll need to do more than just place an add in a local paper. Look into local online service platforms such as AngiesList, ThumbTack, and Yelp. The Small Business Administration (SBA) can help you will basic business planning and potential financing.
Wrap Up
You can break into the sealcoating business with a reliable truck and some basic equipment. Unless you have contacts with large, commercial customers, start small. Driveways for residential customers is a good place to start. Practice on your own home or see if a friend or family member is willing to be a guinea pig. Better to work for free on the first couple of jobs to learn. Then go be the best sealcoater you can be.