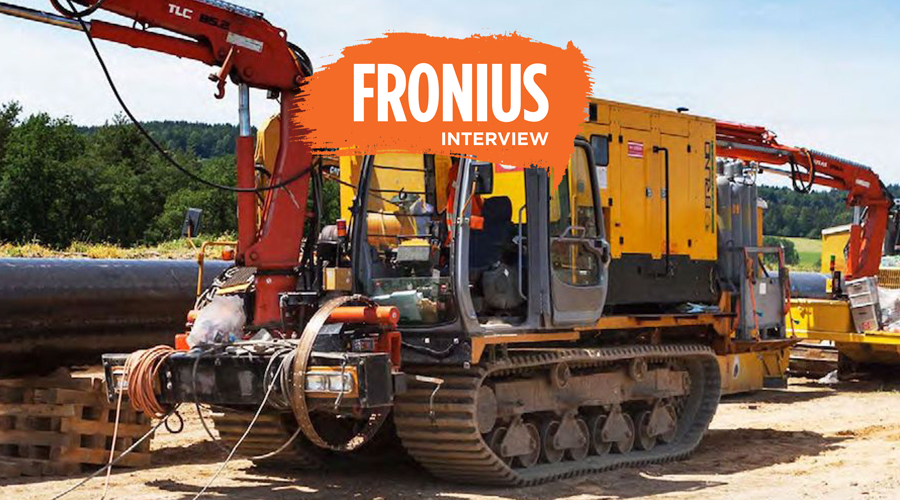 E&C's interview with Fronius International, home of the TPS/i system. With 974 active patents, Fronius develops and manufactures innovative systems for solar energy, battery charging, and welding.
E&C: Tell us about the Fronius story. I understand that it dates back to 1945?
F: That's right. Our founder, Günter Fronius, opened up a radio and electrical equipment repair shop in June of 1945. A customer gave him an old military barracks in Pettenbach, Austria as payment for some work. That's where the Fronius headquarters are still located today. Mr. Fronius went well beyond a repair shop, though. He believed that a battery could be recharged – not just thrown away. As an electrical engineer he had the ability to develop not only a battery charger, but other innovations. By 1950 he had a line of products, including welding transformers.
E&C: The TPS/i TWIN Push system is ideal for E&C readers. What can you tell us about it?
F: The TWIN Push tandem process has really increased efficiency in the welding industry. It produces high deposition rates and welding speeds. It's an intelligent welding system that is employed for both manual and automated use. It can join large volumes of components or long weld seams. This makes it particularly useful for building construction machinery and commercial vehicles. These Fronius welding systems are widely used in both the automotive and shipbuilding industries.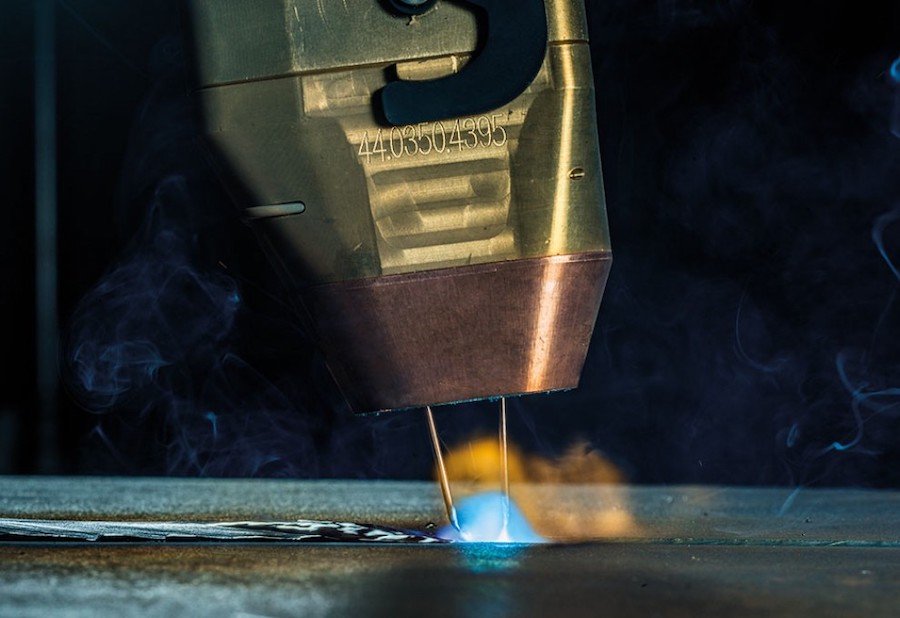 E&C: What are the key features of the TPS/I welding system?
F: First of all, it is one of the most advanced welding systems in the world. It has a modular design which allows users to configure it to their specific requirements. It has extensive communication features. This ensures increased efficiency and outstanding welding results. It provides a high level of performance for unalloyed, low- or high-alloy steels and aluminum. Key features of the TPS/I welding system include a touch display and UI in 32 languages as well as a working radius of up to 30 meters. The best part is that it provides a nearly spatter-free working environment.
E&C: Tell us about the different applications for the TPS/i TWIN Push system.
F: Fronius welding systems ensure high-quality weld seams for heavy equipment. Think about an excavator. Each component has to handle tremendous force – the frame, the boom, the bucket. Telescopic handlers are another great example of the critical role welding plays in developing safe, high-quality heavy equipment. The weld seams have to withstand the stress of the loads these machines are designed to handle – which can be up to 30,000 kg. At the same time, large equipment manufacturers need to push a lot of product out the door quickly. We have one customer, Painco in Brazil, who realized just installing more robot cells was not going to solve their manufacturing problem. They installed a Fronius welding system instead.
E&C: Which Fronius system did they use?
F: Painco's welding system had just 350 amperes of power — it couldn't meet the high performance of the robot cells. Seam quality and welding speed suffered, resulting in a high number of rejects. With the Fronius Pulse Multi Control welding package configured on the TPS 600i, they ultimately increased their productivity by 65% overall. Part of the reason was that the pulsed arc improved material transfer. This increased welding speeds and reduced rejects.
E&C: Tell us more about manual versus robotic welding.
F: The biggest advantage to manual welding is it is hands-on. A worker is personally responsible for each weld. They know right away if there are any quality issues. Robotic welding has many advantages. It's safer, welds are more consistent, and a robot can work 24/7. That said, implementing robotics is expensive. It is best for businesses where parts are identical, and each part has high value. We have products that improve working conditions and productivity for both manual and robotic welding environments.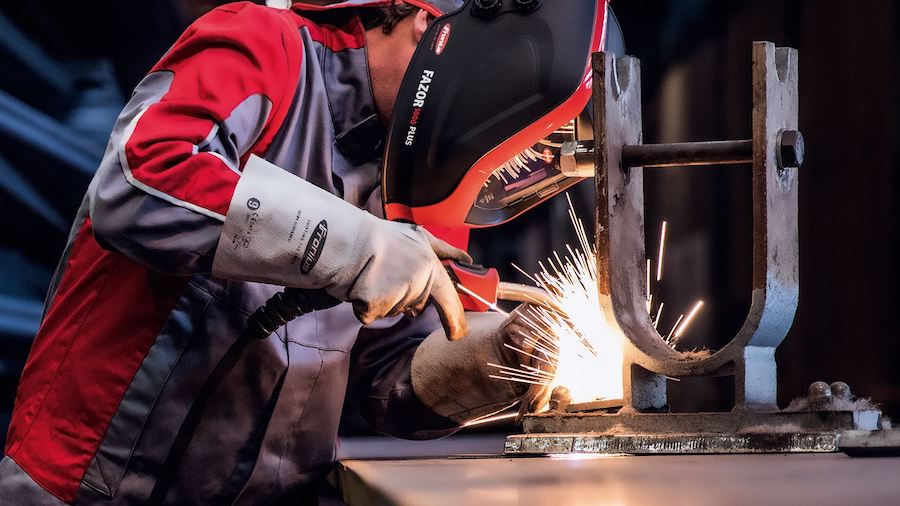 E&C: Tell us about your manual welding products.
F: We offer solutions for MIG/MAG, TIG, and MMA welding. We have a line of TPS/I products for MIG/MAG. We have compact versions that have built-in wirefeeders. The TPS 270i C and TPS 320i C include the Pulse process standard. Their portability makes them ideal for construction sites and workshops. For TIG we have the MagicWave line. These products offer a completely digitized TIG AC/DC power source. They are often used for aluminum applications.
E&C: How about your robotic welding products?
F: The Fronius LaserHybrid gives robotic welders the advantages of industrial-scale MIG and laser-beam welding processes. It provides the easy weld-seam prep of MIG along with the low heat input, and deep penetrations of laser welding. All at speeds of up to 8 metres per minute. Our plasma welding process offers several advantages. There is no weld-seam preparation, and it is completely spatter- and pore-free. You'll also get up to 20% higher welding speed and deeper penetration with our plasma welding system.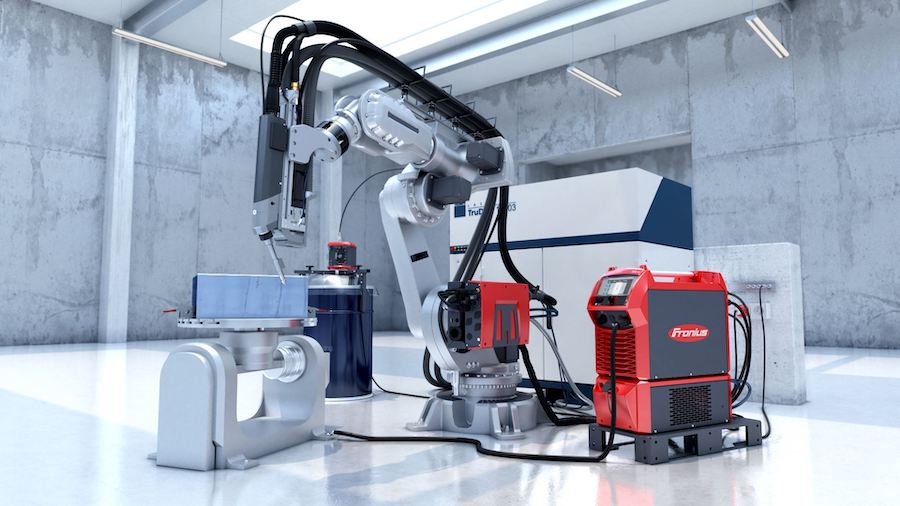 E&C: What more can you tell us about automation?
F: Fronius welding systems collect a broad range of information. Current, voltage, wire speed, welding speed are just some of the data collected by our WeldCube data analysis system. The result is information our customers use to optimize their production process. They can now detect and prevent errors, for example. They can perform consumption and waste analysis and improve quality assurance. The reduction in costs is measurable – and meaningful.
E&C: What's the future of Fronius?
In the near future: virtual welding. The Fronius simulation platform provides welding novices with realistic training. This takes the risk out of welding training – which is dangerous when you don't yet have experience. We have a Welducation Basic App for developing welding know-how through play. The future of Fronius is always exciting because we're no longer just a manufacturer. We are a high-tech company that solves complex problems. And we never know exactly where that will take us.