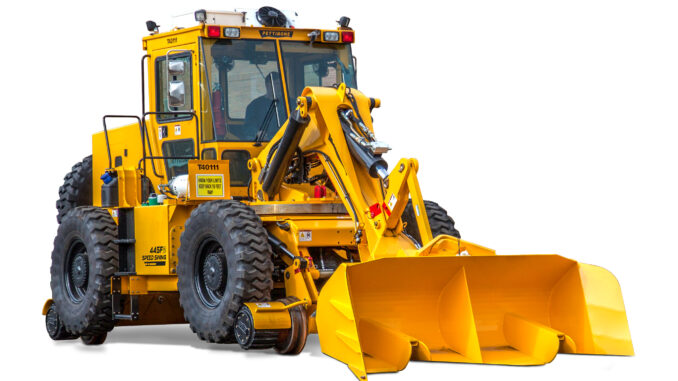 BARAGA, Mich. – Pettibone introduces the Speed Swing 445F2, the newest version of the industry's original do-it-all rail crane. Developed with customer feedback in mind, the 445F2 is designed to accept more than a dozen attachments for laying rails, setting ties and numerous other maintenance-of-way tasks.
Powered by a fuel-efficient 163-horsepower Cummins QSB4.5 Tier 4 diesel engine, the Speed Swing 445F2 offers a 49-gallon fuel tank, a 28-percent increase over the previous model's tank. The added fuel capacity allows for extended working intervals, especially when covering longer stretches of rail maintenance or relocating to a remote jobsite.
The 445F2 offers a maximum front load capacity of 10,000 pounds and maximum side load capacity of 8,000 pounds. Providing 180-degree boom rotation, the machine is primarily used to thread out old rail and thread in new rail. An optional magnet package quickly cleans up old plates, spikes and small pieces of rail. The unit can also tow rail carts, move railcars and supply air or hydraulics for hand tools.
Featuring a Dana T20000 3-speed transmission with twist-grip electric shift control that delivers exceptional torque, the Speed Swing quickly transitions between jobsites, traveling at 25 mph on hi-rail and 20 mph with all-terrain rubber tires. The tires – along with 4-wheel-drive with a rear wheel disconnect – afford greater maneuverability off the rails.
Durably built for challenging railroad applications, the 445F2 offers planetary front and rear axles with front differential lock. Four-wheel outboard dry-disc service brakes provide sure stopping power, and a hydraulic release parking brake is standard.
An optional feature for the 445F2 is X-Command®, a Pettibone telematics program that offers real-time access to machine data. The platform allows for remote diagnosis, eliminating the need for certain field service calls.
The Speed Swing is designed to simplify service and maximize uptime. The ROPS/FOPS cab and engine enclosure both tilt, providing direct access to service points and machine components.
The spacious, climate-controlled operator cab includes a digital display module, full instrumentation panel and precise, pilot-operated controls. Tinted safety glass and a rearview camera help ensure safe operation at all times.
The Speed Swing 445F2 can be built to meet customer specifications for particular applications. Common options and attachments include a tote boom with hook, hydraulic tool circuit, magnet package, AAR coupler, track cleaning bucket, load bucket, 20-foot extendable boom, fork frame, brush cutter, snowplow, and many more.