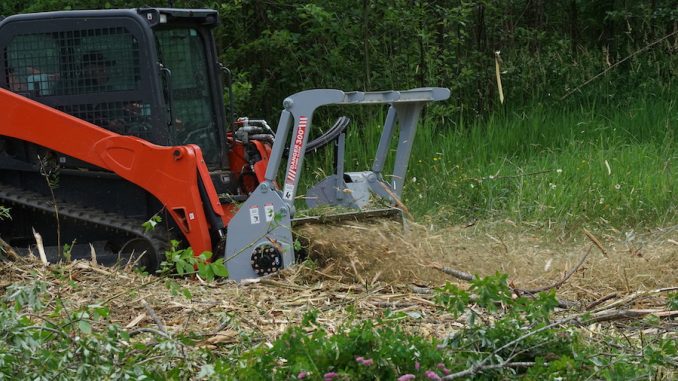 Denis Cimaf has engineered and crafted the ultimate blend of efficiency and power into its heavy-duty Skid Steer Forestry Mulcher attachments. 
This high powered attachment is Ideal for uses in industrial land clearing, mowing, and mulching. These Skid Steer Mulchers can also be used in a variety of different sectors that go beyond land clearing and vegetation control work, the company says. Other sectors that utilize these Mulchers are in forest fire prevention, road and pipeline development/maintenance, and transmission lines.
The company says these Skid Steer front-mounted Mulchers boast top-of-the-line components that include: 
With the high speeds and forces involved in industrial mulching, even the hardest steel frame is subject to wear and tear. The easy-to-replace bolt in wear liner extends the lifetime of the unit by protecting the frame. 

Bolt-on forged knives are heat treated, and deliver maximum resistance to impact and abrasion, and can be sharpened right on the unit.

Variable Displace Axial piston motor provides exceptional mowing and mulching power while minimizing overheating.
Put a Denis Cimaf Mulcher to the test and see why these powerful attachments are used by industry professionals worldwide. 
This Skid Steer Mulcher is being offered on SkidSteerSolutions.com.