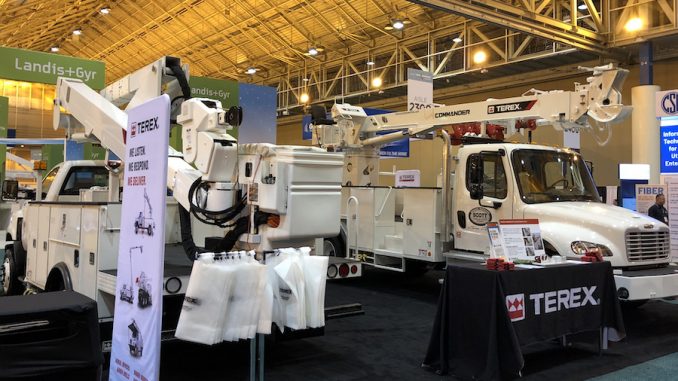 Earlier this month, Terex Utilities attended the National Rural Electric TechAdvantage conference in New Orleans and the NTEA Work Truck Show in Indianapolis.
"Both of these shows bring together key electric utility stakeholders and give us the opportunity to catch up on industry trends as well as engage to understand their safety, fleet and operational challenges," said Joe Caywood, Director of Marketing.
At TechAdvantage, Terex Utilities featured a Hi-Ranger LTM40 aerial device, a Commander C4047 digger derrick and a table-top demo showing our Positive Attachment Lanyard warning device or "PAL in a Bucket" option.  PAL is a unique innovation for aerial devices which aids operators to follow their safe work practices. It provides audio and visual warnings when controls are engaged, and the lanyard has not been attached to the lanyard anchor in the bucket. An Optima TC55 aerial device was displayed with an innovative self-contained plug-in electric hybrid option at the 20th Anniversary Work Truck Show.
The LTM40 aerial device has an articulating and telescopic boom design with material handling capabilities. Several features make this ideal for use as a 'trouble truck." No CDL license is required and it sets up easily in traffic because there's no street-side overhang. The Commander C4047 digger derrick is built for distribution work.  "Our digger derricks are known for productivity, reliable design, and work zone capacity," said Gary Rice, Regional Sales Manager who attended Tech Advantage. "Overall, customer attendees provided positive feedback on the equipment and new innovations such as PAL and appreciated the overall quality of our product."
"Terex continues to focus on product innovation and reliable parts and service to support dependable electric delivery," said Caywood. "We recognize that the work electric utilities do is mission critical to the infrastructure of our country. Terex relies on a U.S.-based supply chain, underscoring our ability to respond to customer demand for equipment, parts & service."