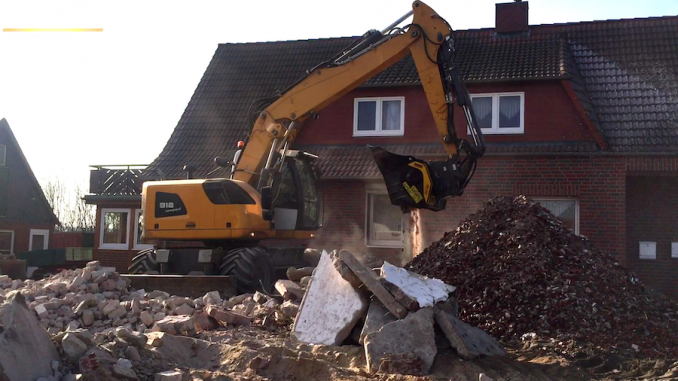 When job sites are small and come with several regulations, turn to MB Crusher to alleviate those stressors.
Residential job sites come with regulations designed to ensure homeowners aren't disturbed. When working a residential job site, it's common to worry over scheduling, both in finishing the project on time and when your team is allowed to work. You also have to monitor your noise and dust emission and how much space you have to work with. However, with so many regulations limiting your job site, you start wondering if there's an easier way to manage these rules without hurting your wallet or compromising the quality of your work. Is it time to change your equipment to something smaller? Or maybe see how you can fit a larger unit on your site? Are you willing to use landfills or recyclers to manage your materials? How about the costs, trucks, and inevitable downtime that come with it?
One way to reduce your concerns and stop stressing about the regulations is by consolidating those separate operations such as managing/processing materials. Then reduce the number of machines on the job site to smaller but capable units. When your equipment can tackle those challenges without compromising your work's quality, you can easily finish the job. After our customers purchased MB Crusher attachments to help them, they found it easier to follow the regulations and finish the job on time.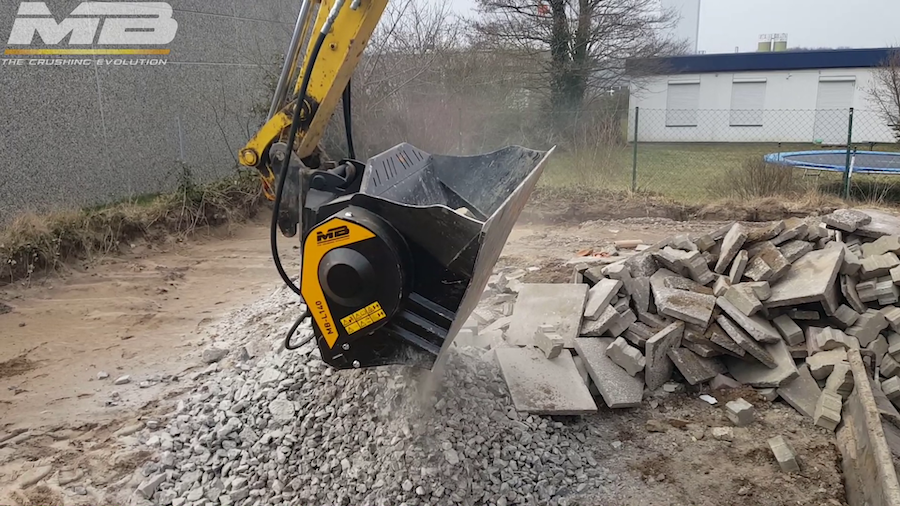 Managing small job sites is something most construction and demolition companies often deal with. A method of successfully working on a site with limited space is keeping the job site clean and reducing equipment and vehicles on site down to what's necessary. When our customers took on a job to demolish a house, the small size job site wasn't a surprise to them – they often had small job sites and always made the necessary plans to work around the limited space. This time they ended up with a large pile of waste bricks.
Typically, a pile of materials wasn't a concern. They worked around it until they had time and space to have the trucks come and haul the material away. However, they soon realized that their site's space was so limited, and the heap of bricks made it difficult to maneuver around. Without their main option available to them, they considered pausing their operations and having trucks come to the job site and potentially take multiple trips, take the bricks to a landfill, and clear up some space on their site.
Their solution was turning to the MB-L140 crusher bucket. The unit's compact size allowed them to bring the crusher to the job site, crush the bricks down to their desired output size, and clear their job site of debris without taking up more space. Crushing down the bricks eliminated needing trucks to travel to their job site and risking downtime. Not only was their job site cleaned of debris, they were also able to use the crushed bricks as a sub-base for their job.
Noise and dust emissions are common concerns on a job site, especially on job sites located in the city or residential areas. With residents working from home, having packages delivered to their doorstep, or people leaving to commute to their offices, noise and dust emissions must be carefully monitored to avoid tenants complaining. Our customers especially needed to monitor how much noise they made and how much dust their equipment generated since their job site was located directly behind someone's home.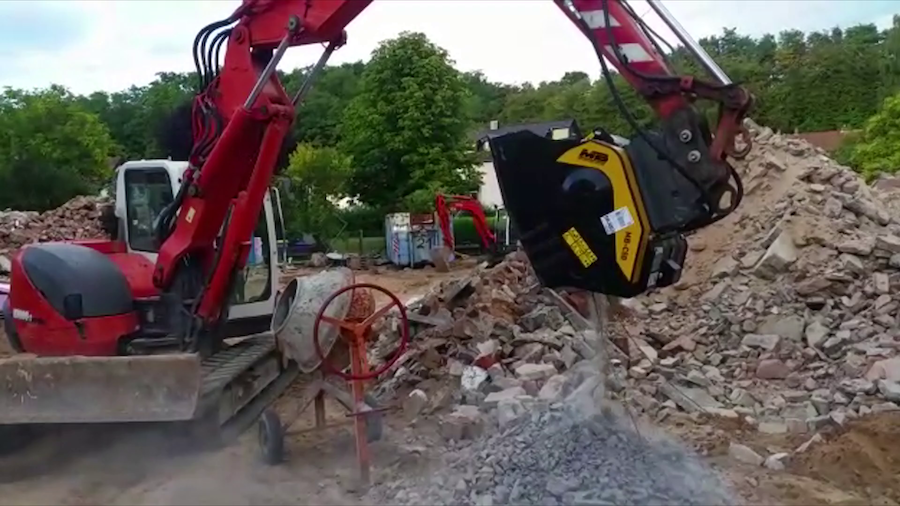 They knew they needed a unit that wouldn't produce too much noise or dust but also didn't want to lose out on the quality of the material they created if they found an alternative method or wouldn't be able to reuse the rocks. They also needed to factor in how the equipment was going to get to their job site. This is why they turned to MB Crusher's MB-L200 crusher bucket. The unit can be easily transported already installed on the machine, and when processing materials, the unit is designed to reduce noise and dust emissions. The attachment on the job site quickly crushed the materials without disrupting the residents and their daily routines.
Another aspect that needs to be considered for a residential job site is following a strict schedule. Now, you have to worry about doing your job well despite a schedule dictating when you can and can't work, on top of the other restrictions that your job site has. When our customers took on a job to demolish an old house, they knew right away they wanted to reuse the materials they obtained from the demolition. However, they had to follow a tight schedule on top of having limited space and needing to be mindful of how much dust and noise they created. Aware of their limitations, they knew a stationary crusher wouldn't work for their job site. They also needed to be mindful of how quickly they could get their equipment serviced if it jammed or broke down.
To crush concrete, they chose to install the MB-C50 crusher bucket onto their mini-excavator. The unit fits on their job site, processed concrete quickly, and didn't compromise the quality of material that they produced. The crusher generated their materials, worked within their given time frame, minimized their noise and dust emissions, and didn't disrupt the neighborhood's daily life. Once they finished processing the concrete, they then reused it on their job site as fill.
Thanks to MB Crusher's range of attachments, there's a unit for those complicated job sites. Whether you need to work on a large job site or ones where space is limited, there's a unit that will fit the machine you're already using regardless of size. Despite the MB-Ls and the MB-C50's smaller sizes, the crushers still produce the same excellent quality material that any of their BF counterparts can create and allow for success for current and future projects.