View the complete article here.
A good work truck is the heart of your business. You're in it all day and it needs to not just be reliable transportation, but a reliable toolbox, mobile office, hauler, and more. Here's a complete guide to building a work truck that works as hard as you do.
Work Truck Job Requirements 
Your work truck needs to perform many functions. You want to think through and document specifically what you need it to do. This helps you keep focused when you start shopping. Some basic questions you need to consider:
Passengers. How many people will you have to fit? Some trucks offer a way to easily reconfigure the interior to accommodate more people or more cargo.
Load. How much weight do you need to haul? If you regularly haul heavy equipment to job sites, you may want a truck with a high towing capacity.
Tools. What kinds of tools do you need to keep handy on the truck? You'll want a way to organize and secure them. Part of the solution is likely aftermarket accessories. But your work truck has to have enough room to accommodate all your tools and equipment.
Distance. How far do you travel each day? If you're clocking in some heavy miles, a hybrid or all-electric work truck could save you money overall.
Terrain. What kind of terrain will you travel on? You don't need an all-wheel-drive (AWD) if you're just driving on regular pavement.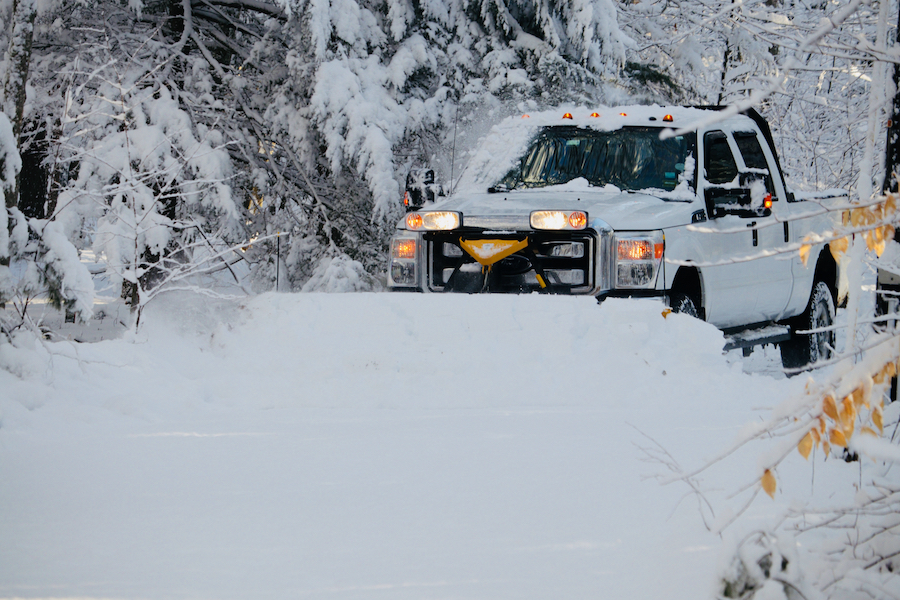 Work Truck Size 
You want a work truck that fits. One clue that the work truck may not be the right size for you is your need to move the seat to maximum positions. For example, all the way up and forward in order to see over the wheel. Or lowering the seat and reclining it to avoid hitting your head. Don't judge whether a work truck is the right fit for you based on specs. Some may look small on the outside but are roomier on the inside.
Work Truck Hauling and Towing 
Get the highest rated towing capacity you can afford if you regularly move equipment and other heavy items. For some, sacrificing interior space for a longer truck bed will suit their hauling needs. It is not necessary to buy a work truck large enough to tow items that you rarely have to transport. You can lease a larger truck for hauling when needed.
Work Truck Wheels 
You'll want the type of wheels that can handle the terrain you are most likely to encounter on a regular basis. Some like the look of oversized tires, but it can be harder to get into a truck that is high off the ground. You can be dazzled by expensive rims, but you're going to work, not a truck show. These are opportunities to save money to buy more practical accessories.
Work Truck Safety
Research the safety rating of the work trucks you are interested in buying. Air bags are standard these days. Some newer work trucks include safety features that can save lives.  This includes braking when a living being is detected in front of you or warning you if you start to drift into another lane. Backup cameras are getting more sophisticated with guides to help you back into spaces and warning signals when you're getting to close to a wall.
Work Truck Accessories
There are many accessories to choose from that extend the functionality and life of your work truck. Some items are best purchased from the dealer. You may have more choices for some aftermarket accessories, like seat covers. Include a list of accessories in your job requirements and ask the dealer for availability and prices.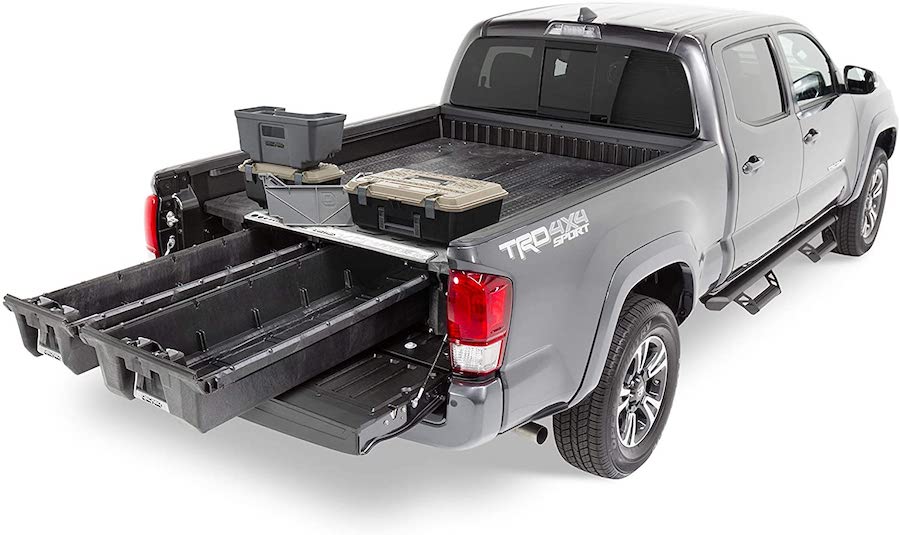 Tools
There are several ways to organize your tools. Here are just a few options:
Decked offers a unique drawer system that doesn't take away your bed space.
Bedslide makes it easy to slide your tools and equipment out from your truck. They can hold up to a ton of stuff, depending on the model.
Weather Guard has their line of Pack Rat pull out storage in various sizes.
Ram offers the Rambox Cargo Management System on some models. It has locked storage that lines the bed of the truck.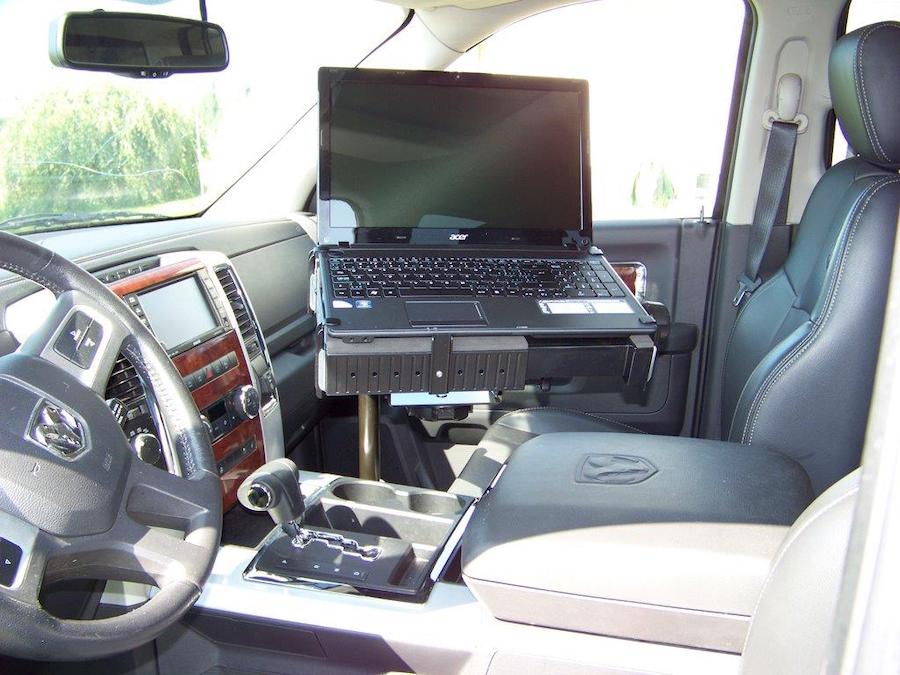 Mobile Office
You don't have to hold a cup of coffee in one hand, while balancing a tablet on your knee, and holding a phone to your ear. There are clever solutions to turn your work truck into a mobile office. PRO-Desks has a line of laptop mounts.  Autoexec sells mobile desk solutions.
Seat Protectors
Think resale. A work truck with pristine seats is more marketable and will command a higher price on resale. It's also an alternative to upgrading to leather seats. You can buy and install leather – or leather look – seat covers. Coverking has a line of custom seat covers in a variety of colors and materials.
Floor Mats
The dealer will try to upsell you fancy mats. There are other less expensive options (or at least better quality) aftermarket mats. Husky Liners has floor and truck bed mats made specifically for your model work truck.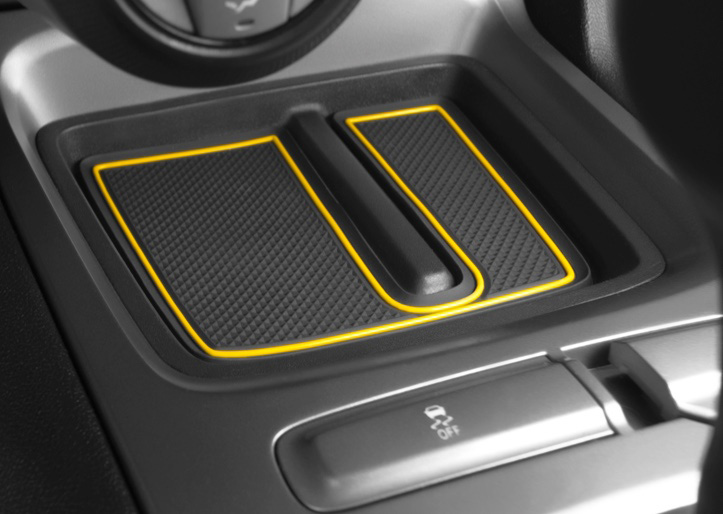 Everything Protectors
Keep your drink cup holders, cargo areas, and other nooks and crannies in your work truck's interior clean with custom liners from CupHolderHero. They sell complete sets for many different types of work trucks.
Steering Wheel Cover
Those leather-wrapped steering wheel covers sound sexy, but they're usually not that comfortable. There are all types of aftermarket steering wheel covers for your work truck. Valleycomfy and Raysell are one of many brands you can find on Amazon and other online retailers. The added benefit is protecting that leather-wrapped steering wheel for resale.
Sunshade
A sunshade is probably the cheapest way to protect your work truck's interior. The sun, especially in places like Texas and Florida, will eventually fade – then crack – your dashboard. Get in the habit of putting it on every time you stop. It also keeps the truck cooler. You can purchase custom or universal sunshades. Covercraft and WeatherTech both sell custom sunshades.
Work Truck Security
You need to protect the truck and the tools from being stolen. It's not unusual for someone to steal a tailgate or toolbox right off the truck. Consider these features for your work truck:
Alarm system
Lockbox
Tailgate lock
Wheel locks
Tinted Windows
Cargo Covers
Camera
Aftermarket dashboard cameras can detect when an accident has occurred and start recording. This type of camera may also be used to guard your work truck when you're not around. Blackvue has a line of dashboard cameras.
Work Truck Fuel Economy
The cost of fuel really adds up throughout the year. There are options to increase fuel economy, but it tends to increase the cost of the work truck. How long you plan to own the work truck will figure into the equation. For some, spending more to reduce their carbon footprint is worth it.
Transmission
Automatic transmissions are just easier to use. If you ever want someone else to drive your work truck, you don't have to ask if they know how to use a stick. That said, a work truck with a manual transmission can lower gas costs and the sticker price. Some folks just think it's more fun to put it in gear.
Fuel
You have several options these days. Regular gas, diesel, a hybrid, or electric work trucks are available.
Gas Work Trucks
Let's face it, until charging stations are widely available, you know you'll always find a place to fill up with a gas-powered work truck. The F-150 is the most popular truck in the USA. Another great option is the GMC Sierra 1500. Both work trucks have bigger options with greater towing capability.
Diesel Work Trucks
There was a time when diesel fuel cost less than regular gas. That hasn't been so in a long time. But diesel fuel, like regular gas, is widely available. The Chevy Silverado 1500 offers several packages, including a Work Truck Convenience Package and Work Truck Safety Package. The convenience package includes deep-tinted glass windows and remote keyless entry. The safety package includes options like lane change and rear cross traffic alerts.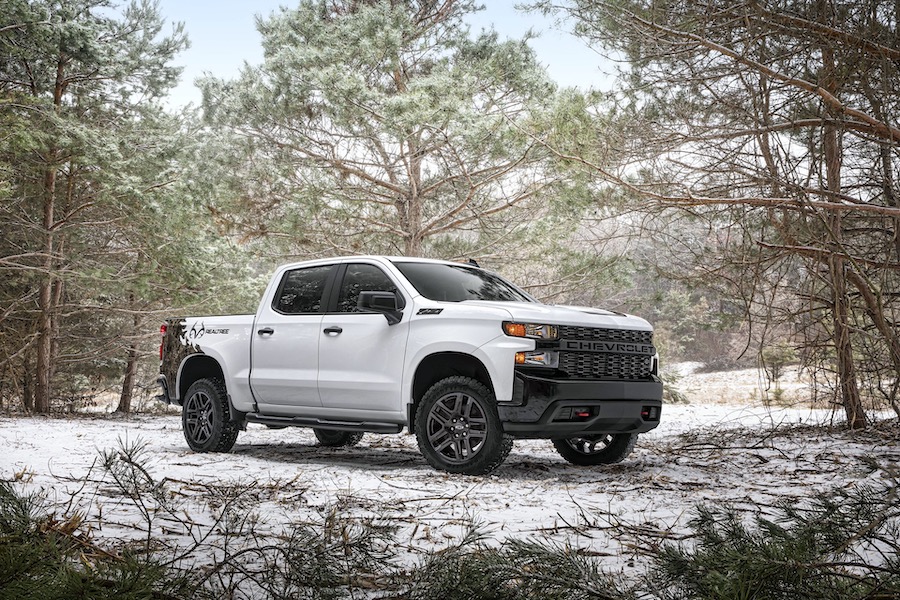 Hybrid Work Trucks
If you're concerned about fuel economy and fuel availability, a hybrid is a great solution. You'll also get better gas mileage. There are hybrid gas models available from all the major companies. The 2021 Honda Ridgeline comes standard with all-wheel-drive (AWD). Other hybrid work trucks include the Ford F-150, Chevy Silverado 1500, and the GMC Sierra 1500.
Electric Work Trucks
All-electric work trucks are coming sooner than you think. They are not cheap, but then again, a brand-spanking new gas truck is pretty pricey. They are also not Smartcar-tiny. These all-electric work trucks are indeed built for hard work.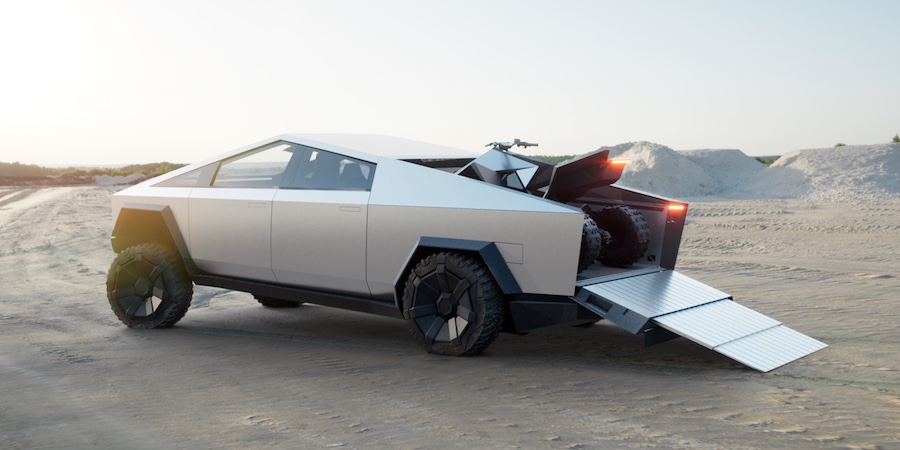 Tesla
Tesla's Cybertruck has three models available. Travel radius ranges from 250 to 500 miles. Towing capacity ranges from 7500 to 14000 pounds. You can order a Cybertruck now and lock in the price for a refundable $100. Production is due to begin later this year.
Bollinger
Bollinger's B2 all-electric work truck is admittedly a bit funky looking. It looks more like a military vehicle. It has a driving radius of 200 miles and towing capacity of 7500 pounds.
Ford
Ford's all electric F-150 is coming in 2022. Ford has not yet released full specs, but you can get a glimpse of it:
Work Truck Comfort
Drink Holders
Yes, the number and placement of cup holders matter. You need at least one for the driver that is easy to reach and can fit the size cup you typically use. Some of the older Dodge Rams had adjustable drink holders.
Seats
A cushy seat and adjustable head support are particularly important for those who spend a lot of time on the road. There are aftermarket products that can improve seat comfort, such as memory foam cushions and even massage rollers.
Controls
You should be able to reach and use controls easily. Some work trucks have functions on the steering wheel. This allows you, for example, to adjust the volume on the stereo. Or give voice commands to make a phone call or send a text.
Work Truck Buying Options
There are a few ways to buy your work truck. Each has its pros and cons.
New
New cars usually have the best financing terms. This is the time to consider buying extended warranties and prepaying for regular maintenance up front. These additional costs can be rolled into the loan. On the other hand, your work truck drops in value as soon as you drive off the lot.
Used
If possible, go with a certified used work truck from a reputable dealer. Compare it to buying new. In some cases, the lower financing and extended warranty of a new work truck costs less in the long haul. But you may be able to get more features for the same price as new. Spend the time to do the math.
Lease
Leasing a work truck may be problematic for those who plan to clock in a lot of miles. Or have jobs that are particularly hard on a vehicle. Understand the terms of the lease before you sign. If you drive local and keep the truck clean, it may make sense to just trade that lease in every 2-3 years. Sometimes there are tax advantages to leasing. We leave that between you and your accountant.
Wrap Up
Think about what you really need in a work truck before you buy one. There are some accessories, like floor mats, that may cost less after market. Protecting your work truck's interior may increase the price you get on resale. Seat covers, steering wheel covers, interior mats, and a sunshade protect your work truck – and are opportunities to personalize it. Whether you buy new, used, or lease, create a work truck that will work for you every day.