View the complete article here.
Newly installed asphalt pavement looks very attractive. It can enhance the curb appeal of both residential and commercial properties. Unfortunately, it loses its shine fairly quickly. Harsh weather, vehicles, and foot traffic will cause asphalt to fade and crack. Asphalt sealcoating will help slow the inevitable deterioration. In this article we provide tips for hiring an asphalt sealcoating contractor.
DIY Project?
It is possible to sealcoat the asphalt yourself. We don't recommend doing this. A professional has the right equipment and knows which products are best for your particular project. A good asphalt sealcoating contractor knows how to do the job right – extending the life of your asphalt pavement.
Job Scope
The scope of your asphalt sealcoating job goes beyond the size of the area to be sealcoated. For example, if you've let your asphalt pavement fall into disrepair, it's going to require more work to fix it. Another issue that can affect price beyond square footage is the location. A long, steep driveway is more challenging for the contractor than a flat parking lot. You also may require the asphalt sealcoating contractor to repaint stripes. This, too, will add to the final cost.
Research
Finding a good asphalt sealcoating contractor requires you to do a bit of research.
Website
Start with their website. This should tell you how many years they have been in business, whether they are licensed, bonded and insured, and what organizations they are associated with – like the Better Business Bureau. They may even have before and after pictures of jobs they have completed.
References
Ask for recent references and be sure to contact them. You'll want to know the scope of the job and how long it took the contractor to complete it. Ask the customer if they would hire the asphalt sealcoating contractor again. Try to get them to tell you how much they paid for the work. Or at least if they felt they paid a fair price.
Reviews
Use online resources such as Yelp.com and Google to find reviews on the asphalt sealcoating contractors you are considering. Reviews are tricky. We recommend not just looking at the overall score. Actually read the reviews. Particularly the 1-star and 5-star reviews. It is not uncommon for customers to give a 1-star review over, frankly, stupid stuff. They didn't like the contractor's attitude. Or they took more than a day to get back to them. But they did a good job, they'll say. Others will rave about the great sealcoating job the contractor did for them – but forget to click on the stars. 5-star ratings can be bogus. You can usually tell. The review tends to be vague and overly enthusiastic. Like the contractor's Aunt Millie wrote it.
Licensed, Bonded, and Insured
First, let's define what each of these terms mean.
Licensed
A licensed asphalt sealcoating contractor has had to show the license-granting agency (typically the state or local municipality) that they are knowledgeable and skilled in the work they are providing. Be sure the contractor provides their license number and the agency who granted it. This way you can confirm that the license is valid and current.
Insured
The equipment used by an asphalt sealcoating contractor can cause property damage and injury. They need insurance that covers these possible events. They should also have workers compensation to cover injuries to workers. Should anyone get hurt on the job, you want to make sure that you – as the property owner – will not be held responsible. That's why you want to confirm that the asphalt sealcoating contractor is insured.
Bonded
This protects you from subpar work. If the asphalt sealcoating job is done poorly and requires repair – or in some way causes damage to the property – bonding will handle the cost. This includes hiring another contractor, if required, to do the work.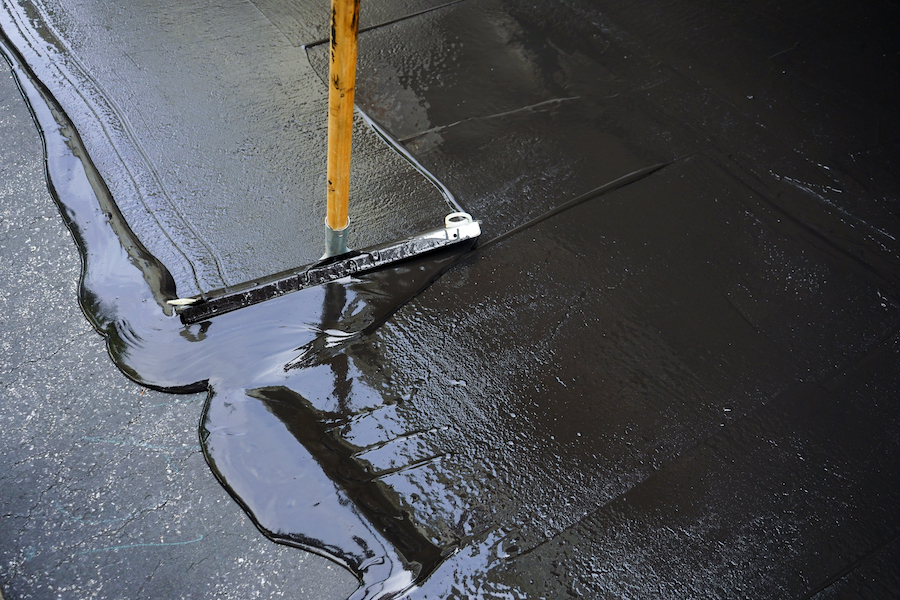 Warranty
Ask each prospective contractor to provide their written warranty along with their bid. There are two different warranties – one for the sealcoat product used and the second for the installation of that product. You should understand specifically what is covered, for how long, and under what circumstances. Ask if an extended or expanded warranty is available. This is particularly important for large asphalt sealcoating jobs.
Price
There is a tendency to think of price first. The cheapest asphalt sealcoating contractor is not always the best choice. Nor is it automatically suspect. The contractor may be new to the area, but not new to sealcoating. Perhaps they are trying to get a new business off the ground. It's a risk, but if they can show at least a couple of quality jobs recently completed, it may be worth it. If you have a larger project, you could test them out on a small part of it. It's always a good idea to have multiple vendors available to you for any project.
Budget
You may have a number in mind, but you can't finalize your budget until you have estimates. We recommend getting bids from three different asphalt sealcoating contractors. There are online services to help you find local contractors. Thumbtack.com, Angi.com (formerly AngiesList.com), and HomeAdvisor.com are just a few.
Estimates
You'll want to know the specific products the asphalt sealcoating contractor will use. Be aware that a contractor may quote a lower price because they are watering down the sealcoating product. This possibility is mitigated by selecting a contractor who is bonded. They are not likely to use an inferior product that results in work that has to be repaired. Sealcoating products include coal tar, asphalt emulsion, plain, and fill and seal. The contractor may recommend an additive to extend the life of the sealcoat.
Job Preparation
Both you and the asphalt sealcoating contractor will need to do some preparation for the job. This includes clearing out and cordoning off the area. Sealcoating should be done in dry weather with a temperature 50 degrees Fahrenheit or higher. Be prepared to keep the sealcoated surface clear of vehicle or foot traffic for at least 48 hours.
Get it in Writing
A detailed, written estimate protects both you and the asphalt sealcoating contractor. The bid should include specifics about the job, such as square footage and the specific areas to be sealcoated. You want them to list the products they will use, the timeline for the work, and the warranty. Be sure that the estimate has the name of the business, license number, and proof that the contractor is bonded and insured.
Conclusion
Hiring a good asphalt sealcoating contractor requires you to do some research. Check reviews and references. Gather information like years in business from the contractor's website. Insist on proof that the contractor is bonded and insured. Get the final job requirements, products to be used, timeline, and warranty in writing. It is time well spent to ensure a high-quality asphalt sealcoating job.