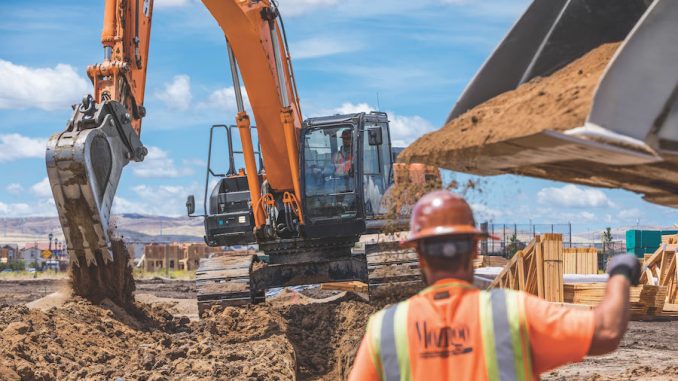 This article first appeared in Hitachi's BREAKOUT magazine, Summer 2019 issue.
By Inga Rundquist
When Kurt and Doni Mozingo decided to start a construction company in the 1990s, they had nothing to lose and everything to gain.
They were 25 and 26 years old, newlywed, and had just welcomed their first child to the world. The couple was living a humble life in Sonora, California, a small logging town in the foothills of the Sierra Nevada mountains.
While Kurt had a few years as a logging equipment operator under his belt, and she a few years as an administrative assistant, they had next to no experience running a business. But they didn't let that stop them. They convinced his grandparents to lend them $10,000 and bought a backhoe.
"I believe you make your own luck," Kurt said. "It was a little bit scary, but you don't know what you don't know until you get into it. Some of those early years, we were making payments and paying the bills, and gas and food came second and third. It was tough, but we learned a lot."
While the odds were stacked against them, the couple's inexperience turned out to be one of their greatest assets. Their grit and tenacity, coupled with their strong work ethic and eagerness to learn, enabled them to ride the wave of California's construction boom to grow Mozingo Construction into one of San Joaquin Valley's largest underground construction contractors.
And Hitachi excavators have been with them every step of the way.
"Hitachi has given us great support over the years," Kurt said. "When we started, we were so young and so new in the business that nobody would really give us the time of day. But Hitachi did, and we've been with them ever since."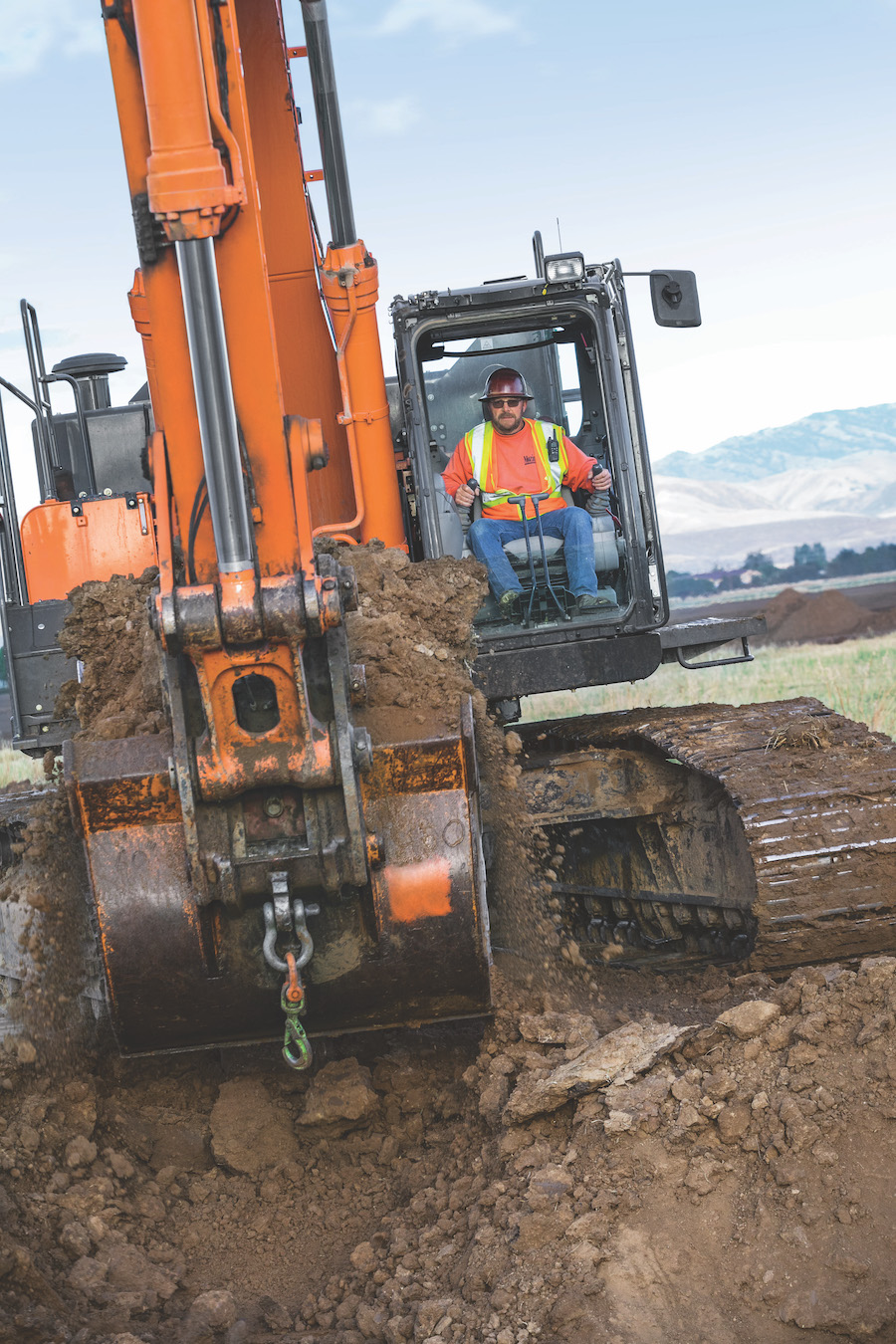 Signature orange fleet
Mozingo's first Hitachi excavator was an EX200, which they used for water and sewer line work. Those early jobs gave the Mozingos the confidence to bid on public works jobs in the region. Their first big break came in the form of a redevelopment project in Modesto, California.
"That was a job that sort of put us over the top and really got us going," Kurt said. "It also let us buy some more machinery."
Many of those new machines were Hitachi excavators. The company's current fleet is comprised of 20 Hitachis, ranging in size from a ZX85USB-5 reduced-tail-swing excavator up to a ZX670LC-5. The majority, however, are ZX350s.
"The ZX350 excavator is a really good size for us because it's a big enough machine where you can do some deep digging, but it's not too big that you can't do a small site job with it also," Kurt said. "It's a very versatile machine."
Phil Gianfortone, Mozingo Construction's CFO and executive vice president, agrees.
"To do our work properly, we need six or seven attachments for each machine," he said. "The 350 gives us the flexibility to use multiple attachments and do all kinds of work – from excavating small trenches to large trenches, laying pipe, placing backfill materials and using compaction wheels."
Hitachi's efficiency, reliability and durability has been critical for Mozingo Construction.
"The Hitachi excavators have been great for us as far as return on investment. We've seen long life out of them and they've been low cost," Gianfortone said. "Uptime is also a big bonus for us. With our labor costs here in California, we really need machine uptime."
For Gianfortone and the Mozingos, having a fleet of Hitachi excavators comes with a few additional benefits. They said it's easier for mechanics and operators to work consistently with one brand of machine. Plus, Mozingo Construction's orange fleet has become a signature for the company.
"We're the only ones that run a lot of Hitachis in our region," Kurt said. "Everybody knows that it's Mozingo Construction on their jobsite with the orange machines. It's really become part of our brand."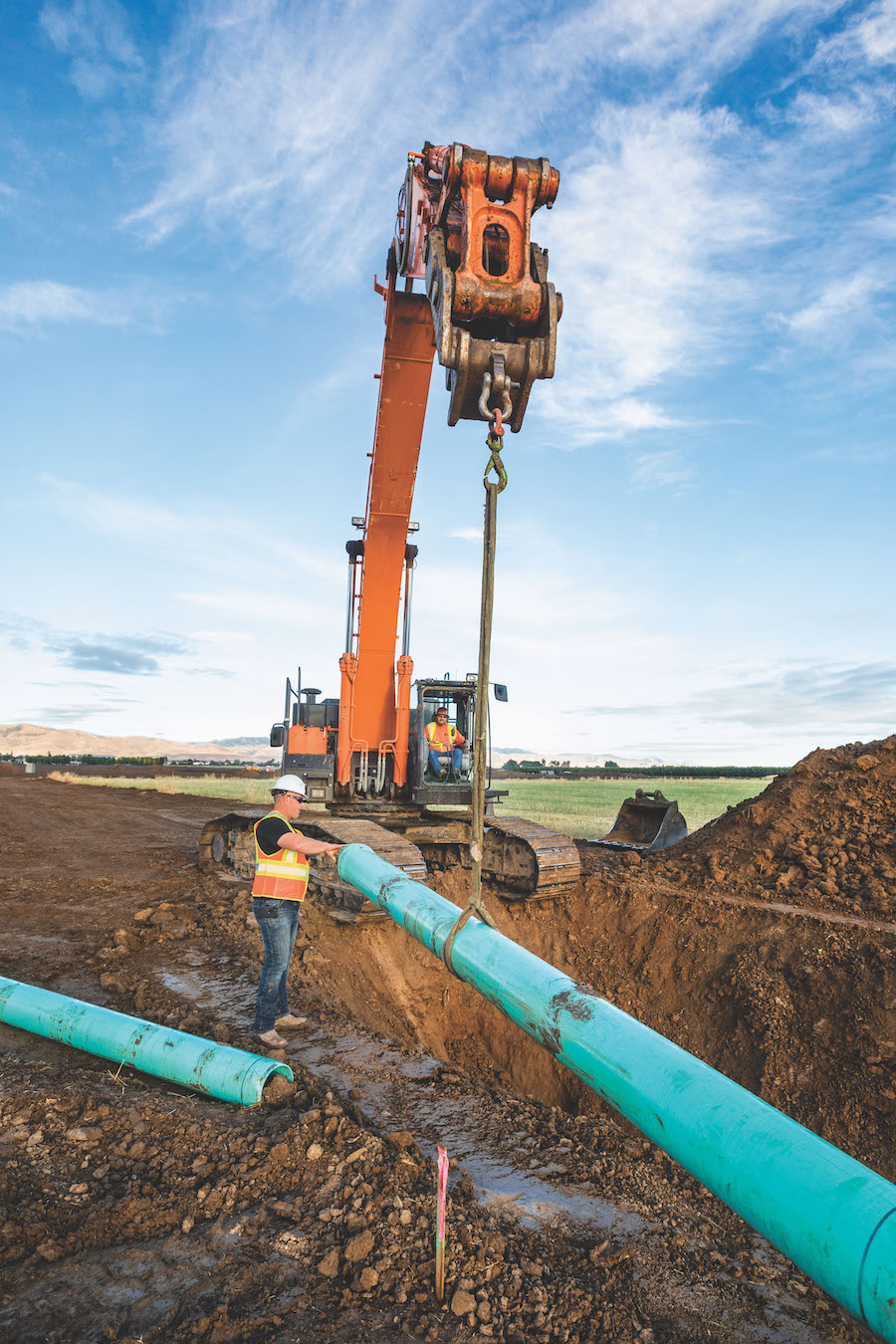 One big family
Since Mozingo Construction's humble beginnings in 1990, the company has grown into a full-scale operation, with 27 office employees and roughly 200 working in the field.
Kurt and Doni's hard work in the early years enabled them to strategically bring on partners along the way. Sonora native Mike Freeman, vice president/general superintendent, joined the business in 1998 with a union background. That propelled Mozingo Construction to become a union operator, opening the door to larger-scale projects.
"I was coming from a company that was much larger, so transitioning to a much smaller startup was very different," Freeman said. "But I knew that Kurt and Doni were good people and I could see their company was headed in a good direction."
Freeman later became a partner in 2006. Gianfortone became a partner in 2004.
"Phil was able to give a different perspective to the business because he had larger business experience," Kurt said. "We call him 'the numbers guy' because that's what he does. We've put Phil on the numbers side and Mike on the field side. They work together very well."
Like Freeman and the Mozingos, many of the company's employees are from Sonora. This means they have to commute one hour or more to jobsites. This dedication is a tribute to the Mozingo's approach to operating their business.
"I feel the way you want to run your business is the way you want to be treated – we're one big family. You have to take care of your people, you really do. And your customers. A lot of people in construction don't realize that we're in sales. Whether you like it or not, we're selling a product to somebody and you have to treat it that way," Kurt said.
With a strong team and a fleet of Hitachi equipment, Kurt and Doni have been able to grow their company to a size they never dreamed possible.
"I came from such a humble background; I never thought I'd be doing what we're doing today," Kurt said. "We've never really taken money out of this company – we've always reinvested it, and I think that's what's made us really strong. We just want to do good, honest work."
Mozingo Construction Inc. is serviced by Papé Machinery Construction & Forestry in French Camp, California.
MOZINGO CONSTRUCTION BY THE NUMBERS
227 employees: 200 in field, 27 in office
50-60 jobs per year
20 Hitachi machines in fleet
ZX85USB-5 up to ZX670LC-5 range of excavator sizes
6-7 attachments per machine
6 ft. – 20 ft. average digging depth
8 in. – 6 ft. average pipe diameter