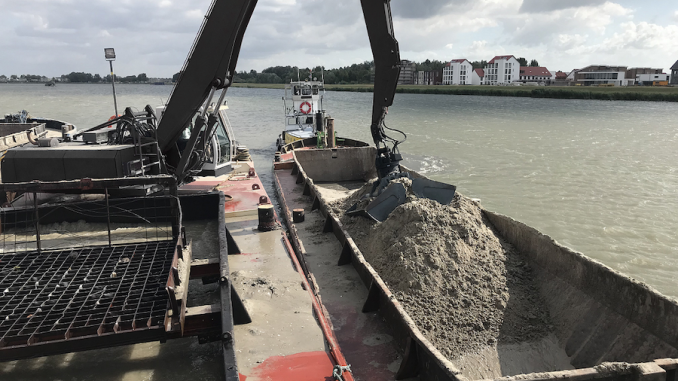 KINSHOFER, a leading global manufacturer of high-quality excavator and loader crane attachments, offers a line of robust, cylinderless re-handling clamshell buckets for loading bulk materials. The C-Series clamshell buckets allow for maximum efficiency and productivity while limiting downtime. The flagship attachment of the C-Series, the C40HPX, is ideal for handling cereals, coal and other fine-grained loads. It is designed for use with 18- to 25-ton excavators for loading bulk materials and 20- to 40-ton re-handling excavators.
"As re-handlers look to process ever-increasing bulk volumes, so much depends on choosing the right attachment for the job," said Francois Martin, KINSHOFER North America general manager. "Clamshell buckets remain a first choice for industrial or harbor sites, and the C40HPX includes features that bring maximum productivity and low cost of ownership to those applications."
The C40HPX uses a newly developed drive unit, based on KINSHOFER's patented HPXdrive, to open and close the two shells simultaneously. Hydraulically driven pistons, running opposed with four helix threads, generate rotation of the grab to deliver full and constant closing force throughout the entire gripping process. This ensures optimal strength and penetration through tough soils and while handling heavy materials. An integrated non-return valve guarantees secure retention of loads, and swivel and bevel are sealed for integrated rotation.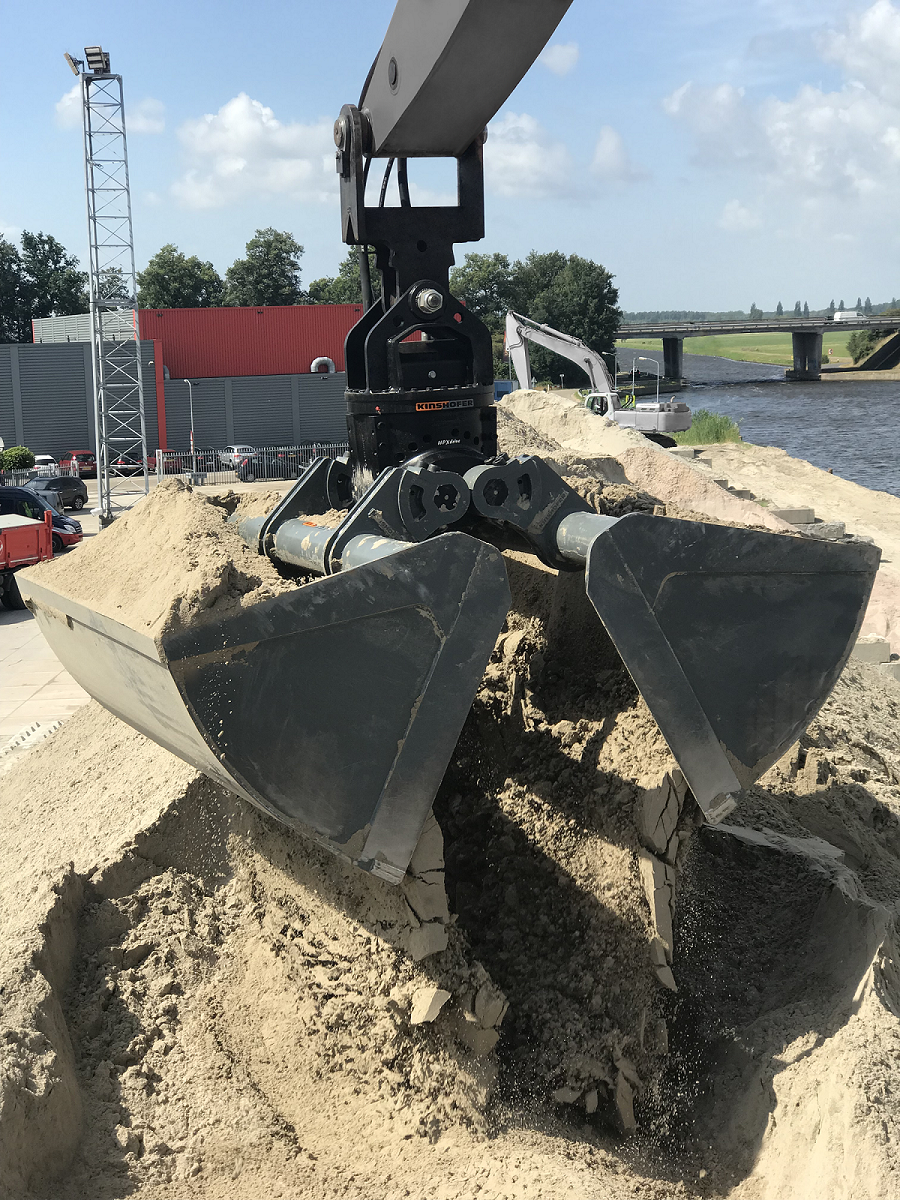 The HPXdrive also decreases the C40HPX's maintenance requirements. The drive's interior components continually operate in a self-contained oil-bath, eliminating greasing points and increasing service life with very little wear and tear. This results in a 50% longer life cycle compared to conventional hydraulic attachments. The compact, cylinderless design also contains fewer protruding parts that risk being damaged during use and makes the HPXdrive resistant to dirt and blows. Additionally, direct access to the rotary feedthrough and motor maximizes maintenance efficiency. As a result, the HPXdrive technology improves service life and ROI while offering higher efficiency.
KINSHOFER manufactures the C40HPX clamshell bucket's cutting edges with HB 500 steel, extending the attachment's life cycle. This also improves the ability of the shell's back walls to resist highly abrasive materials. These walls are .31 inches (8 millimeters) thick. In addition, the C40HPX features hardened shafts and high-strength bronze bearings that improve durability.
High-volume, torsion-resistant shells, available in a variety of sizes, ensure optimal loading in every situation. The C40HPX uses KINSHOFER's integrated shell exchange system for fast and easy shell replacement, ensuring operators have the best tool for the job at hand without the need for time- and cost-intensive carrier machine changes. This allows for maximum flexibility and minimal downtime. The C40HPX is also available with closed shells for handling cereals, coal or other materials that give off a fine dust or open shells for larger aggregate materials.
"Our newest clamshell bucket offers operators maximum efficiency with minimal maintenance costs," Martin said. "Our customers need to handle ever-increasing bulk volumes of diverse materials, especially on industrial and harbor sites where the materials are constantly changing. The C40HPX gives them the flexibility to easily handle materials with different specific gravities."
The wear-resistant, closed shell design also makes the C40HPX and all re-handlers in the C-Series line ideal for handling cereals and other fine-grained loads. The constant closing force and sleek design gives the C40HPX excellent digging characteristics and makes it ideal for general construction, civil engineering and landscaping, as well as heavy-duty material handling tasks.
The attachment is also suited for environmentally sensitive operations. The HPXdrive's internal oil feed-through and lack of greasing points or external hoses ensures no loss of oil during operation, making the unit ideal for underwater and other applications where contaminate-free operation is required.