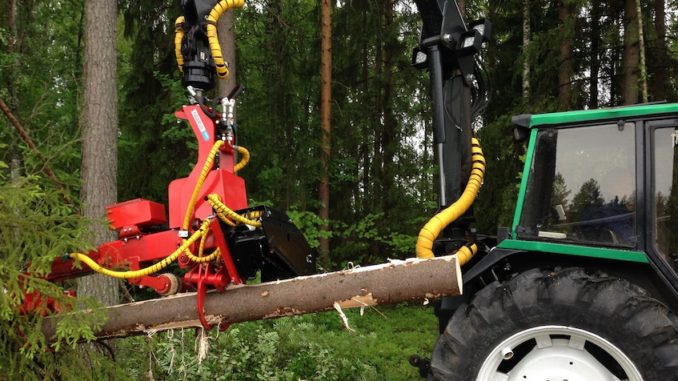 Pentin Paja Oy company from Finland introduced a new model of Bluetooth measuring device at Elmiawood 2017. Naarva Bluetooth length measuring was released in 2015. Now the Bluetooth device has optional diameter measuring.
Pentin Paja Oy developed Bluetooth measuring device for Naarva S23 and S23C harvesting heads. Harvesting heads are suitable for first thinning. Harvester fells, delimbs and cuts the tree. Bluetooth device measures the length of the log and automatically cuts the tree. Cutting length can be set with a tablet or a mobile phone. Device is available in English, Swedish, Finnish, Czech, French and German languages. It is available in Metric and British units.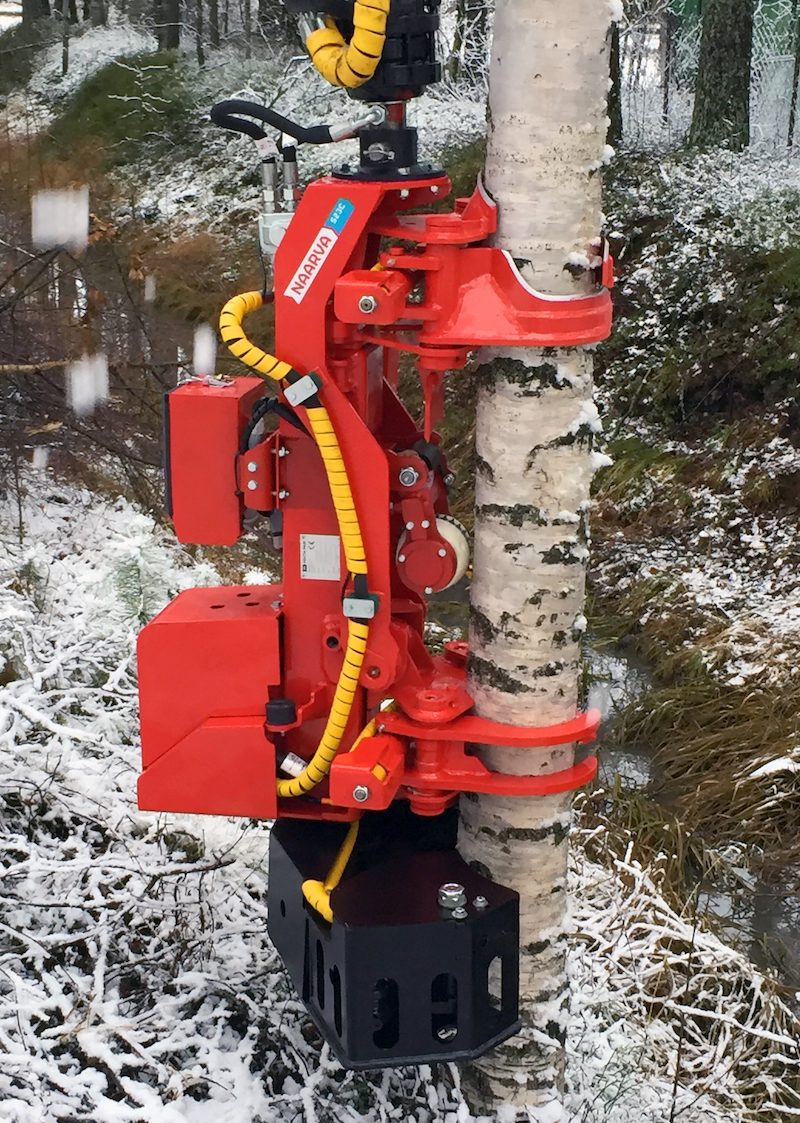 New feature in the Bluetooth device is the thickness measuring. Thickness of the tree is displayed on the tablet screen. Driver can set an alert when thickness reaches the set diameter. Harvesting head vibrates to alert the driver and driver can choose to either continue delimbing or drop the log.
Harvesting head can rotate freely 360° as there are no electric cables to constrict movement. Bluetooth connection carries information between the display and harvesting head.
Thickness encoder is located in the delimbing head of Naarva. Rotary encoder measures the angle of the grip that grabs the tree. Angle is converted to diameter in centimeters and displayed on the tablet.
Magnetic rotary encoder in the delimbing head.
Non‐contact design in the encoder removes the need for seals or bearings ensuring long‐ term reliability and simple installation.
More About Naarva
Pentin Paja Oy is a Finnish company specialized in developing and manufacturing of Naarva machinery for young forest management. Naarva is the name of the small village in Eastern Finland where the business began in 1964.
The Naarva product family offers equipment for base machines of all machine manufacturers: tractors, forestry machines and excavators. Naarva products are used for various purposes, including energy wood harvesting, first thinning as well as clearing of road shoulders and field edges. Naarva products have been delivered to 35 countries. Major export countries are Sweden, Norway, Germany, France and Canada.
The most appreciated features of Naarva products:
effective guillotine cutting
easy installation, no additional hydraulics or hosing
high quality and durability
a wide model range suitable for all base machines