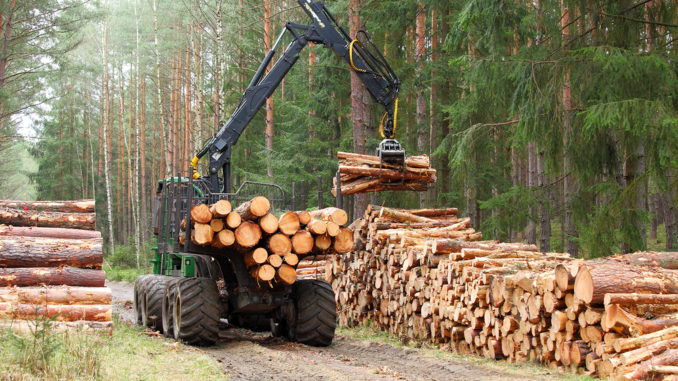 Following timber harvesting guidelines is essential to minimize superfluous, often unnecessary, activities on the site. Failing to follow the guidelines could have an impact on the mixing of surface soils, erosion, compaction, rutting, and more. These guidelines are often needed for various construction projects, such as building landings and roads, skidding, felling, and slash management. The goal is to protect the cultural resources and reduce the domino effect that can happen if forest soils are disturbed.
Timber harvesting is a term that encompasses a variety of services in the industry:
Planning harvest
Preparing for reforestation
Cutting trees
Moving the materials to another location
Processing the wood
Sorting the resources
Loading for distribution
Final transportation
Keep in mind that the guidelines shared are designed to help with the logistics of HOW to protect forest resources with applicable activities. This guide does not offer advice about the management activities that are needed or whether they should be done. It is important that decisions are made on a site-level basis, depending on various factors that might include site capabilities, landowner objectives, economics, existing regulations, resource needs, and more.
Benefits of Timber Harvesting Guidelines
Many benefits come from using proper harvesting techniques. For example, the forest soils can be protected to minimize the potential of nutrient removal while protecting the availability of water, oxygen and water absorption. It is important that the water can move vertically and laterally through the soil and the right balance of gases are managed in the soil.
At the same time, these efforts minimize the impact on wildlife in the area. Harvesting activities can disturb unique habitats, water features, rare species, and sensitive sites. It is important to maintain structural site components when possible, such as ground cover, shrubs, woody debris, snags, and live trees.
Protecting Water Resources and Soil
To protect water and soil, reforestation goals should be evaluated before the harvesting begins. Planning needs to cover long-term maintenance and development needs. If special soil considerations are required, then the planning process needs to be more involved.
The impact on the soil can be minimized by limiting the infrastructure construction to specific areas. Construction crews need to be careful about determining the timing, harvesting methods, and the equipment that is used for the work. For example, harvest layouts and proper equipment usage can reduce the surface site that is trafficked during construction.
The susceptibility to rutting and compaction vary based on the soil type and area. For example, in wetlands, the risk of rutting and compaction increases when the water content is high and the soil has a fine texture. These areas are productive for a variety of life forms that need to be protected.
Steps to Maintain Soil Productivity
Potential outcomes are possible when timber harvesting is designed in the right way:
The soil is in a condition that promotes natural growth and regeneration of native trees and vegetation
Landings and roads account for less than 1 – 3% of the timber harvest area
Primary skid trails account for less than 10 – 15% of the timber harvest area
1 or 2 pass trails provide access to the rest of the site and occupy no more than 20 – 30% of the area
General avoidance of rutting on the landings, roads, and primary skid trails
The hydrologic condition of the site experiences minimal changes
There is a minimal nutrient loss in the soil, ensuring no change in vegetative composition or reduction in tree growth
The soil is stabilized to prevent surface erosion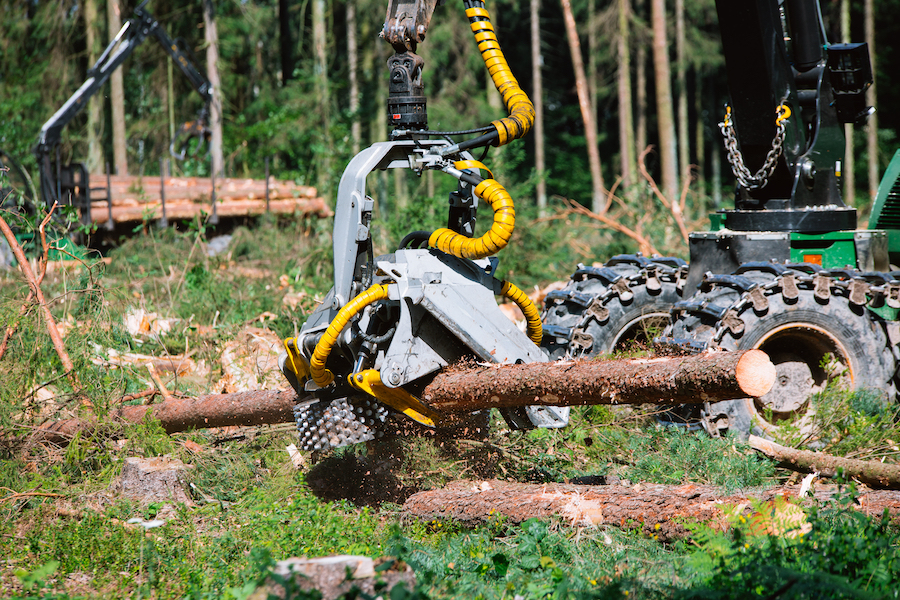 Planning and Design Strategies
What are the best planning and design strategies for the project? The details vary based on the location and site considerations. Common strategies include:
Incorporate water protection in the contract for the timber sale
Minimize the build of roads, skid trails, and landings in wetland locations
Limit the activities done in the wetlands
Consider seasonal closure of the operation
Incorporate steps for harvesting efficiencies and forest management goals
Avoid artificial patterns by using natural features whenever possible
Exclude work in areas with cultural resources
Design a harvesting technique that is progressive in nature to prevent trafficking over the areas that have already been cut
In clearcut harvest areas, leave some reserve patches, snags, and natural trees
These are general guidelines, and the suggestions change based on the type of soil that is present on the site. If you are working with a site that has sandy, well-drained soil, then slash needs to be retained or redistributed. Avoid full-tree skidding or harvesting that piles slash. Sometimes, it is best to leave the slash in piles along the skid trails to reduce the soil trafficking due to redistribution. Also, it is often beneficial to support the nutrient base of the site by adding commercial fertilizer, ash, or municipal sludge. These tips are also applicable to organic soil with a depth of 24 inches or more.
Other considerations might be addressed to determine if a legacy patch is required. When possible, evaluate the diversity of the mast sources on the site.
How to Decrease the Visual Impact of the Apparent Harvest Size
If the area is classified as sensitive, then there are a few methods to reduce the visual impacts. The methods should be based on the size of the lot, and might include:
Breaking up the harvest area by leaving patches of trees
Leaving sections of small species
Implementing integrated resource management goals for the area
Use narrow openings to access the harvest area, limiting views from recreation areas, rivers, lakes, and roads
Plan selective harvesting or use multiple-stage cuts
Using natural terrain
Implement shaping techniques for clearcuts to create natural openings when possible
Operational Activities for Timber Harvesting
Plan regular on-site meetings with the resource manager, landowner, and logger before the equipment is moved to the site. This communication is essential to ensure a common understanding of specifications, objectives, and site conditions.
If sensitive areas are discovered during the timber harvest, then they should be avoided even if they weren't previously identified. These areas can be identified based on topographic features and special soil conditions causing an increased sensitivity to disturbance.
Harvesting techniques should be designed to avoid the need to use equipment on areas of the site with steep slopes. Also, measures need to be used to minimize soil disturbance in areas of cultural resources, such as:
Temporary protection, such as tire mats, corduroy, slash, or fill over geotextile
Cut-to-length systems
Low Ground Pressure (LGP) equipment
Limited-area feller buncher
Cable skidding
Hand felling
Tips for Planning and Designing Landings
The harvesting agreement should always include the locations and number of landings. These areas should be minimized based on required needs for the equipment. Landings and roads should not occupy more than 1 – 3% of the harvest area. These landings should be located on upland sections of the site if possible. Additionally, the ground needs to be stable and outside of the riparian management zone or filter strips.
Be careful about the placement of the landings to avoid spots that will result in a concentration of runoff from the surrounding areas. Also, the landings shouldn't be placed on open water wetlands.
All products should be removed promptly, and grubbed stumps and trees should be disposed so that they aren't visible. Landings should always be seeded, planted, and regenerated as soon as possible.
Skid Trails and Skidding Considerations
As with other strategies listed above, considerations need to be made for skidding and skid trails. Minimal damage should occur to cultural resources, rutting needs to be avoided, and water flows need to be maintained in the wetlands.
Skid trails shouldn't be near cultural resource areas or in filter strips or riparian management zones. Additionally, it is important to avoid operation of the equipment when the slope is over 50%. If any slop is present, then it is best to skid low on the slope to avoid erosion. Straight, long skid trails need to be avoided due to the potential of channeling water.
These skid trails can be reused based on anticipated traffic needs. For example, the same trails can be used for future thinnings and the final harvest. If there are problems with the skid trails due to rutting or the need to build new lines, then the operations should be halted until the soil dries.
Minimizing Rutting and Slashing
Rutting should always be minimized. If it occurs in the main harvest area, then alternative techniques might be considered:
Moving operations to a stable area of ground
Decreasing load size
Utilize LGP equipment
Create a driving surface by using slash on skid trails
If these techniques fail, then operations should be stopped
Slash also needs to be managed throughout the project. If the site allows, disperse the slash instead of piling it. When piles are required, then they need to be placed away from cultural resources. If slash needs to be moved, use specific equipment to minimize the disturbance of the soil
Logging residue should be kept out of water sources, including open water wetlands, streams, lakes, seasonal ponds, and non-open water wetlands.
Strategies to Protect Wetlands and Water Quality
A few tips to protect the quality of the wetlands:
Minimize the need to cross open water wetlands and streams
Water crossings should be approached at right angles to the direction of the stream
Water diversion devices might be used, such as lead-offs, ditch blocks, tops and branches, and water bars
Minimize the use of off-trail equipment by using skid trails for driving
Use LGP equipment
Tree and Snag Suggestions
As with other strategies, the tree and snag guidelines vary depending on the condition of the site. These general guidelines can often be followed:
Standing dead trees, known as snags, should be left standing if possible unless visual quality considerations need to be addressed. For example, snags shouldn't be left in the foreground. Vegetative islands can be used to hide the scattered snags.
Live trees are usually retained in islands, strips, or clumps. Or, a strategy can be used to scatter individual trees on the site.
There may be exceptions made to the snag and tree guidelines based on the safety of the operators, public safety, visual quality, skid trail alignment, forest diseases and insects, and landscape concerns. It is also important to consider local needs for wildlife security cover and food access.
Post-Operational Activities
After the harvesting is done, future plan adaptations need to be assessed. A meeting with the landowner and logger can be beneficial for communication. Cut material and equipment need to be removed. Be careful to avoid removing soil from the harvest areas. If necessary, skid trails and landings should be rehabilitated to reduce erosion and soil compaction.