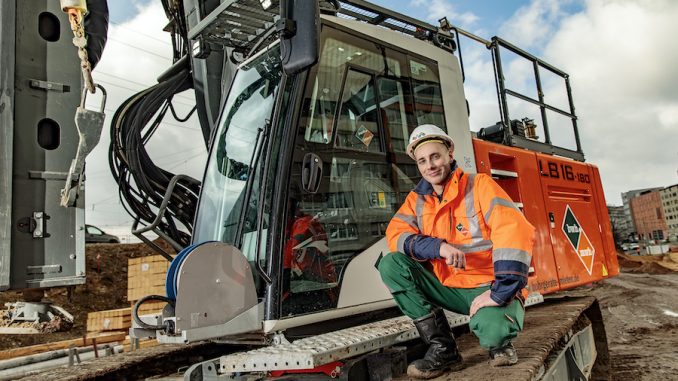 View the complete article here.
Heavy equipment operators literally clear the way for construction projects. From tract homes to skyscrapers to bridges, nothing gets built without the hard work and expertise of the heavy equipment operator. The need for their expertise is growing at twice the rate of other types of jobs. The Bureau of Labor Statistics (BLS) estimated that jobs for heavy equipment operators would grow by 10% between 2018 and 2028 – double the average rate compared to all other occupations.
What Does a Heavy Equipment Operator Do?
There are many types of machines needed to prepare a lot for a structure, including knocking down trees, moving dirt and materials, and digging holes.
Operating Engineers use excavation machinery equipped with buckets, scoops, and shovels to move dirt and materials, such as concrete pipes. It may sound simple, but you need to know more than you might think. Like making sure a bucket is properly attached and secured to a crane. Determining the maximum weight that a crane can lift is another critical aspect of the job.
Paving and Surface Equipment Operators run the equipment that spreads concrete and asphalt for roads and parking lots.
Pile Driver Operators use machines equipped with huge hammers to install large concrete, wood, or metal piles (beams) deep into the ground to support structures like bridges and building foundations.
Other Job Requirements
Heavy equipment operators must clean and maintain equipment. It is often expected that you can make basic repairs on equipment. You must follow safety standards. A critical aspect of safety is communicating effectively with the workers on the ground using hand and/or audio signals.
Operators are responsible for documenting and reporting equipment problems to the project manager. The same piece of equipment by different manufacturers are similar, but not built exactly the same. You must refer to the manufacturer's manual for the particular machine you are operating to know how to handle important tasks like turning it off in an emergency. Manuals provide guidance on important tasks, such as determining the maximum weight the machine can lift in different scenarios.
Technology is becoming more integrated with heavy equipment. For example, an operator can track load weight in real time from an onboard system like the Cat Payload. The worker monitors the load on a computer screen inside the cab. Of course, using the hardware and software is another skill that today's heavy equipment operator must master.
Work Environment
This is no cushy desk job. You truly need to love the outdoors and be willing to work in any kind of weather. Although sometimes a construction project is halted because of too much rain or snow, it's got to be pretty bad for a company to voluntarily lose money on delays. You've got to be able to take the heat – and the cold – to be a heavy machine operator. Although most heavy machine operators put in a standard 40-hour week, the hours may not be standard. You also must be willing to work day or night shifts, even on a Sunday. Some employers may require overtime. However, the extra pay is a nice perk.
Risks
Did we mention that this is not a cushy desk job? Construction sites are dangerous places. As a heavy equipment operator, you literally hold the lives of the people on the ground in your hands. Knowing and understanding safety procedures is as important as knowing which lever to pull. Do an inspection of your machine and the surrounding environment before you turn the key. It is a brave operator who will face a project manager and refuse to operate the machine if something isn't right.
Industries Hiring Heavy Equipment Operators
Construction companies have the greatest need for heavy equipment operators. But, so do utility companies, city and municipal governments, oil & gas companies, timber companies, and mining operations. There are many opportunities for you across the United States as a heavy equipment operator.
How Much Can I Make as A Heavy Equipment Operator?
U.S. News and World Report ranks Equipment Operator in the top ten of its Best Jobs for 2019. They report the median salary is $47,040. You can earn a lot more – up to almost $78K – in New York, Hawaii, Illinois, New Jersey, and California. Salaries are even higher in some cities across the country. The best paid heavy equipment operators are in New York City at an annual salary of $92,560. In fact, it is among the highest paying professions for workers without a college degree.
Salary.com reports a much higher median base salary of $63,405 for those who work directly for an employer. They put the value of benefits and bonuses at an additional $30,799, for a total compensation of $94,204. The most popular cities for heavy equipment operators include Atlanta, GA, Houston, TX, and Tampa, FL.
Not All Heavy Equipment Operator Jobs Are Equal
Not all equipment operators are equal. Some jobs command higher pay depending on the type of equipment you operate, years on the job, and level of education. In California, a pile driver is going to earn about $10 an hour more than a paving and surface operator.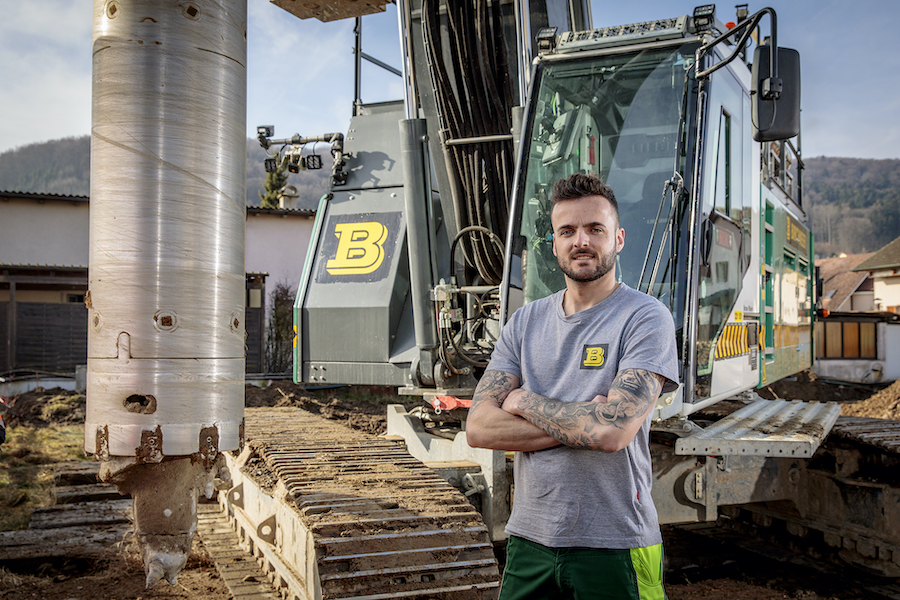 Is There a Job Shortage?
Yes. A combination of increased investment in infrastructure, older construction workers retiring, and a decrease in immigrant workers has resulted in a job shortage. However, the inability to find skilled heavy equipment operators and other construction workers has put some projects on the back burner. So, this has reduced the number of openings. But not enough to curb the shortage.
Why is there a job shortage?
Construction jobs increased by 14,000 this past August alone. Yet, there are fewer workers with construction experience looking for jobs. According to the Associated General Contractors of America (AGC), 80% of contractors say they are having difficulty filling their craft worker openings. (See the survey.)
Also, the construction industry is competing with other industries. For example, electric car manufacturer Tesla is offering good-paying jobs at its Gigafactory near Reno, NV.
How many heavy equipment operator jobs are there?
A search for "equipment operators" on the US News and World Report website yielded nearly 80,000 results. The BLS reports that there were 453,200 heavy equipment operator jobs in 2018. Some states have more job openings than others. There are a lot more jobs for pile drivers in Texas than in Indiana.
What's being done about the job shortage?
Companies are employing a variety of solutions to attract and retain heavy equipment operators. They are raising wages and offering more benefits. But they want the federal government to help. Companies want to see more federal dollars going toward training. They also want the administration to allow more immigrants with construction skills to legally enter the United States.
Increasingly, companies are getting creative in bolstering the number of heavy equipment operators. For example, Wacker Neuson in Wisconsin, along with the state of Wisconsin, is offering a construction equipment technician apprentice program. They are recruiting women, veterans, and high school graduates to participate in the two-and-a-half-year program. Participants achieve journeyman status upon completion of the program. This is faster than the three to four years that it normally takes to become a journeyman.
State governments are chipping in. The Governor's Office of Science, Innovation and Technology provided a $200,000 grant to the Nevada Chapter of Associated General Contractors to open a new training facility for heavy equipment operators.
Finally, some companies are participating in job fairs across the country to fill openings, including management positions.
Technology
Technology is helping to train workers with the use of virtual simulators. John Deere offers several construction simulators to train workers on a variety of heavy equipment. These include backhoes, excavators, and motor graders. The software provides real-world virtual environments that teach operators basic and advanced tasks. Benefits of using John Deere simulators for heavy equipment operator training include:
Ability to train several operators simultaneously.
Workers can train on multiple types of equipment.
Workers can train day or night.
Weather conditions are irrelevant as training takes place inside a large facility.
Trainees can practice the same maneuver repeatedly until it is mastered.
Built-in testing tracks the trainee's performance.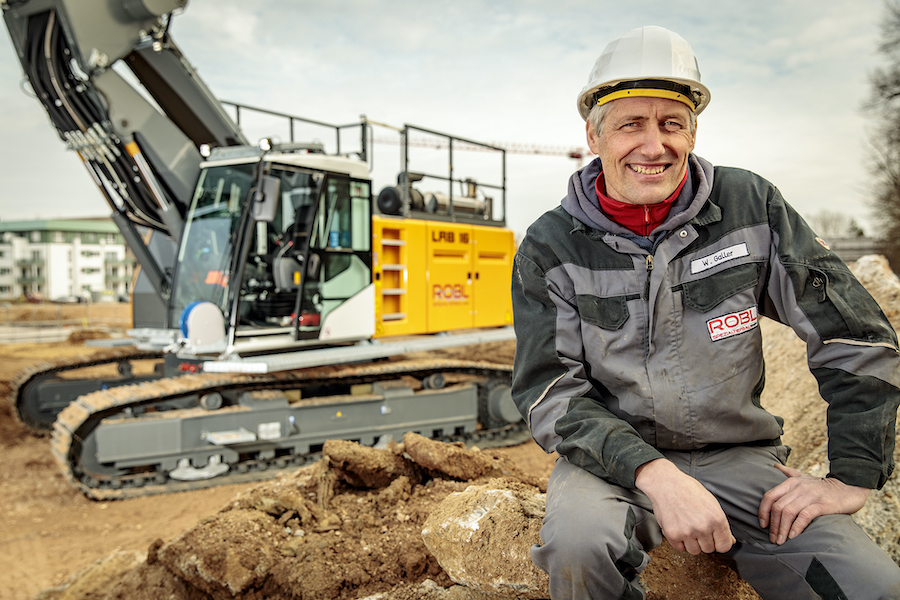 How to become a heavy equipment operator.
To become a heavy equipment operator, you typically need at least a high school diploma and, in some states, a commercial driver's license (CDL). The cost for a CDL is between $50 to $200. Some states may require a certificate from a state-approved training program. Each state has their own requirements.
Training Schools
You can expect to pay between $4,000 and $15,000 for three- to fifteen-week training courses. Check the school's rating at the Better Business Bureau (bbb.com). Be sure that employers in the area actually hire graduates of the school you select.
OJT – On the Job Training
Some companies may provide on-the-job (OJT) training. But they may require a commercial driver's license so that the worker can drive the vehicle the equipment sits upon as well as operate it. Trainees typically begin by learning how to operator smaller equipment under the supervision of experienced heavy equipment operators.
Apprenticeships
With an apprenticeship, you can earn money while learning how to operate heavy equipment. Pay is typically $14 to $18, but in 3-4 years, you have valuable skills and experience worth far more. There are union and state apprenticeships available. Community colleges, technical schools, and industry associations may also help you find an apprenticeship placement.
Where to find jobs as a heavy equipment operator
Job websites like Ziprecruiter.com and Indeed.com have thousands of listings for heavy equipment operators. The International Union of Operating Engineers offers apprenticeship programs throughout the United States and Canada. Study.com can help you search for schools and apprenticeship programs. As well, check with your local unions.
Most Important Qualities of a Heavy Equipment Operator
You may be a brilliant operator of heavy machinery. An aptitude for operating and fixing machines is a basic requirement. But there are many other qualities you must possess to handle the job. Patience is not typically mentioned on the list of attributes, but it is more important than a love of the outdoors. Fortitude is another important trait. You must be willing to stop the task if you have any safety concerns, even if there are schedule pressures. Other qualities include a keen attention to detail, planning skills, and a love of dust and dirt. Or at least a high tolerance for getting dirty.
Wrap Up
You can find a good-paying job as a heavy equipment operator. You can get started with a high school diploma and some training. It's a dirty job and there are risks, but with a focus on safety, a good amount of patience, and a high level of attention to detail, it can be a personally and financially rewarding profession.